Article Courtesy Scrapjazz.com: by Denise Gormish
My family enjoys the outdoor activity of geocaching. It involves finding hidden containers by using a Global Positioning System (GPS) receiver. The container and its contents are called a "cache." The website geocaching.com enables seekers to find geocaches. Those who look for caches keep a log of which caches they have found on the geocaching website. Since geocaching is such a fun activity, I created a geocaching travel scrapbook to keep track of our geocaching experiences. Here are some page ideas for your own geocaching album.
Album Cover. Design a cover or front page that indicates the subject of your album. For my album cover, I created a simple design, featuring a compass.
Equipment. Create a page that describes the equipment you use when geocaching. Whether you have an iPhone or a portable GPS, record your device for finding the caches. Also, consider the things that you need to take along when you are caching, such as a pencil, tweezers and gloves.
Finds. When you find a cache, it is referred to as a "find." Much of your album will contain pages about your various finds. Remember to take along your camera when you go geocaching so you can get photographs of people finding the cache, the area surrounding the cache and the contents of the cache. When you create your album pages for each find, remember to journal the details about who went on the trip, who found the cache, where it was located, its difficulty and anything special about the find. My geocache layout shows the area surrounding the cache site and features the participants in finding the cache.
Log. While recording your logs on the geocaching website is fine, you may also wish to log them into your geocaching album. You may wish to keep track of special caches such as Travel Bugs and puzzle caches. Your album's log could be as simple as a grid design with columns for the name of the cache, the date found, the location and who found it.
Maps. If you travel a lot, you might also want to indicate the location of caches you have found. This can be done in the layout about the find or it can be done as a big map with points where found caches are indicated. When I found our first geocache in Europe, I included a map in the layout so I would remember where we had been.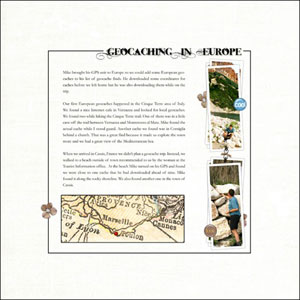 Geocaching is a fun activity for anyone who likes to go outdoors. Take time to enjoy the hobby and enjoy recording your finds with a geocaching travel album.
Digital products from Designer Digitals:
Anna Aspnes: Find My Way Brush Set 2
Michelle Martin: Sierra Solids, Nia Kit
Katie Pertiet: Drop Shadow Styles, Roughed Up Maps Paper Pack, Scatterings No. 01, Stacked Classic Frames, Simple Spots No. 02
Tied Fasteners
Jesse Edwards: Clean and Serene Solids, Title Lines No. 2 and Patterned Flowers, Manhattan Paper Pack
Mindy Terasawa: Sweet Love paper
Pattie Knox: Brad Bonanza No. 01: Digital Fasteners
Digital products from Oscraps:Paislee Press: Pressplate No.9
Shop all vacation and travel-themed products from Scrapbook.com