DIY: Christmas Wall Hanging

Article Courtesy Scrapjazz.com: by Stacy Milford
With a few simple supplies and a few hours of crafty time on your hands, you too can create a simple Christmas wall hanging to decorate your own home or to give as a gift.
Supplies: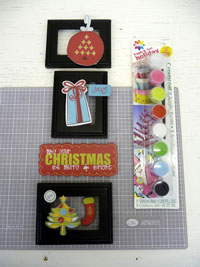 3 small wooden frames
patterned paper &c – Crate Paper-North Pole Collection
Mark Richards – Silver Metal Star
Creamcoat Acrylic Paints by Delta Creative – Fresh & Fun Holiday
hemp cord
lace
foam brush
sandpaper
drill
Instructions:
Lay out your supplies and arrange your embellishments on your frames to get an idea of how things will go together best. My embellishments were mostly chipboard pieces from the Crate Paper North Pole Collection.
Set aside supplies and lay out newspaper or paper towels over your work surface. I chose to paint each of my frames a different color. Take the frames apart by removing the back and glass in order to paint the frame only. Using a foam brush, apply a coat of paint and allow to it dry for at least one hour. Because my frames were originally black, I had to apply a second coat.
I chose to attach my frames together using hemp cord. Mark frames with a pencil for drilling. This part for me was not do-it-yourself; I enlisted the help of my husband! Tie frames together using hemp cord.
Sand the frames down just a bit. This allowed a little of the black to show through and gave the frames some added character.
Attach chipboard (or your own choice of embellishments) to frames using Glossy Accents as an adhesive. This works great and dries fairly quickly.
I chose to add some sparkle to the chipboard by using Stickles Star Dust and a silver metal star.
Using the frame glass as your guide, cut a piece of patterned paper and insert between the glass and backing of the frame. On the top frame, loop lace around the frame prior to adding the glass, paper and backing. This lace will be used as the hanger.
Your DIY Christmas Wall Hanging is ready to display in your home or gift wrap for someone special!