Holiday Place Card Treat Boxes

Article Courtesy Scrapjazz.com: by Heidi Anne Giebel
Are you looking for something different to decorate your holiday table this year? Something unique that will make the children's eyes light up and will have the adults asking you, "How did you make those?"
Here's how to make these whimsical holiday home decor place cards for your table that also serve double duty as treat boxes.
Supplies:
Once Upon a Princess Cartridge
Doodlecharms Cartridge
Peachy Keen Stamps Christmas Character Face Assortment (for Santa)
Peachy Keen Stamps Everyday Face Parts and More! (for Reindeer)
cardstock in holiday colors
adhesive
Instructions:
I started off by placing the treat box from Once Upon a Princess (page 65) onto the mat in Design Studio. The dimensions for the box are approximately 4" x 7".
Next, I chose the Santa and the Reindeer from Doodlecharms (pages 126-127) and welded them to the top of each treat box. The dimensions for the treat box toppers are approximately 2" x 2 ¼". Tip: You can choose any shape for your treat box topper.
Then I used Hide Selected Contour for the faces and detail of my Santas and Reindeers.
I cut eight boxes, four of each different character. Then using the well of a paper trimmer as a guide and a bone folder, I scored the boxes following the tic marks that the Cricut cuts. I also cut eight tags (1 1/8" x 2 ¼") from page 49 of the Once Upon a Princess cartridge. On each of these tags I wrote the name of one of my guests.
Once my boxes were all scored, I used my bone folder to crease each fold line.
Next, I cut and assembled Santa and Reindeer faces for each treat box. You can either allow the Cricut Expressions to cut the details of the characters' faces or you can use face stamps. I used my Peachy Keen Stamps face assortments for the Santa and Reindeer faces.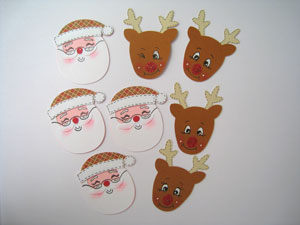 Next, I adhered the faces of my toppers to my treat boxes. Note: make sure your faces are on the inner side of the box so that when the boxes are assembled the face of your topper will have the box portion in front of it. On the front of each box, adhere the tag.
I used a hot glue gun to assemble my treat boxes. You could use dry adhesive but the hot glue gun ensures a strong bond. Lastly, fill your place-card treat boxes with candy, small cookies, tiny toys or miniature candy canes. Place them on your table where you would like each guest to sit.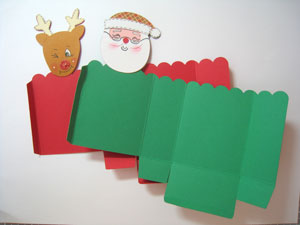 +