Product Review: Glimmer Glam

Article Courtesy Scrapjazz.com: by Rachel Myerson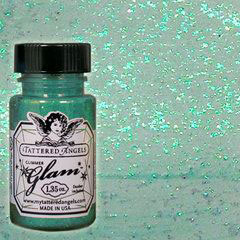 Product Name: Tattered Angels Glimmer Glam
Price:
A single 1.35 ounce jar of Glimmer Glam can be purchased from the Scrapbook.com Superstore for $5.75.
Product Description:
Glimmer Glam from Tattered Angels is a new glittery paint available in 24 colors. Each color comes separately in a small jar (1.35 oz). The colors, which match the Tattered Angels Glimmer Mist, are indicated by a swatch on the top of each jar. The Glimmer Glam has more glitter than the Glimmer Mist and is applied with a paint brush rather than sprayed.
In Use:
Glimmer Glam is easy to use; just open the jar and paint. I used a foam paintbrush, but any type of paintbrush would work. A small one can be more easily dipped in the jar. However, if you are covering a large area, you can very carefully pour the paint onto a larger foam paintbrush. Glimmer Glam adheres to a variety of surfaces, covers well, and dries fast. It shows brush strokes, so you can add texture to your project. The only disadvantage that I observed is that the jars have an open lid and the paint is liquid; therefore, care needs to be taken that it does not spill on your work area.

Tips & Techniques:
There are many ways to use the Glimmer paints; here are a few suggestions:
Experiment on a scrap first. If you are going to be painting on a particular color or material, experiment on a matching scrap, if possible.
Use Glimmer Glam with masks over patterned paper.
Combine with Glimmer Mist for interesting effects.
Use Glimmer Glam to change the color of cardstock for layouts and cards.
Use Glimmer Glam to paint raw chipboard for unique embellishments.
Use Glimmer Glam to paint chipboard letters.
Use Glimmer Glam for the background for altered items. Paint the item, let it dry, and decorate.
Video: Tattered Angels Glimmer Glam Demo
Project Examples:
I used the Glimmer Glam paint to make an altered album. I needed a special album for vacation photos and I couldn't find anything that was just right, so I decided to make my own. I started with an American Crafts customizable album. I put masking tape over the green part and quickly painted the front using a sponge brush, making sure that the paint was applied in one direction. After it quickly dried, I used the same technique to paint the back, and then I decorated it.