Cards for the Men in Your Life

Article Courtesy Scrapjazz.com: by Patter Cross
Look in most online card galleries and you will find many feminine cards, holiday cards, baby cards, etc. But what about those masculine cards? I know I personally do not create near as many cards for men as I do for other themes. Today I wanted to share some masculine cards with you and give you an idea of how to create a card for that special man in your life. Let's look at how we can use colors, papers, and embellishments to do some great masculine cardmaking.
Fisherman Card by Fran Gumprecht
Fran kept this card clean so that the image is the focus. This stamp is perfect for that fisherman in your life. I love how she used the string for the fish. String is a great addition to a masculine card instead of using ribbon or lace that you may use on other kinds of cards.
paper: Gina K's Pure Luxury White and Brown, Stampin' Up! Bashful Blue and Creamy Caramel
stamps: Our Daily Bread Designs Fishers of Men
inks: Memento Tuxedo Black, Copic Markers, Stampin'Up! Bashful Blue, Not Quite Navy and Creamy Caramel
embellishments: Spellbinder's Oval Nestabilities, misc. twine, stipple brush
Be Still Card by Sabrina Jackson
Here Sabrina uses some very masculine-looking patterned papers and colors to achieve a great masculine look. Browns, greens, and blues of all different shades work well for masculine cards. She also added twine and some touches of silver as the perfect masculine embellishments.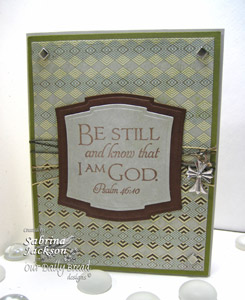 paper: Papertrey Ink Soft Stone and Ripe Avocado, BasicGrey Cappella
stamps: Our Daily Bread Designs Scripture Collection 3
ink: Stampin' Up! Close to Cocoa
embellishments: Spellbinders Nestabilities Labels 2, multi-colored hemp cord, silver cross charm, mini silver square brads
Enjoy Card by Patter Cross
My card is another water-themed card which seems to work well for masculine cards. Instead of using a fishing theme, I created a pond, complete with a lily pad and a dragonfly. Look for those stamps that have a masculine feel. They will definitely be perfect for your masculine cards. I also kept the colors on this to brown, blue, and green. I added a bit of ribbon but I also used twine with it for that masculine touch.
papers: Papertrey Ink
stamp ink: Adirondack stonewashed, VersaMagic Gingerbread, Memento Rich Cocoa
stamps: Unity Lily Pad Playland, Unity Birds of a Feather (sentiment)
embellishments: Diamond Glaze, Bazzill Basics Just the Edge, SticklesBaby Blue, Stickles Diamond, misc. ribbon, hemp from Hobby Lobby, Kaisercraft Pearls, Zig Writer Hunter Green
The Gristmill Card by Patter Cross
Here I used some photos of family to add to a card for my father. I also used wooden brads and a clockworks embossing folder. The embossing folder worked well when used with brown cardstock and sanded to show the white core.
IMAGE4
papers: Memory Box dill notecard, Memory Box vanilla bean cardstock, misc. photo paper
stamps: Memory Box Soaring Bird C1366
stamp ink: SU chocolate chip, Ranger clear embossing powder
embellishments: Cuttlebug clockworks embossing folder, misc. ribbon, Chatterbox wooden brads, sewing machine
So by using certain colors, masculine papers, embossing folders, and embellishments such as twine or string and wooden brads, you can create those masculine cards just as easily as the other themed cards you create. So, give it a try! You know those men in your life might really appreciate a handmade card too. Have fun!