Product Review: Fiskars Scissors Six Pack Edgers Classic Set

Article Courtesy Scrapjazz.com: by Polly McMillan Raymond
Product Name: Fiskars Scissors Six-Pack Edgers Classic Set
Price: This set is available in the Scrapbook.com store for the price of $26.99. It's a value to purchase the set of six as I have seen them priced separately between $7.00 and $10.00 a pair.
Product Description: The Fiskars Scissors Paper Edgers Classic six-pack set offers six different scissor options for fantastic trims and edges. Designs include: Scallop, Pinking, Ripple, Imperial, Deckle, and Corkscrew.
In Use:
When I began scrapbooking back in the '90s, these Fiskars decorative-edged scissors were among the first tools I purchased. The scissors are super easy to use and the different colored handles help me to identify them when I reach for them in my desktop caddy. Fiskars makes a top-quality product and these scissors don't disappoint.
My personal favorite is the scallop-edge scissor. I love the delicate and sweet touch it adds to the trim of a project.
Tips & Techniques:
I like to use these scissors on tags and the edge of paper pockets on layouts or home décor projects.
Any of the scissors work great for an added touch or layer on a card as well.
Projects & Examples:
The following examples use the decorative-edge scissors – some old, some new. The common thread is the use of the decorative-edge scissors for an added design element.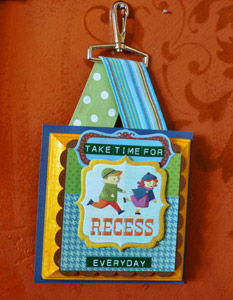 See more layouts and projects using the Fiskars Decorative Edge Scissor Set
Although some scrapbookers may classify the Fiskars Decorative Edge Scissor as an "old school" scrapbooking tool, it's certainly a tool that can be used in new and trendy ways. I personally have a special place in my heart for these scissors; they're a tool that when placed in my hands almost fifteen years ago fascinated me and drew me in to this wonderfully creative hobby.