Article Courtesy Scrapjazz.com: by Rachel Myerson
When we photograph our life, we tend to photograph the people, the events, and the places we visit. Although we take pictures in our home, we often neglect our home as the subject of our photographs. The home seems stable, like it will always be there. However, this isn't really true. People move, often suddenly, and then realize that they don't have any pictures of their previous homes. Also, future generations may want to know what the house or apartment that their parents or grandparents grew up in looked like, which makes a Home Sweet Home scrapbook album or home-themed layout a great idea.
Interesting Angles
When we moved a few years ago, the real estate agent came over and took photos of our house. The house was still a mess and being repaired and yet she was able to take perfect photos. In her photos, she was able to make the house look like a mansion. By removing clutter and taking photos through doors, this photo of the living room makes the house look huge.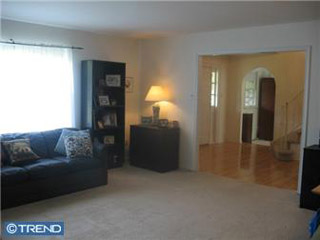 Similarly, when she took a photo of the front, she chose an angle that made the house look larger and hid the overgrown landscaping.
Luckily the real estate agent did take these photos because I have very few photos of that home where my children were born. I have many photos in the house, but not of the house itself.
Even if you are not selling your home and are not interested in making it look bigger than it actually is, you can use interesting angles to enhance your photos. Try taking photos looking up or down staircases. If you have an overhang, stand up there and photograph the rooms below.
Interesting lighting is another way to enhance photos of your home. Taking photos with candles or limited lighting will help with dull or awkward colors. My dining room has beige walls, a large window without any type of window treatments, and a low-hanging chandelier. Although I often try to take photos of family gatherings around the table, the room is a photographic nightmare. The beige walls make the photos look yellow and the chandelier blocks people's faces. By turning off the lights and not asking my family to look at me, I was able to get this nice photo of the dining room in candlelight.
Real Life
Making the house look huge and perfect is not the only reason to photograph your home. You may want to take photos of the house as it really is, mess and all. Although this photo looks random, I actually positioned myself to capture maximum messiness.
Another part of everyday life is the posters and signs that hang on the walls. Although some pictures hang on the walls for a long time, others depict a phase in life. You may want to photograph them before they are outgrown and taken down.


Just like we take posed pictures of people, you may want to set up a still life to depict a part of everyday life like I did in this photo with the coffee. It would have been nice if I had sponged the counter first, but the photo still shows a piece of daily life in our house.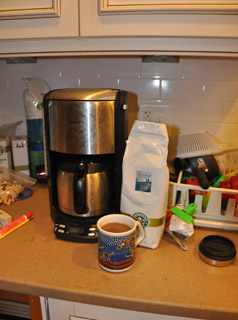 The Outside
Outdoor photos are usually much easier to take than indoors, and the outside of a house is no exception. In addition to taking a photo of the front of your house, you may want to take photos of individual items around the property, such as the plants. It is wonderful to photograph a favorite plant at the moment when it is perfectly in bloom.
Plants may not stay the way they are forever; they may grow or they may die. In this photo, I positioned my son next to the little tree to give a sense of how small the tree really is. I really hope it grows one day, and then we will be able to laugh at this picture of how small it was when we got it.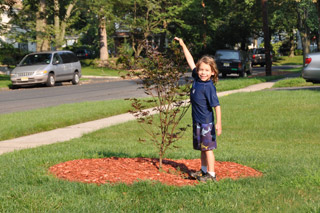 I hope I have encouraged you to photograph the home you are living your life in. Whether you choose to photograph the rooms in their most perfect or their most lived-in, I hope I have given you some ideas for photographing this aspect of your life.