Article Courtesy Scrapjazz.com: by Patricia Folchert
Product Name: Jillibean Soup Corrugated Shapes
Price: $3.99
Product Description:
Jillibean Soup Corrugated Shapes are die-cut pieces of dimensional cardboard. They are non-adhesive and come in seven different styles. The four brand-new styles that premiered at Winter CHA 2010 include:
Hearts
Houses
Butterflies
Frames
The three original styles include:
All of the shapes are a kraft color. There are 20 pieces per pack in assorted sizes of shapes. On the back of the packaging you can view the exact shapes that are enclosed.
In Use:
This product really allows you to use your imagination; here are some of the benefits I discovered.
There is a certain appeal to using dimensional die-cut shapes; they add depth to any project. They also come in such a variety of shapes that it is easy to find one to match almost any theme.
Considering that you get 20 pieces per pack, they are very affordable. Cost per piece is less than $0.20 each, so you don't have to feel guilty about using several on one project.
I believe that the best benefit is that these shapes are completely alter-friendly. They accepted every medium I tried and held up well.
The only disadvantage I found was that they didn't come with their own adhesive backs. However, every adhesive that I tried attached the shapes very well, including tape runner, glue and glue dots.
In conclusion, I wholeheartedly recommend this product. These shapes are tons of fun to alter and add to almost any type of project, because they are so versatile.
Tips & Techniques:
This product is perfect for all types of paper crafts. Try them on cards, tags, layouts and 3D projects.
Try painting your shapes different colors.
Color your shapes quickly with brush markers.
Use your shapes as masks with spray mists.
Sand down your shape's edges for a rustic feel.
Stamp your shapes to add a pattern.
Add some glitter glue for sparkle.
Swipe shapes across a stamp pad to add color.
Spray shapes with glimmer mist.
Layer your shapes for extra dimension.
Glue some bling directly to your shapes for extra sophistication.
Project Ideas/Examples:
Welcome Home Card by Summer Fullerton
Summer created this cozy card with only one corrugated house; how cute is that?
Berry Good Tag by Patricia Folchert
Here is a tag that shows how you can layer the shapes and color them. Two hearts are layered on top of each other.


Home Mini Album by Lori Slawinski
Check out how Lori lined up several corrugated houses on her album cover.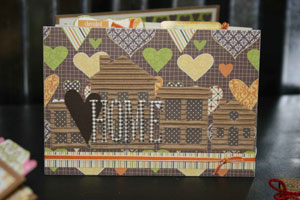 Cross Detail from Gotta Have Faith Layout by Patricia Folchert
Here is an example of how you can layer the shapes onto other products to create your own custom detailed embellishments.
Links to items used in this article are listed below:
Article Project Supplies: