Product Review: Fiskars 9

Article Courtesy Scrapjazz.com: by Maegan Hall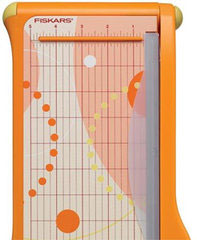 Product Review: Fiskars 9" Bypass Paper Trimmer
Price: $20
Product Description:
This trimmer is lightweight and about 11 ½" long. It has rubber slip-proof feet and can cut up to five sheets of paper at once. It comes with a clear plastic film to protect the grid, which consists of measurements in increments as small as 1/16th of an inch. The trimmer will measure as long as 9" and as wide as 5". The trimmer also has a clear "finger guard" to hold photos and paper in place without risking fingerprints.
In Use:
For years I had a similar but smaller paper trimmer, which at our house we called "the chopper." My number one wish was always that there would be a trimmer available on the market that would fit 5" x 7" photos and I literally leaped (yep!) for joy when I saw that Fiskars had granted my wish.
The trimmer is super easy; my kids use it quite often. Yes, they can theoretically try to cut their finger off; there are no safety features. Like anything that can cut, keep it away from your kids if they can't handle it. The guillotine-style blade is not overly sharp and dangerous, and still cuts wonderfully! I have not experienced any shredding, crookedness, or fanning issues whatsoever in the last year of having it. The trimmer has been dropped on a hardwood floor multiple times and is still in near perfect condition.
Call me spoiled, but now that I have a compact trimmer that can cut 5" x 7" photos, I wish the measurement grid was just 1 inch wider, so I could trim a horizontal 4"x6" photograph down to a measurement larger than 5". Even a 5 ½" grid would help.
Another issue with the trimmer is that it doesn't really hold paper that is 9" long. It's only off by 1/16th of an inch, but where the "finger guard" attaches to the trimmer, it blocks 9" paper from fitting. Doesn't bother me, but it might for somebody making wedding invitations. My last complaint is how thick it is. When I take it somewhere, I wish I could slide it in my bag and go, but it takes up almost 2" of space, which is more than my full-sized Fiskars trimmer.
Tips & Technques:
Using a Sharpie or address label, write your name on the bottom of your trimmer.
If possible, keep the plastic cover on the grid to protect it as long as possible.
If you are trying to cut five sheets of paper at once, make sure it's less than 20lb bond.
Actually use the fingerguard; it is what makes the paper cut straight.
Save the blade on your larger trimmer and cut all your photos on this trimmer.
My friends and I joke that this trimmer, "The Chopper," has stress-relieving capabilities. There's something about the guillotine-style action and the "CHOP!" sound; it's like dicing veggies with a butcher knife.
Again, keep it away from kids who are unable to keep their fingers out from under the blade.
Project Ideas/Examples: