Paper Storage: Protect your foundation

---
Horizontal Paper Dividers
Clear, Plastic Paper Trays from Display Dynamics
These paper trays are the perfect mix for display, protection, and organization for your 12" x 12" cardstock and paper collections. They're also available in an 8.5" x 11" version. The design allows you to easily add and remove paper, even from the bottom of each stack. Dividers that aid in sorting, loading and unloading are also available. Trays can be stacked 30 high in a double- or single-stack wheeled base if shelf space is limited.
Multi-bin literature sorters are another option for 8.5" x 11" paper storage. They are available at OfficeMax.com.
Another option is to use 12" x 12" wire cubes. Make a cube and then use additional side pieces as "shelves", securing them into place with zip ties. Check Costco, WalMart or Sam's Club for cube systems.
Vertical Paper Storage
Paper Holders from Cropper Hopper ™
These flexible plastic paper holders (sold unassembled or assembled in a value pack) are another way to organize cardstock and paper. Add dividers to them to separate colors or to sort patterned paper from cardstock. You can also clip Paper Holders together using slide clips. Each container holds up to 200 sheets of 12 x 12 cardstock. Use smaller Paper Pouches for smaller groups of paper. Four Paper Pouches fit into one Paper Holder. It's easy to find the papers you are looking for without having to remove all of the papers from the holder. Large holders come in clear and black. Narrow Paper Pouches come in clear only. All are available in the Scrapbook.com Superstore.
---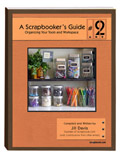 This lesson was taken from A Scrapbooker's Guide #2: Organizing Your Tools and Workspace (Instant Downloadable E-Book). To purchase a copy today, click here. Use coupon code ART151 and get 10% the already-low sale price.