Move Ahead Ten Spaces and Win the Game of Clutter Control

You're playing a strategic board game using your best skills – barely progressing.Frustrated, you land on the space that holds the pile of cards that contains good and not-so-good options. You hesitantly lift your card and read, "Move ahead ten spaces". The feelings of liberation, freedom, and happiness bubble through your body as you smile and think of your new options. Sometimes we just need fresh options to help us move forward.
Recently I moved ahead ten spaces and won the game of clutter control, and so can you. Using Display Dynamics Storage Drawers (divider rails included) and Lipless Stackable Trays I solved scrapbooking and home storage dilemmas that have baffled me for longer than I care to admit. While the process wasn't as easy as playing a game, it's been worth ever minute of effort. Here's what I did:
Home Organization
Game Cupboard
Years ago I organized our family game collection. I removed the games from their boxes, placed the pieces into labeled drawers of a multi-storage drawer cabinet and labeled the game boards (instructions for play are stored inside the game boards). When we wanted to play a game, we simply found the game board (See Figure 1 – "Before" Game Cupboard; game boards are on bottom shelf in the front) and the labeled drawer of game pieces (See Figure 1 - Mini-drawers are in the left-hand back-corner of the bottom shelf). Easy enough, but when the number of games we owned exceeded the mini-drawer space, I put the maintenance of this project on hold and new game boxes spilled into nearby shelves.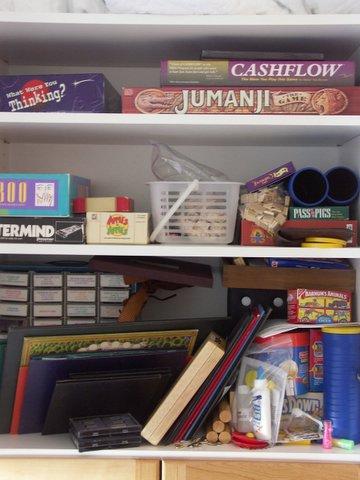 Figure 1 - My "Before" Game Cupboard
Display Dynamics Lipless Trays and Storage Drawers to the rescue. I cleared out the cupboard and stacked two towers of Lipless Trays inside. I added divider rails to most of the storage drawers and placed the old mini-drawers into these sections. They fit perfectly. (See Figure 2 - Old min-drawers placed into the divided Display Dynamics Storage Drawer). If they hadn't fit, I was prepared to put game pieces into zip-loc bags and place them in the compartments. The games that had more pieces were placed into their own drawer. Game boards were stacked in the space to the left of the Lipless Trays. Three shelves of games now fit into one. (See Figure 3 "After" Game Cupboard)
Figure 2 - Game pieces in mini-drawers dropped into new Storage Drawer
Figure 2 - My "After" Game Cupboard
Toy Cupboard
Using the same organization concept above, I transferred all of our little toys, crayons and miscellaneous mini play stuff into Display Dynamics Lipless Trays, Display Dynamics Storage Drawers and two Craft Locker modified units. Now the children that frequent my home must ask me if they want to use the contents in this cupboard. I'm in charge of what they play with, which translates into less mass-messes in the playroom. (See Figure 4 - Finger puppets in storage drawer and Figure 5 - Mini Toy Storage)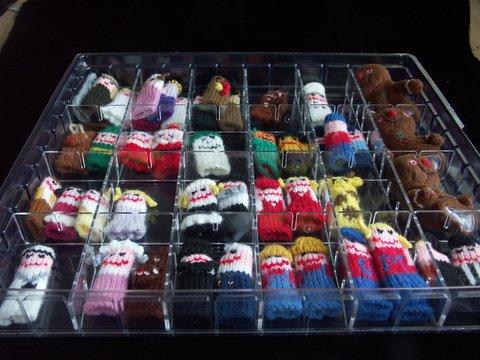 Figure 4 - Finger puppets in storage drawer
Figure 5 - Mini toy storage in Display Dynamics Lipless Trays/Storage Drawers
and modified Craft Lockers (minus their outer cabinets so they would fit into the space)
Jewelry
I'd given up on finding a jewelry box to fit my needs; Display Dynamics Lipless Trays and Storage Drawers to the rescue. Imagine my excitement and surprise when my jewelry collection fit into 5 Storage Drawers - leaving one unused unit for my purse contents or expansion). The storage drawers can hold scarves, too. Now I have instant access to organized accessories in my closet. (See Figure 6 – Jewelry storage)
Figure 6 – Jewelry storage
Scrapbooking and Crafting
Foam stamps and paint
Put scrapbooker's minds to work with these great storage units and the options are outrageously fun. When I brainstormed with Tricia (Product Manager and Buyer at Scrapbook.com) here's what unfolded: Foam stamps, paint and brushes all stored in Storage Drawers in the same tower. (See Figure 7 – Foam stamps, paint and brush storage)
Figure 7 – Foam stamps, paint and brush storage
Scrapbooking and craft embellishments stored in like-colors drawers
Sort scrapbooking and craft embellishments by color as suggested in Stacey Julian's book, The Big Picture . With this storage/organiziational system you'll know exactly where to look when you need pink ribbon, yellow beads or green tags. (See Figure 8 – Embellishments stored in like-color groups
Figure 8 – Embellishments stored in like-color groups
Other uses for Display Dynamics Storage Drawers
You'll think of other way to use these remarkable storage devices once you see what your options are. I've found that Display Dynamics Storage Drawers are also good for storing and orgainizing:
Small/flat embellishments (I don't recommend storing beads or other tiny objects (see "Cons" below)

First aid supplies
Nuts, bolts, screws and nails in a workshop
Teacher classroom supplies
Cake decorating supplies
Photo equipment – lenses
Any short/flat item that needs a home
Storage Drawer Pros
Home and scrapbook organization is one of my constant quests, so believe me when I say I haven't found anything comparable to the combined power of the Display Dynamics Lipless Trays and Storage Drawers. They are:
Versatile
Compact (you can stack them 30 trays high on a double rolling base -- i.e. 60 trays, side by side if you desire, or place them on shelves).

Dustproof (because of the lids)

Easy to see into because they're clear
Affordable when you know your options
Storage Drawer Cons
A Problem:
Drawers are made from a medium-weight molded plastic. The divider rails (heavy acrylic) are notched so you can configure them in various grid formations inside the drawer. Because the divider rails are movable, and the drawer is medium-weight, the drawer will bend when full. This may allow the divider rails to shift out of place allowing small-item contents to move into the other sections.
The Remedy:
Once I knew the grid formations I needed for each drawer, I began to look for a liquid adhesive to glue the divider rails in place, permanently. I'm happy to report that Crafter's Pick - The Ultimate! does the job. Not only does this amazing glue dry clear, it's pliable and bends with the drawer. To glue the grid in place, I carefully placed a line of glue on the bottom edge and sides of each divider grid (starting with those designed to be placed in the drawer first) and placed a large book on top of the grids to hold them in place until they were completely dry. Then I glued the cross-wise grids into place. I glued the grids of several drawers at night and they were dry by morning. (See Figures 9, 10 and 11 – Divider rails glued into different grid configurations)
Figure 9 - Four compartments (made by using two divider rails)
glued permanently into place with Cratter's Pick, The Ultimate!
Figure 9 - Eight compartments (made by using four divider rails)
Figure 9 - Thirty-six compartments (made by using ten divider rails)
A Problem:
Lids get in the way if you want to get in and out of the drawers quickly.
The Remedy:
I store my lids under each of their respective drawers. The lids give added support to the drawer, and I always know where they are. The drawers still move freely in and out of the trays with the lids in this position.
A Problem:
The slits in the divider grids allow tiny beads and other small objects to move into another compartments (see Figures 9, 10 or 11).
The Remedy:
Place beads and other small items into small zip-loc-type bags or containers before placing them in the drawers. Or, place your beads in an entirely different storage container.
A Problem:
Drawers can get hung up on the small nub of molded plastic on the underside of the Lipless Trays.
The Remedy:
Knock the nub off with the sharp edged tool – remember safety first!
Summing It Up
There are so many organinzational/storage options and possibilities when it comes to using Display Dynamics Lipless Trays and Storage Trays. If you want to advance 10 paces in the game of clutter control and win peace of mind and order do the following:
1) Take time to look at storage problem areas of your your life.
2) Access your needs and make a list of what you will need to change your circumstances.
3) Set goals for what you want to acheive and set realistic dates for when they'll be achieved.
4) Work regularly until those goals become realities.
The best storage solution is the one you will actually use. I wish you success!
If you need organizational supplies? Shop all storage and organization products in the Scrapbook.com Store.