I have had a lot of people ask me how I made the Mickey photo mosaic in my "Disney Family Vacation" layout below.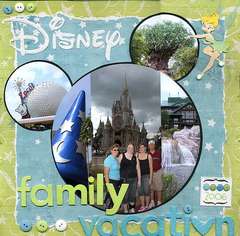 Disney Family Vacation
By Godschild94

This is how I made it.

*I used Photoshop Elements to do the photo editing and merging and it was pretty easy.*

1. Gather 5 photographs from your trip or other event. I chose a picture of each park plus a photo from our hotel and only one picture with our family in it.

2. Open these photos in your photo editing program. Also open a blank file inside your editing program sized 8 1/4 inches by 8 1/4 inches.

3. Choose the 3 photos you want in the main circle. Go to each individual photo you have opened and size the middle photo at 3 1/2 by 8 1/4 inches and the two other photos as 2 1/4 x 8 1/4 inches. When you size these two photos remember that one of the sides will have a good chunk of the corners cut off when you round the photos. Also about 1/4 inch will be cut off the photo as a whole when you cut it into a circle so crop your photos a bit bigger than you actually want them.

4. Drag and drop each photo inside the 8 1/4 x 8 1/4 blank page you created and line them up next to each other. The photos should fill the entire space.

5. Once you are satisfied with how the photos look together, flatten or merge the images together onto one layer.

6. Also size the other two photos to 3 3/4 in x 3 3/4 in. *Note: We will be cutting your photos to about a 3 1/2 circles so you will loose a bit of each photo.

7. Print out the photo grouping as well as the two smaller photos on photo paper.

8. Using a circle cutter (I used the EK Success Curvy Cutter), cut the photos into circles sized 8 inches and 3 1/2 inches.

9. Lay out your circles in the shape of Mickey's head. (I spaced the ears 3 1/4 inches apart on my layout.) Then when you are happy with the arrangement glue the pieces together.

10. Mount the Mickey head on a piece of black cardstock and trim around it creating a thin border. This helps pull the image together and gives it more definition and also gives the head more stability.

Now that you have created your photo grouping, design the rest of your layout around the photos as you would any layout and enjoy your creative photo matting. :)

If you have any questions or if anything is unclear, please don't hesitate to pm me and ask. Hope this helps and I can't wait to see your Mickey creations.