Afforable Easter and Spring Decor!

Article Courtesy Dedra Long (scrapbook.com)
Easter is one of my favorite holidays, and Spring, my favorite time of year! There are so many fantastic scrapbooking products in the marketplace right now that will help bring a handmade feel to your home decor this season. Not only are these projects easy, but you can use your stash!
Save time and money while giving your home, and family, a fresh new take on the holiday.
Keep reading for some simple techniques you can try, some repurposed packaging (remember to recycle!), and use your Spring paper stash while you're at it. Enjoy!
Below is a collection of quick projects I made for Easter this year:
A changeable banner/garland, a festive sticker shadow box, and three types of dyed eggs.
Click on any image in this blog for a larger, more detailed view and decription in my gallery (plus a complete supply list)! CLICK HERE TO WATCH THE VIDEO!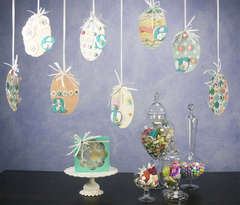 I found these great stepped apothecary jars (below) on a super-sale at my local Ross store. Can you believe it?!? You might also try visiting antique stores, other discount home decor stores, thrift shops, and swap meets.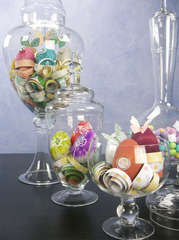 This Easter I wanted more homemade, less messy Easter grass. I also wanted to use up my Spring paper scraps. I cut my scraps into strips and rolled them around a pencil. After I rolled all of the paper pieces, I tossed them up in a bowl like a salad to mix the patterns. Then I plopped them in the bottom of my glass jars and put my Easter Eggs on top. I also plan to use them in my girls' Easter baskets this year. And, because they were scraps, it cost me NOTHING!
If you have any type of old embellishment box, or box-like packaging left over from your scrapbooking supplies, you can repurpose the box by cutting a window in it and embellishing the inside-back to create a shadow box effect. Just add layered stickers inside and a bow around the top - super fast and easy! On a side note: It kind of reminds me of a Tiffany box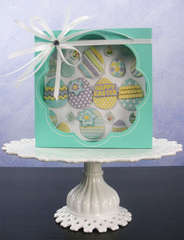 Now for the eggs!
I used three different techniques that you can likely complete with supplies you already own. Each technique is EASY and is described below... plus, the excess ink, glimmer mist, and glitter and can be reused again! A little bit goes a long way...
For these eggs (below) I used a mask and alcohol inks. If you don't have a mask you can also use a die-cut sticker - just place the sticker gently on the egg, spray the alcohol ink, and then remove the sticker for the same effect. I squeezed each different alcohol ink into a different mini mister. I layed the eggs in a bed of paper, put the mask on top of the egg, and sprayed each with a different color of alcohol ink. I put coordinating jewels in the center of each egg (when dry) to finish them off.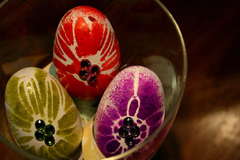 I love the way the glittered eggs turned out (below). They are so sparkly in person. To acheive this look, I emptied five different colors of glitter into plastic cups. I brushed glue onto each egg and dropped them into the various cups. I used a spoon to scoop glitter over the top and sides the egg. Once the egg was dry I shook off the excess glitter and added a button and jewel using Diamond Glaze.
And finally, I wanted to see what the effect of Tattered Angels Glimmer Mist might be on an egg (below) - and it's BEAUTIFUL! First, I shook each color of Glimmer Mist really well, un-screwed the spray nozzle and poured the liquid into plastic cups. I submerged the eggs in each cup to dye them. The longer I left the eggs in the Glimmer Mist the darker the color became. Once I was happy with the color of the eggs, I simply poured my Glimmer Mist liquid back into its appropriate bottle for later use. I then added a butterfly from the Making Memories Flower Patch embellishment box and topped it off with a jewel.
So, there you have it - it may look complicated, but anyone who's ever dyed an Easter egg before, can apply and of these great techniques!
Try it
And be sure to post your creations here in the Scrapbook.com Gallery so everyone can see how your Easter decor turned out!!
Happy Spring,
Dedra