April 2010 Sketch Challenge

Article Courtesy Scrapjazz.com: by Nancy Stolz
Circular patterned paper seems to be popping up everywhere, and I have several pieces in my stash. So this month, I decided to create a sketch that includes a large circle, in order to use some of it up.
In my layout, I used a pre-made circular piece of patterned paper from Crate Paper. I kept the picture orientation and sizes the same as the sketch. I found the journaling place to be the perfect size for a train ticket, which went with my theme. I then journaled around the border of the circle, as there was plenty of space left.
Anita Mulcahey did not have a large circular piece of paper, so she cut a hoop herself. She decided to leave the rest of the sketch as it was. The result is a clean and simple layout that tells the story of her daughter's driving lesson.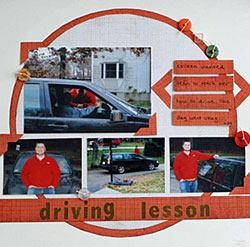 Karry Weaver changed the orientation of the photos, used a large flower shape in place of the circle, and doodled a border around the edge. Her flower embellishments and soft colors make this a perfect girl layout.
I hope you will try this sketch and show us your work in the gallery!