Product Review: Creative Charms Bling and Brads Collections

Article Courtesy Scrapjazz.com: by Rachel Myerson
I always like to try new embellishments, so when I saw the new packages of Creative Charms in the Scrapbook.com store, I couldn't resist. These little packages of charms are available in seasonal themes, with some seasons offering more than one color scheme. I chose to start with the Spring Medley in green and have been pleased with my choice.
My package included about 20 charms made of several different styles and sizes. All of them are the perfect colors for my spring layouts and cards.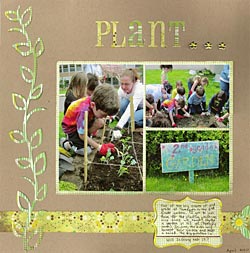 The metal flowers were my favorite; they come in three sizes and have little holes in the middle. I used a mini brad to attach them in these spring layouts and to this Mother's Day card. I love that the top flower spins.
For my next package, I am trying to decide whether to get the summer or fall collections. Whichever I choose, I'm sure I'll be pleased.