---
Article Courtesy Scrapjazz.com: by Rachel Myerson
Fall is coming. In many areas the leaves will be changing colors and falling from the trees. People will be admiring the colors, photographers will be snapping away, and scrapbookers will be enjoying the colors of fall on their pages. Even if those pages are not specifically about the fall foliage, leaves are a wonderful embellishment for fall pages.

There are so many ways to embellish with leaves. Some of the easiest are punches and die-cuts. In my layout, "Fall Fun," I used a leaf and acorn border punch, and then used the punched-out leaves elsewhere on the page.
Of course, leafy die-cuts aren't just for fall. I used a long leafy vine along the side of this spring layout about the school garden. Again, I was able to use the punched-out leaves, this time behind my flower. By outlining the vine with Patina Stickles, I gave this same leafy die-cut a wintery feel in my layout about feeding the birds.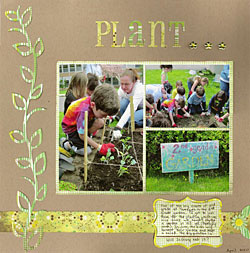 If you don't have any leaf punches or die-cuts, you can always hand-cut your leaves from patterned paper as I did in this spring-y layout.
Another option for leaf embellishments are felt leaves. In "@ six", I used a Prima felt stem to add texture to my layout.
Another way to add texture with your leaf embellishments are photo leaves. In this layout, I made a cluster of paper leaves combined with punched leaves. I used a small leaf-shaped punch to cut leaves from actual photos from the same day to add more color and depth to my leaf cluster.
In addition to the leaf embellishments I've shown here, you can use leafy patterned papers, leaf stickers and rub-ons, and leaf stamps. Leaves are a wonderful choice of embellishments, they are good for both boys and girls, and they can be used all year round. In some cases, leaves may provide a nice alternative or addition to flowers. I hope I've given you some ideas of how you can use leaves as an embellishment on your scrapbook pages.