Water Coloring with Tim Holtz Distress Inks

Article Courtesy Scrapjazz.com: by Christine Ousley
As you can see in the picture below, there are a few supplies that you will need to start watercoloring images. I like to use Tim Holtz Distress Inks. It doesn't really matter if you have the pads or the Reinkers. Either will work just fine. Another handy tool to have is a plastic palette. I use it to hold water and drops of ink from my Reinkers.
Other supplies include paint brushes or a water brush, a stamped image, StazOn ink, and watercolor paper. Because Tim Holtz Distress Inks are water-based you will need to use an ink for the stamped image that will not react, and bleed, when water is introduced. StazOn ink is the perfect ink to use. The last supply is watercolor paper. It is important to use the right kind of watercolor paper. I use Arches Watercolor paper, 140lb, cold-pressed.
Watercoloring with Tim Holtz Distress Inks is actually very simple and a lot of fun. If you have Reinker bottles just drop a little bit on your palette, dip your brush into a little water, and then pick up a little of the color on your brush. It is important in watercoloring to build up the color, so paint the color on lightly at first and then add color to create shadows. For face color I like to use the color Tattered Rose.
In this picture you can see that I have finished the face and arms plus her hair. I used Scattered Straw for the hair color. Be careful when applying colors next to each other. They will bleed together if you use too much water. Make sure to let each area dry before applying color to the next area.
For the dress I wanted to use a blue color that matched my patterned paper. So I chose the color Weathered Wood which I only had in a pad. If you close up the Reinker and press the top onto the stamp pad, when you lift the cap off you will have drops of the ink in the top which you can pick up with your brush to color your image.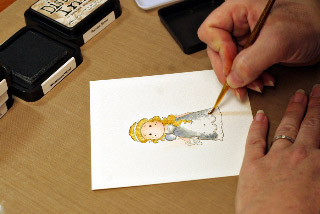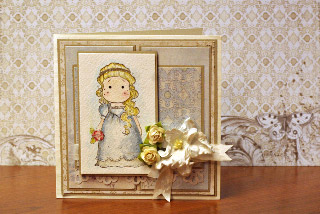 Here is the finished image and card. I used some Broken China around the image to create a shadow and continue the soft watercolor look into the background. When you first start using these inks you might apply the color a little too heavily. Just add clean water to the area and it will soften and lighten. As with any new technique it is important to practice and have fun.