Product Review: Hero Arts Clings - Seasonís Greetings

Article Courtesy Scrapjazz.com: by Stacy Milford
The newest Hero Arts stamps are in the store at Scrapbook.com and there are so many to choose from. The Christmas line really caught my eye, so I decided that the Hero Arts Clings Season's Greetings set would make a great addition to my stamp collection!
Hero Arts Clings are repositionable rubber-faced stamps with the following features:
Imprinted for accurate stamping placement
Easy to store, with image indexing
Deepest etch for precise impressions
Always clings to acrylic blocks
Non-toxic, latex and phthalate-free
Made in the USA
Priced at $11.99, I felt like this four-piece Christmas stamping set was a great deal and could be used for many different projects, including scrapbook layouts, mini albums, cards, tags and home décor.
I have several acrylic stamp sets by various manufacturers and the one thing that bothers me is that many of these sets are hard to remove from their packing. In fact, I have damaged the stamps just trying to get them off their backing. I was pleased to find that the Hero Arts Clings are very durable and I had no trouble with them at all.
For my review, I thought I would show you how versatile this set really is by creating three completely different cards using the set. Each of the cards is fairly simple in design, which means that you can easily reproduce them for creating large quantities of Christmas cards.
For the first card, I experimented with misting white cardstock with Maya Mist Green Mist and then let it dry for a few minutes. I then stamped the tree images directly over the misted cardstock. Using a darker green ink, I stamped additional tree images and then cut them out and mounted them over the background trees. This gave dimension to the card! Patterned paper, rickrack and a snowflake gem finished off this card.
The second card utilized all three tree images stamped on white cardstock, which was then mounted over red cardstock. The kraft cardstock base gives the card a cozy feel and a green Hero Arts gem highlights the center tree. This is very easy to duplicate!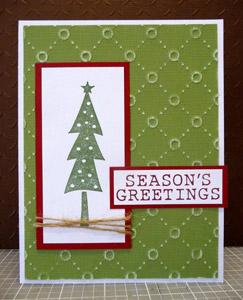 My final card became my favorite of the three I created. I used Core'dinations Cosmo Cricket Embossed Cardstock and sanded it to reveal the background design. The stamped images were layered over red cardstock and mounted directly to the embossed cardstock. I added a little twine for a country look and it was done.
So what are you waiting for? Get your stamp set ordered and get those Christmas cards made! There is just nothing quite like receiving a handmade card during the holidays!