November 2010 Color Combo Challenge

Article Courtesy Scrapjazz.com: by Stacy Milford
With Thanksgiving right around the corner, I let the colors of the fall season guide me in choosing the November 2010 Color Combo Challenge. I used the Scrap by Color tool at Scrapbook.com. I chose a pumpkin spice color on the color wheel and then selected a triadic color scheme:
I asked Virginia Hertel, known by many of you as "buttonscrapper," to play along and she came up with this wonderful card loaded with techniques – border punching, paper crimping and distressing. She even punched a flower from an old book, giving that still-popular vintage look to her card, "With Sympathy":
For additional inspiration, I created three projects using the November Color Combo. Even though I don't tend to create much using purple, I found it fairly easy to incorporate into two of my cards. That is the fun part of a challenge – doing something I wouldn't ordinarily do!
I used a large purple chipboard flower on my first card. I applied a thin layer of Stickles Star Dust to add just a bit of sparkle. The Lily Bee die cut is layered with the chipboard flower and then topped by a button and hemp cord.
For the second card, I tweaked the green color just a bit and found the Jenni Bowlin mini calendar to be perfect for this project. I sanded Core'dinations Cosmo Cricket cardstock and added punched butterflies using a Martha Stewart punch.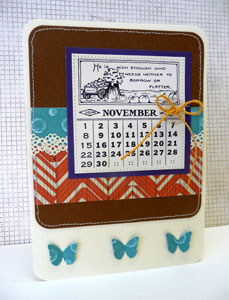 My final card highlights a tag which I misted with Maya Mist Green Mist, and then added a stamped pumpkin border image. I mounted the tag to cardstock, and added a Jenni Bowlin chipboard button, ribbon and sticker by Daisy D's.
Before the holiday season kicks into high gear, hopefully you will find a chance to join us in the November 2010 Color Combo Challenge. Be sure to add your creations to the Scrapjazz Gallery!