Product Review: Crafting Jewish Style

Article Courtesy Scrapjazz.com: by Rachel Myerson
The Scrapbook.com Superstore recently started carrying papers and kits from Crafting Jewish Style, a new line of scrapbook products aimed at Jewish crafters. Finally, Jewish scrappers and cardmakers can have high-quality scrapbook papers and embellishments designed for their holidays. There are three collections: Hanukkah, Passover, and Rosh Hashanah . Each collection pack contains 12 double-sided sheets of patterned paper, two border and tag sheets, two cardstock sticker sheets, assorted die-cuts, and ribbon.
Each double-sided paper has a beautiful design on the front, often specific to the holiday, with a more general complementary design on the back. I find that many of the sheets are so beautiful that it is difficult to decide which side to use. Although I don't use the matching stickers on every project, they make it easy to make a quick card when needed.
To give you some ideas of the flexibility of these collections, I would like to share some projects. Here is a beautiful layout from Lisa Swift made with the Rosh Hashanah Collection.
Lisa also made these fun Hanukkah cards using the Hanukkah collection:
I used the paper entitled Four Fab Cups from the Passover collection to make this Passover layout. This paper is one of my all-time favorite patterned papers.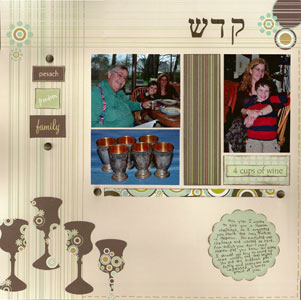 These papers are also perfect for other Jewish crafting projects which can be very useful at holiday time. Here is a beautiful Rosh Hashanah hostess gift made by Lisa Speigel and some Passover placecards that I made.
Whether you are Jewish or not, these papers are perfect if you want to make cards and gifts for your Jewish friends. In addition, many of these beautiful papers are suitable for secular layouts and cards. Here is a beautiful Mother's Day card made by Mimi Klein.
If you have been looking for Jewish scrapbooking products, I highly recommend the kits and papers from Crafting Jewish Style. You will not be disappointed.