Create a Calendar with Copics

Article Courtesy Scrapjazz.com: by Patter Cross
Did you make any calendars to give as gifts this year? If so, what type did you make—one in a CD case, a hanging vertical album, or maybe just one that hangs on the refrigerator? I have made several, and today I wanted to show you an easy, fun way to create a calendar using your Copic markers.
Some of the calendars I have made have been a page per month. Those can be time-consuming if you embellish each page a lot. My calendar for today is one that you can make more quickly since you only decorate one sheet and add tear off months from your page. The main focus on this calendar is a Copic-colored image. So when deciding on how to make your calendar, you will want to choose an image that you can color with your Copic markers.
For my image, I chose a laundry line of three dresses. I love these little dresses from Serendipity Stamps because they were perfect for my identical triplet girls. To identify our girls, we assigned them a color before they ever left the NICU. So, each dress on this laundry line represents one of my girls' assigned colors. I just love that.
I began by stamping my image in Memento Rich Cocoa on X-Press It paper.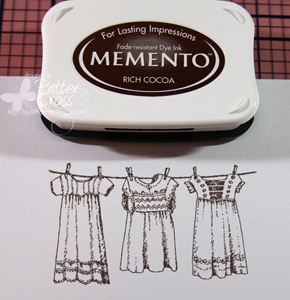 After stamping, I chose the colors I wanted to use for each dress and began coloring the first dress in blue. For each dress, I chose about three Copic colors from the same color family for coloring.
After coloring the blue dress, I then colored the rest of the dresses to complete my colored image for the calendar. Here are the Copic colors I used for each dress—
After coloring my image, I trimmed it with a Spellbinders scalloped rectangle die and inked the edges with Tim Holtz Distress Ink. For my papers, I chose some older Anna Griffin papers I had in my stash. They were subtle but perfect for this calendar. I did not want to choose bold papers of any sort since I wanted the focus to be on my colored image. I printed my calendar out on the Anna Griffin paper, and then trimmed each month to 2 ½" x 2". Calendars of all kinds can be found on the web. They are even available for many years in the future so you can get started on those gifts now for 2012! For my creation, I used this online printable calendar.
After printing the calendar and trimming, I stacked the months together and stapled them with the Tim Holtz Tiny Attacher. These staples are nice and small, lie flat, and will make it easy to tear off each month.
To mount my image and calendar, I chose a piece of cardboard from a box. It looked a little like an old washboard which made it perfect for my image. I added some jute, clothespins, and just a few other embellishments to finish. Here is how it turned out:
This will hang above my scrap desk and definitely be a cute addition to my room. I hope you will grab your Copic markers and give this calendar a try.