Product Review: Zva Creative Self-Adhesive Pearls

Article Courtesy Scrapjazz.com: by Patter Cross
Product Name: Zva Creative Self-Adhesive Pearls
Price: varies ($1.49 to $3.49)
Product Description:
Zva Creative Self-adhesive Pearls are a 3-dimensional embellishment that you can use on all of your paper crafting items. They come in many different styles, sizes, and colors including white, taupe, soft blue, soft pink, olive, lime, Tahitian, lavender, and chocolate. They even make leafy branches, flowers, and basic lines. All are beautiful and versatile!
In Use:
I must admit Zva Creative Self-adhesive Pearls are truly one of my favorite embellishments. I use them on most of my creations! They just add that bit of elegance, dimension, and beauty to a page that I find I love. They can be used on layouts, ATCs, cards, altered art, anything.
Really I do not find any disadvantage to these pearls other than you may need a larger storage container because you will want to have them all. I also add a few dots of Glossy Accents to the back to make sure they stay on my creation. It probably is not necessary as I have never had anything fall off. I am just a bit cautious that way.
Tips & Techniques:
Here are just a few ideas on using these beautiful pearls:
Use them to create the stem of a flower (see sample below).
Cut a flourish to any size you need to use as an embellishment on a smaller page, ATC, or card.
Use Copic Markers to change the color of the pearls.
Use multiple flourishes to create a gorgeous frame on your creation.
Project Ideas & Examples:
On this 5" x 6" page, I cut out part of the large flourish to add only a portion of it to my smaller page. I used it as the stem of my flower.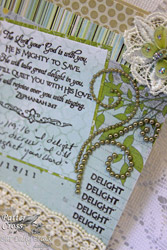 Be sure to visit the gallery for more projects using Zva Creative Pearls.