Home Decor: Mini Spring Banner

Article Courtesy Scrapjazz.com: by Heidi Anne Giebel
It's time for spring! After such a difficult winter, everyone in my family is ready for warm spring breezes, the chirp of the birds and the fragrance of some beautiful springtime flowers. What better way to celebrate the coming of spring, but with a sweet mini banner?
This spring-themed mini banner was so quick and easy that I was able to complete it in less than two hours. I started by choosing a banner and layer from my Cricut cartridge Lovely Floral.
I wanted to change the ratio of these two images, instead of cutting them as a group. I used the hide selected contour function and cut the banner separate from the layer. "Hiding" a line tells the Cricut machine to not cut it. To use hide selected contour function, you select the line you wish to hide and then right click. Then choose hide selected contour from the drop-down menu. The line that you wish to hide will then turn blue, as in the example below.
I cut the each banner at 4", the layer at 6 ½" and letter at 3 ¾" high. Once all my pieces were cut, I inked their edges using an inkpad and paintbrush. Then I layered each banner.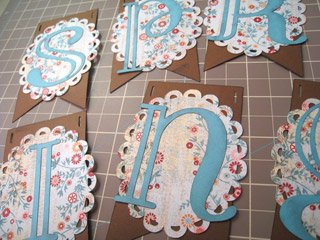 Next, using my Simply Charmed Cricut cartridge, I cut a variety of flowers and mushrooms at 1 ½ inches. I stamped a Peachy Keen Stamps face onto each one and highlighted them using my white gel pen and chalks.
I adhered one little embellishment to each banner.
Lastly, I strung my banners onto a pink grosgrain ribbon to hang on my wall.
Products used:
BasicGrey Blush Collection, Admire