Article Courtesy Scrapjazz.com: by Rachel Myerson
I live in a house full of sports-obsessed males. They play sports, they watch sports, and they think about sports. As a result of this, I take pictures of sports and I scrap about sports. Although the uniforms and the scores change from year to year, I find that the photos look pretty much the same. In order to make sure that the layouts come out different, I am always looking for new approaches to sports scrapbooking. One way that I vary my approach is through the way I journal about sports.
Whether you are journaling about a family member playing sports or attending a professional sports event, here are some different approaches you can use for journaling about sports.
Focus on the best part
When my sons first started playing sports, the subject was fresh and the high point of the season was as simple as the color of the uniform. For my son's first tee-ball team, I journaled about his cool uniform and left out the fact that he didn't hit the ball past the pitcher or catch a single ball all season.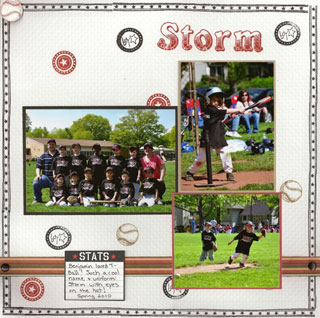 However, on his first soccer game of the season, he scored two goals on a pouring rainy day. He cried when his team lost, but again I focused on the positive, and journaled only about the goals.
Focus on the accomplishments
As children get older, there is more at stake. They can lose or not even make the team. When my son tried out for travel soccer, he was very nervous waiting for the results. Once they came, I definitely wanted to document this moment in his scrapbook. I used some photos from a soccer game that occurred around the same time, and told the story of his tryouts in my journaling.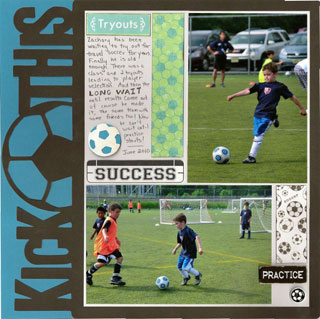 Let the pros do it for you
As children get older, their game might get written up in the local paper. Likewise, if you attend a professional sporting event, you should be able to find articles about the game in newspapers or on the Internet. There is no reason why you can't copy these articles, or box scores, and use them in place of the journaling on your layout. In this framed layout about a World Series game that my son attended, I used a newspaper article and a box score to tell the story of the game.
If your children play sports at the high school or college level, using newspaper clippings is a great way to journal about the game and add extra mementos to your page.
Take the Voice of an Announcer
If you are looking for a creative approach to journaling, especially about a game with action or suspense, try taking the voice of an announcer. In this layout about a professional game that my son attended, I had watched the game on TV, and tried to narrate the layout as the announcer had narrated the game. Since my husband had taken pictures of the scoreboard, there was no need to include those details in my journaling.
Use Quotes
There are lots of great quotes about sports. If you are completely stumped and have no idea what to journal on your sports layout, try searching the Internet for an applicable quote. Yogi Berra and Vince Lombardi are particularly good sources of sports quotes, but there are plenty of other choices from famous players and coaches. Even William Shakespeare had things to say about sports.
I hope I have given you a few ideas of how to journal on your sports layouts, and remember: "It ain't over 'til it's over."