Dying Different Types of Ribbon with Re-inkers

Stamp pad re-inkers are dye or pigment ink for refilling your ink pads. It is a way to keep your pad filled with color rather than throwing it away and buying a new one when the pad starts to lose its vibrancy. They usually come in little bottles that are plastic or glass and there is either a dropper or squirt top that helps to control how much ink comes out of the bottle so the ink pad that you are refilling does not become too saturated. You can use your stamp re-inkers for more than just making your stamp pads like new, though. Today I am going to show you three different techniques on how to customize different types of white ribbon with your Tim Holtz Distress Ink dye refills.
Technique #1
Dying satin ribbon
Supplies:
-plastic sandwich bag
-dye re-inker (any color)
-white satin ribbon
-spray bottle filled with water
***optional: gloves to protect your hands
1. Take a plastic sandwich bag and put three drops of re-inker in the bag. In my example, I used Peacock Blue.
2. With the water bottle, spray two squirts of water in the bag. Make sure it mixes with the ink.
3. Place the ribbon in the bag and squish the bag until most of the air is out of it. Then squish the ribbon around in the bag, getting the ink over the entire piece.
4. Take the ribbon out of the bag and leave to dry. Then either heat set the ink with an iron or your heat gun.
Tips:
~Satin ribbon really absorbs the ink fast. In my example, though, there are some white patches after the ribbon dries. I liked that look so I stopped there; however, to get an even look, add a bit more water.
~I would not use this ribbon on anything that you might run through the wash. Even though it is heat set, the ink still might wash off.
~This is the fastest technique of the three.
Technique #2
Dying 100% polyester seam binding
Supplies:
-plastic sandwich bag
-plastic spoon
-Perfect Pearls pigment powder (any color)
-distress dye re-inker (any color)
-Ranger Ink Mini Mister Bottle
-water
-100 % polyester white seam binding
***optional: gloves
1. In the Ranger Ink Mini Mister Bottle, spoon in a tiny amount (like the size of a pea) of the Perfect Pearls.
2. Drop three or four drops of re-inker into the mister.
3. Fill the rest of the bottle up with water, put the top on and shake.
4. Next take your seam binding and put it in the plastic bag.
5. Squirt your ink concoction into the bag, using your hands to turn the ribbon, until it becomes saturated with color. (This is where the gloves come in handy. My hands were a mess when I was done with this step because I did not use them.) Squirt a little of the dye solution in and repeat process until entire ribbon is covered with color.
6. Dump out the ribbon onto a surface double-lined with paper towels. Let dry. You can then heat set by using your heat gun or running it through the dryer.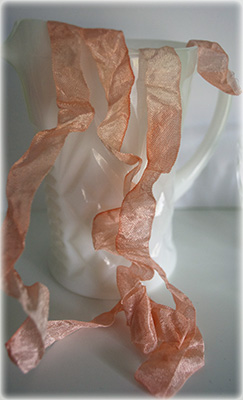 Tips:
~This ribbon will come out crinkly. I like this look but you might not. You can iron it on a cool setting if you would like it to lie flat.
~I did a second piece of seam binding using this technique but wanted it to be a bit darker. I chose to do this process to the same ribbon a couple times. I really wanted a more tie-dyed look but instead the ribbon became darker and was more varigated. I could have just put more ink in the spray bottle but was afraid that it might come out too dark then.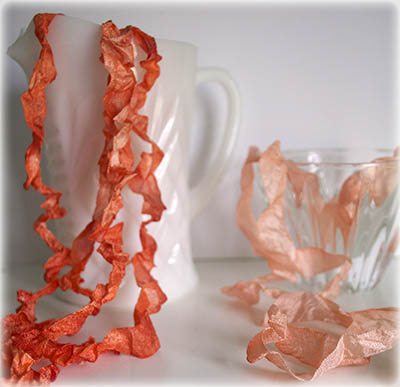 Technique #3
Dying sheer ribbon
Supplies:
-empty container
-sheer white ribbon
-water
-Perfect Pearls pigment ink
-distress re-inker (any color)
-something to stir with
***Optional: gloves
1. With the eye dropper, drop three or four drops of re-inker into your empty container. Add a tiny amount of Perfect Pearls and three tablespoons of water. Mix together.
2. Place a rolled-up piece of sheer ribbon into the container.
3. Leave the ribbon in until the dye has traveled up the sides to the top.
4. Take the ribbon out and place on two pieces of paper towel that have been folded. The ribbon is very saturated at this point with water and it needs to drain out.
5. Unravel the ribbon and take a paper towel and wipe some of the excess water off.
6. Leave the ribbon to dry and heat set with an iron on a cooler setting.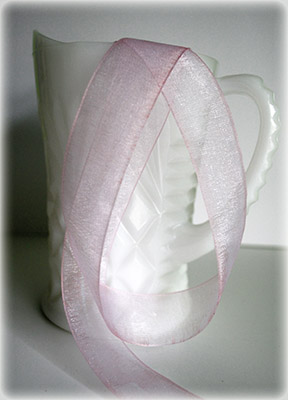 Tips:
~This was the least favorite of my techniques. The color came out lighter then I anticipated. I only left the ribbon in for about 10 minutes so it might have come out a bit darker if I had left it in longer. I was also disappointed because it did not come out with a more ombre effect.
~The sheer ribbon had the hardest time keeping the color as it did not saturate like the satin and the seam binding.
~This technique was the messiest of the three so gloves would definitely help with keeping your hands dye-free.
Each of these techniques was really easy and did not take a lot of time to do. The seam binding took the ink the best and the crinkles give it a unique look. The next time you do not have the perfect colored ribbon for a project, think about making your own with your scrap supplies.