We believe that handmade cards can lift the human heart and spread happiness. We've launched a global initiative to get handmade cards to people who are in need of an emotional boost, a smile, or a helping hand.
Hear what some of your favorite brands and designers have to say about this initiative and keep reading below to learn more.
Here's How it Works
You send your handmade cards (blank inside - with no personal message) to Scrapbook.com.
We organize and distribute the cards to cancer foundations, hospitals, shelters, retirement homes, children's homes and other organizations in need.
The cards are used by nurses, doctors, staff members, counselors, parents and volunteers who add handwritten messages of encouragement and love before giving them to patients, children and other people in need.
Many of these cards will become very special mementos that will be kept and cherished for years or even decades to come.
Together we can lift hearts around the world with handmade creativity and kindness and make a difference in so many lives. We have already received and delivered thousands of cards and we're just getting started. We cannot do it alone.
To print out all the Cards For Kindness information you need, see here!
Get Involved
Are you interested in making and sending cards for the Cards for Kindness™ initiative?

We require a minimum of 10 cards per submission in order to streamline the processing and distribution - but you can include cards from any of the approved themes listed below. Each card must be handmade/homemade.

If you are unable to send 10 cards, please try to coordinate with friends or family or other crafters in your area and have them help so you can pool your efforts.

Card donations also need to be accompanied by a submission form.

Needed Card Themes:

- Thinking of You
- Inspirational / Motivational
- Get Well Soon / Well Wishes
- Thank You
- Sympathy
- Happy Hello
- Christmas
- Happy Birthday
- Mother's Day
- Father's Day
- General cards / no specific sentiment

Recommended Card Size:
- A2 cards with envelopes (4 1/4" x 5 1/2"). Please send cards with coordinating envelopes
- Though our recommended size is A2, we are accepting any card size as long as it has a coordinating envelope included with it


Minimum Number of Cards:
- 10 cards per package shipped to Scrapbook.com

Please Note:

- We are currently not accepting cards for Halloween, Thanksgiving, Valentine's Day, St. Patrick's Day, or newborn baby congratulatory cards.


- Cards may have stamped sentiments inside but we respectfully request no handwritten messages inside the cards so that they may be filled out by our partner organizations.


- Please do not send store bought, commercially produced, or recycled/previously used cards.
Current Partner Organizations
Below are a few of the organizations we're partnering with and hope to expand in the future.
Operation Gratitude
Each year, Operation Gratitude sends hundreds of thousands of care packages to the brave individuals who are currently serving in the armed forces, as well as first responders, veterans, wounded heroes, caregivers, and children of deployed troops. Each care package includes handmade blank cards for the recipients to use to write home to their loved ones.
Ronald McDonald House Charities
With the goal of keeping families together while getting necessary medical care, the Ronald McDonald House Charity chapters have been helping individuals since 1974. Their network of local chapters has helped millions of families with sick children access medical care, comfort, housing, and support.
Sunshine Acres Children's Home
This wonderful organization provides a wholesome and educational environment for children who are separated from their parents. The cards are given to children for their birthday, a holiday or for a special note of encouragement.
Mercy Gilbert Medical Center
This award-winning hospital is home to a variety of services including emergency care, a pediatric unit, family birth center, respiratory therapy, heart health and more. Their focus is on providing the highest standards of care while healing patients' physical, emotional, and spiritual needs. Cards are given by staff members to patients in the hospital.
American Orchards Assisted Living Community
This is an award-winning assisted living community that specializes in wellness as well as memory care for individuals with dementia and Alzheimer's. They aspire to engage residents and provide an inspirational living experience that goes above and beyond for happiness and well being. Staff and nurses use the cards for holidays and for special words of inspiration or encouragement.
Cardon Children's Medical Center, Banner Health
This state-of-the-art facility is different than a standard hospital. Everything done at Cardon is to welcome families and promote comfort and well-being during treatment of ill or injured children. The cards are given to injured or sick children in the hospital during their stay to lift their spirits and let them know that their doctors, nurses and staff members are thinking of them and cheering them on.
Impact One Breast Cancer Foundation
This impactful foundation is all about improving the quality of life for breast cancer fighters and ensuring they have the proper resources, support and products along the way. Their team of survivors, health care providers, professionals, caretakers, and friends aims to alleviate the financial and emotional burden experienced by women during treatment and recovery. Part of their support involves a free, personalized Hope Box for patients. Our donated cards are used in the Hope Boxes for inspiration, motivation and encouragement for cancer fighters.
Are you an organization that would benefit from receiving handmade cards?

Let us know by getting in touch here.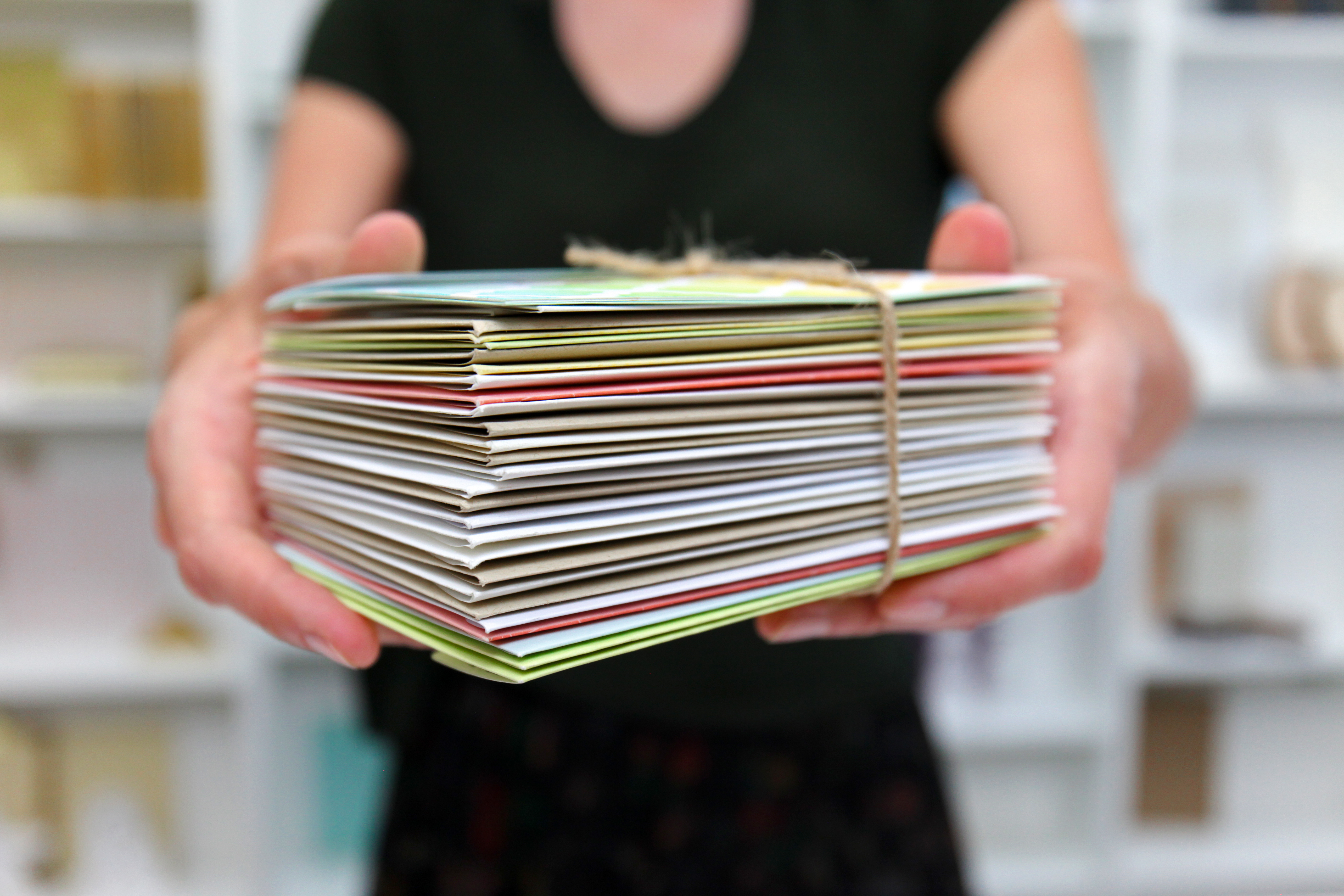 Before you send them to us, remember to take a photo and share your cards on social media using the hashtags #CardsForKindness #CreativeKindness and #scrapbookcom to spread the word!
Thank you so much for your creativity, kindness and generosity.
---