Creating One-of-a-Kind Mini Albums

Article Courtesy Scrapjazz.com: by Stacy Milford
There are so many sources for inspiration, especially on the Internet. I recently came upon a blog and fell in love with Monika Wright's approach to creating mini albums. I decided that I could create a summer vacation mini album in order to document our vacation to the lake, so I ran with the ideas I found on Monika's blog!
I wanted it to be simple, containing mostly pictures and words. I rounded up bits and pieces of supplies that I had on hand and then created journaling pages that I printed on white cardstock.
The assembly of the album was quite simple: I used mostly 4" x 6" photo prints and attached them with adhesive to the back of the journaling pages I had created . I also added in other small journaling pages, transparencies and patterned papers.
Once I had the sequence of my album laid out, the final step of using my Zutter Bind-it-All was all it took to create this one-of-a-kind mini album.
Here are a few examples showing how easily it all came together: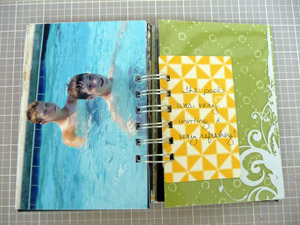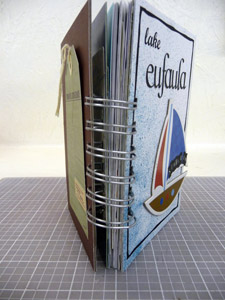 I am looking forward to taking this approach to creating many more mini albums in the future! The Bind-it-All is a great tool and worked like a dream on cardstock, chipboard, transparencies and photos.
See a gallery of projects using the Zutter Bind-it-All!