Article Courtesy Scrapjazz.com: by Heidi Anne Giebel
It doesn't have to be a holiday or a birthday to send a friend a card and what's more special than a handmade card? Sending a handmade card to a friend not only tells them that you were thinking of them but also that you took the time to make them a card.
Officially, Friendship Day has fallen on the first Sunday of August every year since 1935 but you can send a friend a card any day throughout the year. It's often those unexpected handmade wishes that mean the most.
Email, text or phone calling are all great ways to stay connected but sending a handmade card really takes it a step further, showing your friend that you thought ahead and created something beautiful to celebrate your friendship.
Here are a few examples of cards that I've made for friends.
I used my Cricut Expression to make all of these cards. For the first card I used Winter Frolic. I used the snowman and sentiment on page 32.
For this card I used the bird on page 40 from the cartridge 50 States. I also used the tree branch on page 25 in Create a Critter.
This "Let's Hang Out" strawberries and cream card was made also using Create a Critter. The bottle of cream came from page 60 and the phrase is on page 46. The strawberry cut is on page 47 of Simply Charmed.
For both of the last two cards, I used the Cricut Lite Cartridge Twinkle Toes.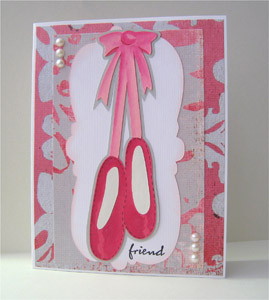 Supplies Used: