There are so many events in life that are worth scrapbooking about - from weddings and new babies to the birthday parties and graduations, the list isn't short on what should be included in the story of our lives.
But there's one person we usually forget. That's ourselves.
Will your children and grandchildren know your favorite color, your daily routine, what your favorite board games were, etc.? When you think of your great grandmother and the people who came before you, wouldn't it be wonderful to see more photographs of them and know intimate details of their lives?
What is an "All About Me" Album?
Just like you would cherish an album about your ancestors (which only so few of us are lucky to have), your family and future family would cherish an album about you... and you're the best person to create it! An "All About Me" scrapbook album is an album that answers questions, tells stories, and shares pictures of you and your life.
There are so many wonderful qualities that makeup you as a person, including your personality traits, physical traits, fashion choices, strengths, opinions, viewpoints, and so on. With a few scrapbook supplies that speak to you and the ideas below, you can rest assured you will create an album that you and your family will adore.
How To Make an "All About Me" Album
Before you begin your album, you will want to determine what type of album you are going to do.
There are so many types of albums you can create. Here are a few types that would be perfect for creating "All About Me" albums!
- Traditional Scrapbooks (12" x 12" or 8.5" x 11" albums with page protectors)
- Easy Albums (Pocket-page style album kits that come with everything you need)
- ABC Albums (Any size, each page represents an alphabet letter and YOU decide what each letter represents!)
- Past, Present, Future (Share the story of you, chronologically)
- Mini-Album (A teeny-tiny album that is all about you!)
How To Scrapbook About Yourself
Scrapbooking about yourself can feel a little odd, but it's extremely easy if you have supplies that you find beautiful, a pen you love to write with, and just a few prompts to get you going. We have those for you here!
The great thing about an "All About Me" scrapbook is that there are no rules - but don't let that intimidate you; let it free you. Pick any of the topics listed below and get started. Once you do a few pages all about you, the rest will feel much easier.
Journaling & Scrapbooking Prompts
10 Things about Me
My Favorite Recipe
Circle of Friends
A Page (or two!) For Each Hobby I Love
A Day in My Life
My Career
My Faith or Spiritual Journey
My Earliest Memories
Lists of Favorites (Colors, Dinners, Movies, Songs, Artists, Place You've Traveleds, Cartoons, Movie Stars, Desserts, Stores, Outfits, Disney Movies, Restaurants, Flavors of Ice Cream, etc.)
What Am I Afraid Of?
Growing Up (Where were you born? Where all have you lived? How many houses have you lived in and what do you remember about them?)
Hairstyles through the Years
Hopes and Dreams
"I am Blessed" (In what ways are you blessed? Share.)
"I am Grateful" (Pages about everything you are grateful for)
The Last 10 Years (how have you changed over the years?)
Making My House a Home
The Love of My Life
Mom & Me (What did you and your mother do together? What were your similarities? Differences?)
My Emotions (What makes you happy? Sad? What makes you laugh without fail. What makes you cry? When do you get angry? What makes you nervous?)
People That Inspire Me
Pets on Parade (Or pets through the years!)
A Mile In My Shoes (Talk about your greatest successes and hardships you've overcome!)
Self Portrait (a personal photo and journaling about the photo)
Uniquely Me (things that make you unique)
Selfies!
My names (maiden, married, nicknames)
My Purse (What do you keep in it?)
How I Spend the Holidays
Funny Me (What are some things others might be surprised to know about you?)
Places I've Been (Share where you have traveled and why you went there)
High School Years
My Firsts (Your first job, first date, first car, first time on an airplane, first child, etc.!)
How I Met... (How you met your best friend, your husband, your partner, etc.!)
Your life is filled with stories that others would love to hear. All you need to do is get the supplies you need, start with one of the prompts, and get ready to share your story.
"All About Me" Layout & Album Ideas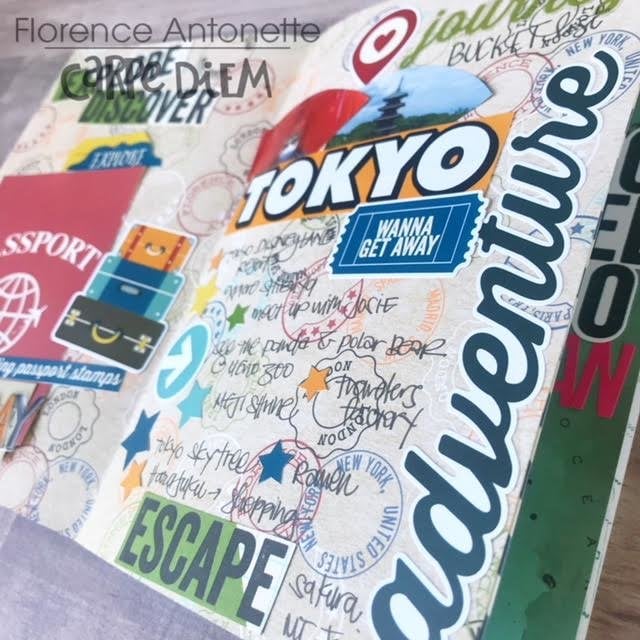 ---