Using up my stash of crafty goodness and working with what I've got is a huge challenge - and one I happily accept! Today I am sharing a simple card tutorial that is both fun and easy!
When I have extra journaling cards I don't know what to do with (such as 3" x 4" decorative cards or patterned papers with 3" x 4" sized designs) and that I don't wish to use in albums, I make a card!
All you need are some papers, buttons, foam adhesive, and glue - and the options from there are endless!
Project Supply List
Shimelle Box of Crayons Double Sided Paper: "Treat Yourself"
28 Lilac Lane Fruity Fun Embellishments
Step 1: Pick and Trim
Begin by picking a patterned paper to back your 3" x 4" card with and trim to 4" x 5 ¼".
Step 2: Add Your Foam Adhesive
Put foam adhesive (4 - 5 should do the trick) in the center of the 3" x 4" card and attach it to your larger patterned paper background.
Step 3: Choose Your Embellishments
Now it's embellishment time! You can use whatever dimensional embellishments that you would like - just pick things that coordinate with your papers.
Step 4: Embellish!
Using a liquid adhesive, begin at one corner and start placing your embellishments.
Tip: Tuck larger elements under the card to make it more visually appealing!
Step 5: Continue Around the Entire Card
Continue around the entire card. Once finished, add in glitter glue accents, more sequins and beads, or any other elements you would like!
Tip: Not sure what glitter glue or Stickles you have on hand that matches your project? Get them all organized and in one place with the .5 oz and 1 oz bottle ColorCases! These are the perfect clear, stackable organizers for all your Stickles, Nuvo Drops, and more!
Step 6: Mount Your Card Front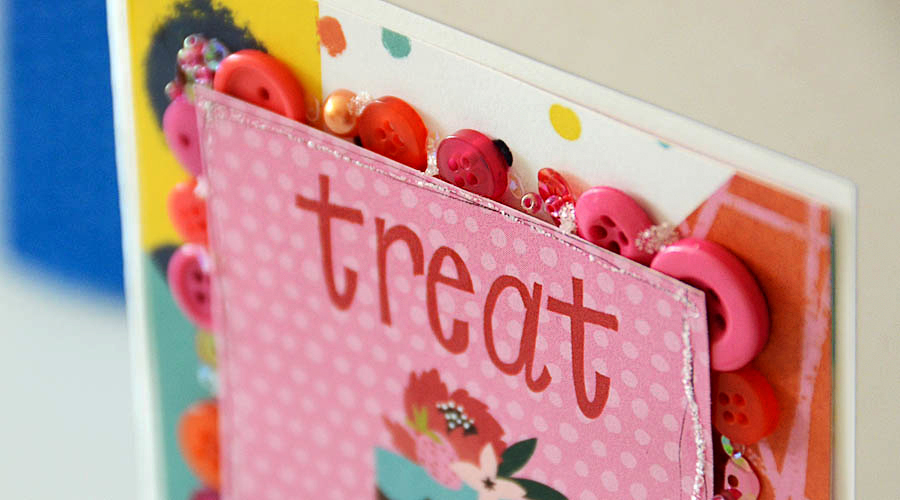 Once finished with your card, mount it onto a folded 4 ¼ x 5 ½" cardstock!
This card design is so much fun and works with any 3" x 4" card - or many die cut shapes and designs as well!
I hope that you've been inspired to delve into your own creative supplies to see how you can use them to create something truly beautiful! Thanks for stopping by!
---