Scrapbook.com has some breaking news for you - are you ready for this? Albums can be used for far more than just photos and scrapbook layouts (but those are still some of our favorites)!
These ideas are all about organization, inspiration, and memory preservation. Here are 10 alternative uses for photo albums that you're going to love.
Stencil Storage Album
Are you a stencil addict? We are too! There's just something magical about the world of possibilities that awaits when you pull out a unique stencil that can be used with a huge variety of materials. But when they're not in use, those intricate, delicate, reusable tools need a place to call home that provides protection and an organization system that makes sense.
That's where our 6" x 8" albums come into play. They are literally the perfect size for creating a catalog system for your prized stencil collection.
Paired with our clear, sturdy full-page protectors in the same size, you can store popular 6" x 6" stencils and over 3 dozen exclusive 6" x 8" stencils made by Scrapbook.com.
If you create with stencils on a larger scale, may we suggest the same catalog system in a size upgrade? Pick up one (or more) exclusive 12 x 12 albums with full-page protectors in the corresponding size, and your big, beautiful stencils are cataloged and easily referenced.
Did You Know...?

Scrapbook.com's 6 x 8 page protectors actually fit perfectly with the ring sizes in our 9 x 12 and 12 x 12 albums. That means you can mix and match page protector styles and sizes to fit your collection and the contents you're storing!
Collection Album
While you may be an expert at collecting craft supplies, there are many other collectibles that can call a beautiful, sturdy album their home.
For collectors of thin, precious items such as postage stamps, coins, and paper money, albums are a stellar way to secure your contents. Both the Scrapbook.com 12 x 12 and 9 x 12 albums contain 3 standard D-ring closures that make them ideal for many brands and types of specialty page protectors or sleeves.
Trading cards, sports cards, and other collectible cards are other extremely popular collectibles in many homes around the world. They span all topics and ages too. From vintage baseball cards and basketball cards to Pokemon and everything in between, these valuable collectibles belong in an album to protect their value and integrity.
Isn't it about time your best friend, parent, spouse, or grandkid ditched the old shoebox and got their prized cards in an album? Get them set up with a Scrapbook.com album today!
World travelers or the friends and family of those who trek across the globe love postcards! They tell a story of landmarks, monuments, experiences, and cherished memories. We have the perfect way to display & remember these forever.
The typical postcard size is 4" x 6", which fits perfectly in our page protectors for 12 x 12 albums. For something a little smaller, we also have a page protector for our 6 x 8 albums.
The great thing about storing postcards in our clear page protectors is that you can layer two in each pocket back to back or have one in each pocket with any handwritten messages visible on the back!
Organization Tip: Albums are also a great way to store all of your clear photopolymer stamp sets. You can customize each of your albums to fit any sized stamp sets in your collection with various Scrapbook.com Page Protectors!
Address Book Album
A little 6" x 8" album is a wonderful way to get all your contact information all in one place. If you're a cardmaker who brightens everyone's mailbox with handmade creations, how handy would it be to have your contacts and addresses in one organized little album? You could also have a special spot for everyone's birthday, so you never miss a mailing deadline for that fabulous handmade card!
If you're a busy business-minded individual who has lots of contacts, an album is a no-brainer for all your need-to-know-info.
Our 9 x 12 albums have 3 standard-sized D-ring closures that can hold many popular page protectors that are designed specifically for holding business cards. Don't throw them in a drawer, at the bottom of your handbag, or clip them onto the fridge with a banana-shaped magnet. Those business cards need a place to call home - why not get them an album?
Thin Metal Die Storage Album
Take control of your thin metal die collection and get organized in a custom album system. There are so many options available to you when you build the die storage album of your organizational dreams. Here's how you can use all the popular album sizes for your dies.
12 x 12 Album Die Storage: Scrapbook.com's signature 12 x 12 albums and coordinating pocket page protectors work wonders for sorting and organizing your die sets. Each set can have its own designated spot in a pocket.
9 x 12 Album Die Storage: Pick up a pack or two of our full sheet 9 x 12 page protectors that go with many popular brands of magnetic sheets for displaying & protecting your die sets. Lawn Fawn, Stamp N Storage, and others have 8.5 x 11 magnetic sheets that are perfect for the organization you'll be obsessed with.
6 x 8 Album Die Storage: Here's another fabulous way to store your thin metal dies. When you go for the full-page 6" x 8" protective sleeves, you can pair them with Waffle Flower's Cloud Storage Boards* or Lawn Fawn's 5" x 7" Storage Cards for convenient organization.
Since all of Scrapbook.com's albums have a metal label nameplate, you can organize your whole die collection by brand, theme, type, or shape. Just imagine how gorgeous these albums will look on your shelf, just waiting for some die-cutting fun!
*Please note this product has been discontinued
Document Storage Album
If your file cabinet situation could use a little bit of help, we can certainly suggest an alternative. Keep all your important documents and information contained in a full-sized album, protected in acid-free, archival clear page protectors.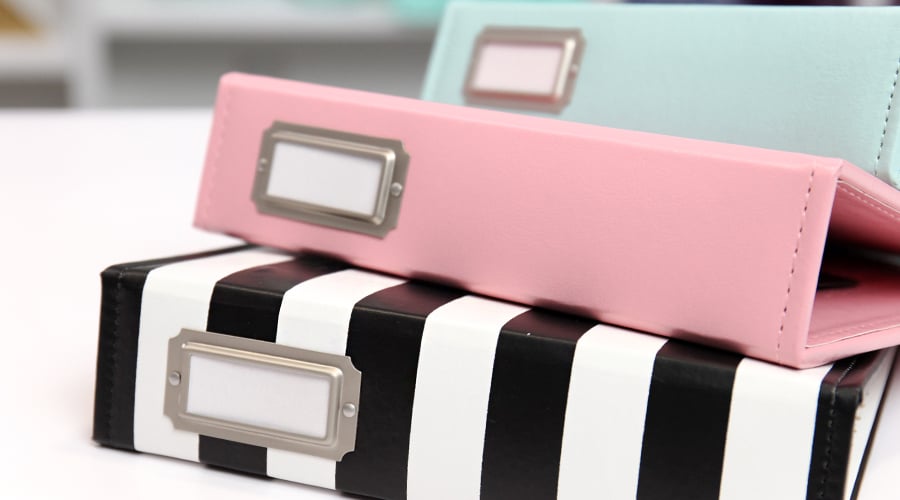 Say goodbye to rifling through a messy cabinet and instead just flip through the pages in your album when you need to reference your documents. You can easily organize and protect your:
Birth certificate
Marriage certificate
Life insurance / health insurance documents
Stock / 401K information
Employment documents
Real estate documents
Important receipts
Warranty information
Instructional booklets
Tax documents
You can also have dedicated albums for each type of document or separate them by year or person. Any important life event such as selling a car, preparing your taxes, or buying a house will be so much easier once you find the right organization system for your most important documents.
Craft Inventory Album
Here's another great crafty idea that's going to inspire you both in your creative adventures and organizational journey. An album is a fantastic place to catalog your crafty supplies, and never forget the items you have in your stash!
Catalog the images of all your woodblock stamps, patterns of embossing folders, clear stamp sets, and so much more. You can keep page after page of reference material to jog your memory every time you sit down to create a handmade card or scrapbook layout.
An album is also a fantastic place to house your ideas or techniques you want to try out. Vicki Boutin calls it a Junque Journal. It's filled with page after page of artsy, creative inspiration that will make your next project a stand-out.
You can even catalog your ink swatches, alcohol marker hues, and paint colors. Your creative time will be so much smoother when you know exactly what color supply to reach for without testing them all out again and again.
Academic and Career Planning Album
You're a brainy bookworm committed to getting straight A's, passing exams, and learning everything you can. Why not store all your scholarly documents in a system as smart as you are? Make sure you have everything you need to pass the big test when it's all organized in an album!
Easily organize your hard work in pocket page protectors or full-page sheet protectors all in one handy dandy album. The notecards you've painstakingly written out with each little detail for the big test can be slipped into a clear plastic pocket page protector for ultimate protection. Late-night study sessions are no match for this smart solution!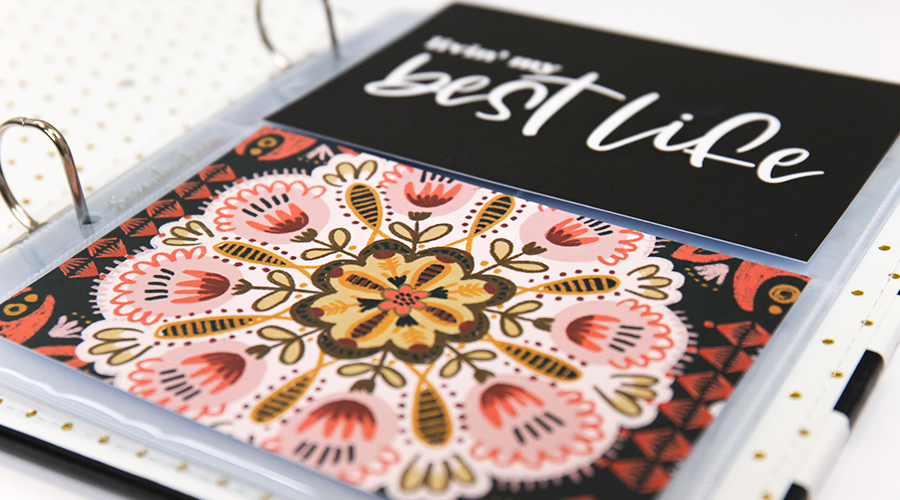 You'll be on top of your Ph.D. program or medical residency like no other, with a place for everything and everything in its place.
Get all your notes, study materials, graded tests, worksheets, syllabi, calendars, and more all organized in an album today!
Family Recipe Album
Every home chef and baking wiz needs a prized collection of recipes at the ready for kitchen adventures. Whether you've gathered your recipe inspiration from hours of Pinterest browsing or been handed down timeless handwritten recipes from family members, you need a place to house all those delicious concoctions.
A sturdy album and page protectors will ensure that each ingredient and important step of your recipe is protected for years to come.
You can even add a dash of creativity and a pinch of flair to the mix with craft supplies themed on cooking and baking. Many popular brands have 12 x 12 recipe card papers for cutting into individual 4" x 6" recipe cards. Here's how each size of an album can work for your family cookbook!
12 x 12 Recipe Album: This style of page protector lets you get super creative by adding at least 1 recipe card along with 4" x 6" photos, journaling, and a strip of coordinating patterned paper
9 x 12 Recipe Album: Here's a fabulous page protector that can hold 3 separate 4" x 6" recipes with 3 additional smaller pockets for photos, stickers, or notes about the dish!
6 x 8 Recipe Album: For a mini-cookbook with lots of delicious possibilities, we are loving this cute sleeve that allows for 1 recipe card and 2 small spots for memories.
Add in some photos of everyone covered in flour, journaling to remember each fun moment of licking the bowl, and memories to cherish forever. These handmade recipe albums can even be given as gifts to your family members who have been begging for old family recipes for years!
Child Artwork Album
There's only so much room on the family fridge for those masterpieces made by the wee ones in your life. Make sure your kids and grandkids always feel like the true artists they are with an album dedicated to every sketch, finger painting, crayon creation, and more.
Each piece of printer paper or construction paper will be lovingly protected in archival, acid-free, photo-safe page protectors.
Both the Scrapbook.com 12 x 12 and 9 x 12 albums would be ideal sizes for a customized creative system for your little artists.
Years from now, when you sit down with your kids or grandkids all grown up, you can flip through page after page of all the creations they made when they were young. Build your art albums now to reminisce years down the road.
Event Planning Album
Do you have something wonderful that you're looking forward to? Maybe sometime in the near future, there's a big milestone birthday party, a beautiful blue baby shower, or a wonderful wedding. An album is a great place to keep ideas, clippings, color schemes, notes, contacts, or receipts.
Maybe there's an epic road trip in your future that you're collecting maps, landmark info, and pamphlets for - an album would be a perfect keepsake!
Maybe you're doing a much-needed home remodel project or even having your dream house built. Collect your contractor's contact info and your ideal paint samples all in a handy dandy album.
You'll never be at a loss again for inspirational ideas when everything that runs through your mind or across your desk is gathered in one helpful place to plan the vision of your dreams!
---