Wouldn't you love to have perfectly organized inks, to know exactly what inks you have – and exactly how the colors really look next to each other? You need ink swatches!
What are Ink Swatches and Ink Swatch Books?
You may have heard the word "swatch" applied to fabric samples before when buying furniture or curtains. A more common word for a swatch might be test or sample. An ink swatch is a test patch of ink that is made to show what color it is.
A favored way to organize, display, and store ink swatches is by making an ink swatch book. Some stampers, card makers, and mixed-media artists create different books by brand, ink-type, or palette. There are many ways to create ink swatches and ink swatch books. We'll dive into the most popular below!
Why Should You Create Ink Swatches?
If you've ever painted the walls in your home, you probably visited a paint store to pick up some of those little paint chip cards. Then, you took them home to hold them up to your walls. After picking a favorite or two, you probably trekked back to the paint store to buy small buckets of the actual paint in those colors. Then you painted test spots on your wall to ensure you liked the true color when dry.
All of these steps are necessary to avoid nasty decorating surprises. Why? It's because color cards printed with ink may not look quite the same as the actual paint, and different wall surfaces take paint differently.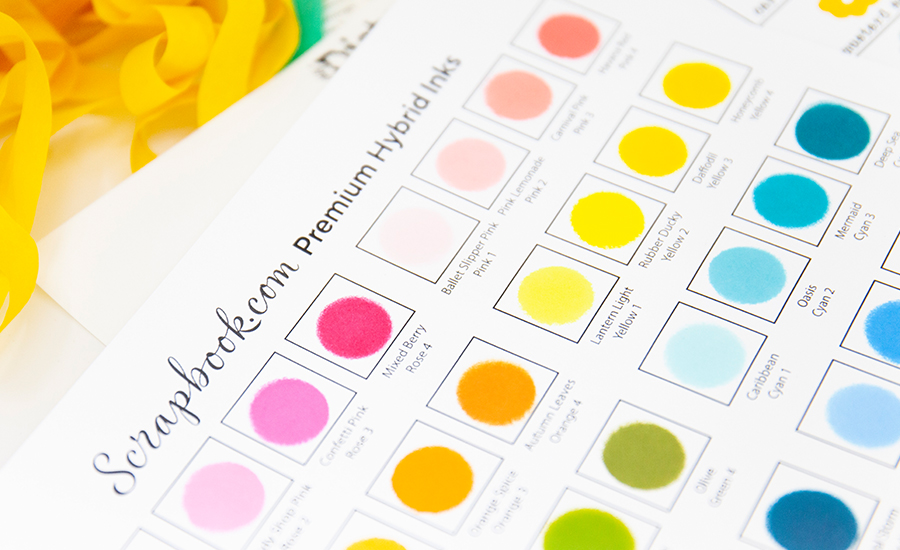 Ink, of course, is just another color medium like paint, and so it functions much the same way. Whether you are a stamper, mixed media paper crafter, or card maker, anyone who purchases ink pads can benefit from making ink swatches. It doesn't matter whether you have five ink pads, or 500. Creating ink swatches can help both your organization, your creativity, and may save you from disappointing surprises or unintended outcomes.
Here are just some of the benefits of creating ink swatches:
Inventory: The most basic reason to create ink swatches is because it creates a visual inventory of your inks. Just flip through your ink swatch book or ring of ink swatch cards (learn how to make them below!) to find out if you already have that ink pad instead of digging through your entire ink stash! Swatches can not only tell you what you have but also what you don't have. They are a great way to help identify holes in your ink color palette or colors missing from a set. Thinking of buying that fabulous bundle of pink Scrapbook.com hybrid inks? With ink swatches, you can tell at a glance if you already own any of the ink pads in the set before you click buy, saving you time and money. Score!
Color Reference: Because it is made with a different ink, a printed package label may not be quite the same color as the color of the ink pad. An ink pad swatch is a way to sample and test the ink pad's actual ink and have it as a reference for exactly what color the ink pad makes. Is your Scrapbook.com hybrid ink or your Distress Oxide ink the better shade of green to match that patterned paper? Pull out your swatches and compare!
Performance Testing: Inks can perform differently depending on the type of stamp material and paper they are used with. Creating an ink swatch gives you the chance to test out an ink with different types of stamps (such as rubber and photopolymer) or on your preferred stamping paper. Test what each ink looks like on white paper, black paper, and textured paper, then document so you remember later.
Technique Trials: Some inks are designed to be used with specific techniques that can be sampled in ink swatches. For instance, Distress Oxide ink swatches can be made with swatches of the ink used both plain and with water to create a more complete reference for the ink. Or if you're a fan of watercoloring with Distress Ink, you could add a swatch of that technique to your Distress Ink swatch cards.
Match Coordinates: For companies like Ranger Ink that create multiple products all using the same color palette, swatch books create the opportunity for recording all of the coordinating products together. For instance, keep track of your Tim Holtz Distress Ink, Distress Markers, Distress Crayons, and Distress Spray Stains by creating an ink swatch card for each color. You'll know at a glance what you have in each color – and what you still need! You'll also be able to see the variety and unique quality that each type of medium makes, giving you more information for making creative decisions while in your craft space.
Test combinations: Layering stamps are immensely popular, and the right color combination makes all the difference in how your finished stamp looks. Using ink swatch cards to test and record color combinations for your layer stamps takes the guesswork out of using them! Some inks come in collections specifically designed to look cohesive and beautiful when layered. See some of the most popular options here.
How to Make and Organize Ink Swatches
There are many systems for organizing and storing ink swatches - and they all have one thing in common: the small sample of ink that is the actual ink swatch. There are many ways you can apply the actual ink to your paper. Some of the most popular options are with craft daubers and ink swatch stamps from Waffle Flower Crafts, or a fun heart stamp (like Lawn Fawn's Conversation Heart).
Below, we'll go over the most popular ways to put your fresh, colorful swatches into a practical and easy-to-navigate organizational system!
1. Printable Ink Swatch Templates
The simplest way to make and organize your ink swatches is with printable ink swatch templates. Many ink manufacturers (including Ranger Ink and Lawn Fawn) provide these templates for their products via their websites. You just print the sheets out on cardstock and then swatch each of your ink pads in the space provided for that color. This also works well if you like to stamp on a variety of different types of paper, such as textured, cold-press, Neenah solar or linen, then you can see exactly how each ink-type and hue acts with each paper. The completed sheets can be slid into sheet protectors (such as Scrapbook.com Universal 8.5 x 11 Page Protectors for 3-ring Albums) and then either stored in a binder or bound with book rings.
One of the major benefits of using printable ink swatch templates is that they make it extremely easy to see what inks from a collection you still need. At a glance, you can find the empty boxes on your sheet and know what you need to buy. They are also very quick to make since the company has already done so much of the prep work for you.
Printable ink swatch templates do have some downsides, however. Since they can't usually be added to, they have to be redone if a company adds new colors. The current version of the template may not include discontinued colors that are still in your stash. And, if you need to take an ink pad off of your chart because you lost or gave it away or it wore out, there's no clean way to do that either.
Popular (FREE) Ink Swatch Templates
Ranger Ink Templates (For Distress Oxides, Distress Inks, and other Ranger Ink materials)
Paper crafting extraordinaire, Paige Evans, shares insights on creating an ink swatch in her tutorial below!
2. Ink Swatch Books
If you are looking for a small portable ink swatch book, a journal might be the answer for you. A traveler's notebook (especially the mixed media friendly pages of the Dyary) or a small watercolor sketchbook are great for this kind of DIY swatch book. (If you'd like to use a traveler's journal with pages that ink swatches will show through on, simply make your swatches on a separate piece of cardstock and then fasten them to your journal pages.)
Since this ink swatch system is DIY, you can design your swatch book pages how they work for you. Want to put all your blue inks on a page? Want to make a page for each color family of your Scrapbook.com hybrid inks? It's up to you! Arrange by color, by brand…or both!
Do you like the idea of a DIY journal but don't want your journal to look messy? Waffle Flower Crafts has just the solution with its Color Swatches for Inkpads stamps! First, use the Color Swatch stamps (with waterproof ink like Ranger Archival) to perfectly create your swatch boxes on your journal pages. Then, create your ink swatches in the boxes with the Color Swatches for Inkpads stamps. Arrange them in strips or grids – however you'd like.
Of course, the benefit of a small journal is that it can be easily tucked into your crop bag for reference while you are crafting on the go, or in an easily accessible spot in your craft space. And because this system is DIY, it isn't limited to inks – you can also swatch items like watercolors and include inventories of your favorite stamps, dies, and other tools too.
A small size, though, means less space to work with for your ink swatches. And because the pages are fixed in place, an ink swatch journal does have limitations in keeping up to date and orderly. It poses special challenges for stampers who like to keep their swatches "in order" as opposed to a more random sampling.
3. Pocket Ink Swatch Cards
This method is familiar to many stampers and cardmakers as the "Jennifer McGuire ink swatch method", but there are many variations on it. This system of organizing ink swatches centers on making separate cards for each individual ink swatch. The cards can then be stored in pocket page protectors in albums or bound with book rings or key rings.
Cards for the Jennifer McGuire ink swatch system are 2" by 2" in size, which can be stored in sheet protectors for coins or slides. Others prefer cards that are 3" by 4" or trading card size, and then store them in pages that hold that size cards. Looking for something smaller than a full letter sized binder? Don't forget that Simple Stories 6" by 8" albums have pages with pockets sized for 2" x 2" and 3" x 4" ink swatch cards.
Your DIY ink swatch cards can easily be made very neatly with the right tools. For perfectly shaped cards every time, use your Sizzix Big Shot machine to die cut your cards. (You can find a 2" square die in this Nested Squares Set.) Stamp the outline for the swatch box from the Waffle Flower Color Swatches stamp set in black waterproof ink. Then use the matching filler stamp from the Color Swatches for Inkpads set to stamp the color to fill in the ink swatch.
Undoubtedly, the number one benefit of using pocket ink swatch cards is their flexibility. Cards can be easily added, subtracted and rearranged in pockets as needed. You can even take ink swatch cards temporarily out of their pockets to color match or brainstorm color combinations for a project.
If you mix, match, and plan on switching out swatches often (say that 10 times fast!), pocket ink swatch cards may be the best choice for your newly organized color collection.
4. Die Cut Ink Swatch Tags
Love the idea of individual ink swatch cards but don't love the idea of pocket pages to store them in? Grab your Sizzix Big Shot machine and make some die cut ink swatch tags! These tag dies will give you lots of options to find the perfect size tag for your ink swatches. Ink swatch tags can be stored on book rings by color, ink manufacturer, ink type, or more.
Depending on the size of ink swatch tag you choose, there are lots of options of how to make swatches on them. One a small tag, you might choose to just stamp a single large patch of color with the Waffle Flower Crafts Color Swatches for Inkpads stamp set. A larger tag might have room for multiple ink swatches, or for demonstrating several techniques with the ink. Large tags, for example, are a great way to color swatch your Distress Oxide inks both plain and with the oxide effect.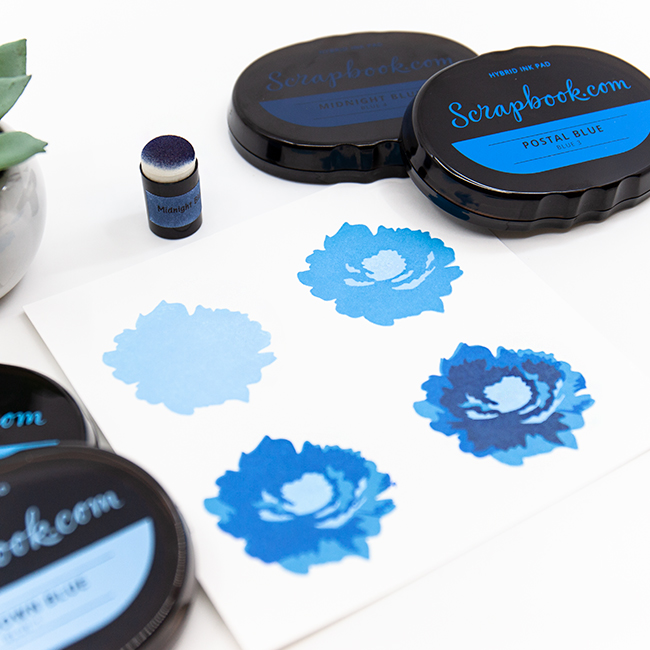 You can also use large tags to create samples of layering stamps using different color palettes. There's no need to fit the entire stamp on the tag, only enough of it to get an impression of how the colors will look. Stamp, and then record underneath (or on the back) a set of ink swatches showing what colors you used. Spend an afternoon making these inspirational ink swatch tags with your layering stamps and you'll never run out of ideas for how to use them!
Using ink swatch tags is a very flexible system to organize and swatch your inks. The ability to choose just the size tag that you want means that you can choose exactly the size that works for you. It's very portable and also can be conveniently hung on a hook for quick access and updated easily and quickly.
5. Ink Swatch Via Dauber Organization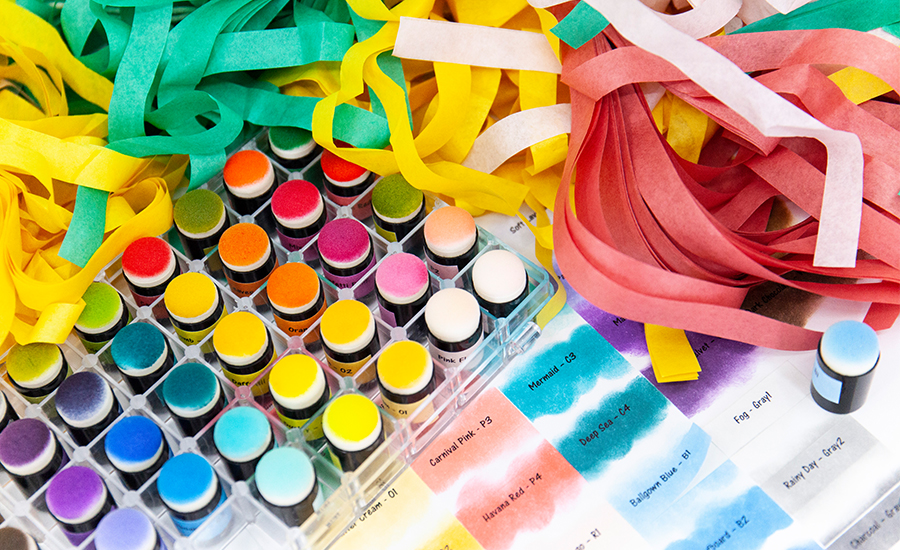 Kill two birds with one stone and not only have a blending tool on hand for every color you use, but also have an easy and simple way to see all of your ink options in a single glance.
Taking advantage of daubers with a clear storage case is a quick and easy way to display the inks you have on hand. Because the dauber foam tips are white, you'll be able to see what your color will look like on white paper. You can use a label maker to label boxes - one box for Distress Oxides, one for Scrapbook.com Inks, one for another, etc. If you want to be extra in-depth, you can individually label each dauber by adhering the ink's printed name onto the base of the dauber.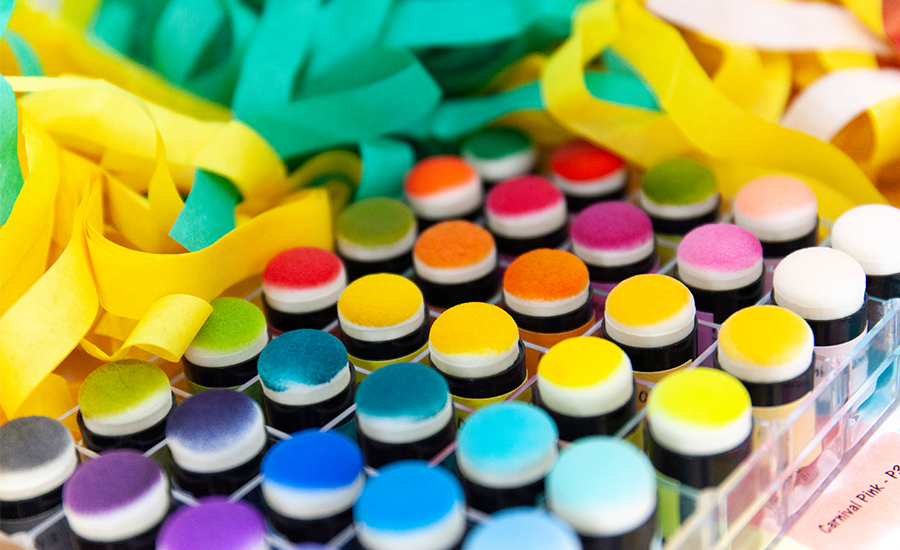 This can be a great way to create swatches by brand, ink type, or color palette. Plus, they look beautiful sitting atop your craft space or they fit snugly in a drawer or on a bookcase.
Check out this amazing video from Amy Sonnemann about swatching and craft organization that is full of super beneficial tips and ideas to help you stay organized.
6. Storing your Reinkers
Now that you have all your inks swatched and wonderfully organized, why not keep all your reinkers organized as well? With the exclusive Scrapbook.com .5oz bottle ColorCase, you'll be able to store all of your reinkers for when those ink pads need a little love! The .5oz reinkers for your Scrapbook.com Hybrid Inks fit perfectly in this clear plastic storage solution so you never have to rummage around drawers, bins, or your craft bag when it's time to ink up! Plus, it looks fashionable and stylish on your craft table or desk!
The
ColorCase Collection
isn't just for your reinkers. In .5oz and 1oz sizes, your favorite Stickles, Nuvo Drops, acrylic paints and more can be lined up and organized so that you're ready to craft with them when inspiration strikes!
Conclusion
Whether you choose one of these systems (or a combination of them), you won't regret using ink swatch cards or an ink swatch book. It will only improve your organization, your creativity, your crafting efficiency and maybe even save you money by knowing what you have, what you need, and what you want to buy again!
---