Recently, as I hiked through the product-lined canyons of the Scrapbook.com warehouse, I paused for a moment to look over our immense album section. While reflecting on how much the scrapbooking world has changed over the years, I chuckled to myself as I remembered the meager amount of products and albums available when I purchased my supplies years ago. Options and information were limited then and it wasn't necessary to have a degree in Scrapbooking let alone a specialization in "Albumology" in order to make educated scrapbooking choices like it is today.
Album design and construction has creatively evolved from a dime-store selection to a staggering number of styles and sizes of scrapbook albums. The myriad of album options can sometimes be overwhelming - but there is hope. Choosing the right album can be simplified through understanding what's available and how different albums are used.
Contemplating your next album purchase? Think about this:
Availability: Will I be able to find this style of album and page protectors when I need to purchase replacements or additional albums?
Form vs. Function: While this album may be incredibly beautiful in design, does it fit my scrapbooking needs? Is it trendy? Will I get tired of it over the years? Will I like how it looks in my bookcase? Will it accommodate "bulky pages" or the number of pages I have?
Cost: Can I afford to purchase more albums as I need them? Will I be able to afford the specialized components (page protectors, posts, special pages, etc.) as I add more layouts to the album?
Construction: Is the album durable, reliable, and easy to use?
Choosing an Album?
Standard Albums
Standard album sizes are 8.5" x 11" and 12" x 12" and range in cost from $14 - $100+. When calculating the final cost of an album, know that an average album holds 60-70 layouts (that translates to 30 to 35 page protectors). If you add thick embellishments to your layouts you may need to cut your total number of layouts per album in half.
Other specialty size albums are also available. Larger and smaller albums used for gift, theme, or as photo albums are available in sizes ranging from 14.5" x 13" down to 4" x 4" with varying prices.
Here are several things to think about when deciding on the size of your albums:
8.5" x 11" Albums
Cardstock, page protectors and affordable albums are easy to find inside and outside the scrapbooking world
A single layout can hold 2-3 photos without cropping
A scrapbook holds an average of 60 layouts and the weight and size are manageable, even for younger scrapbookers
If you find 12" x 12" paper you like, it can often be trimmed to fit these albums
Layouts are easily color copied (for duplicate albums)
Generally, albums fit onto standard bookcases.
Heirloom photos, smaller than today's photos, fit well on layouts
You can view a large selection of 8.5" x 11" albums here.
12" x 12" Albums
This is the de-facto size for scrapbookers and is the most popular
Cardstock, page protectors and supplies are more available than ever before, however, albums and supplies are more expensive
A single layout can hold 3 to 5 photos, which is a plus for the person who likes to take and scrap numerous photographs
An album holds an average of 60 layouts. That's good, but when they are full, they are often heavy and difficult for children and even some adults to manage
Layouts are too large to effectively color copy for duplicate albums
Storage solutions can be a problem since they don't always fit in standard bookcases
Although 8.5" x 11" papers can be incorporated into page elements, they will be too small as whole backgrounds, so you may find you are restricted in what you can buy
There is more room to be creative and tell a bigger "story"
You may find that you have to purchase fewer albums to hold your layouts
This size has become the "gold standard" for scrapbooking and it is usually what we recommend.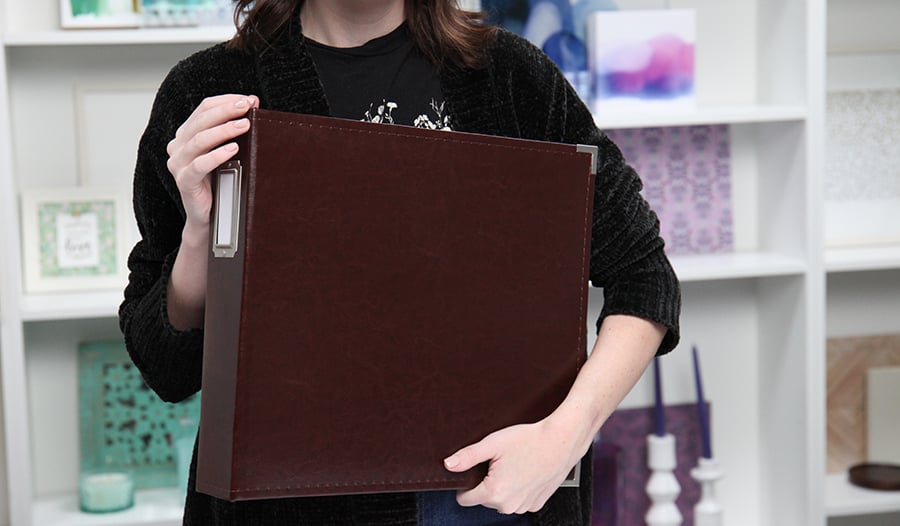 You can view a large selection of 12" x 12" albums here.
Cardstock and paper companies promote 12" x 12" sizes because there is little or no waste when 12" x 12" single sheets of paper or cardstock are cut from parent sheets. Hence they have better profit margins and less waste. Their thinking is that the 8.5" x 11" scrapper can trim down a 12" x 12" piece of cardstock or paper. Both sizes of paper sell very well at Scrapbook.com and I believe that your album size choices should be based on your personal preferences and style, not by what the industry may currently advertise as popular.
6" X 8" Albums
This size album is emerging as a fast favorite for all types of crafters
The size is perfect for beginner scrapbookers, expert album makers, and gift givers
They're quick to put together (especially with pocket page protectors) and are easy to construct for various themes like your dream vacation, wedding, baby shower, or other momentous events
Check out Scrapbook.com's 6 x 8 Simple Scrapbook Kits for more inspiration
It's also picking up in popularity for storage & organization of stamps, stencils, dies, color swatches and more
Other Sized Albums
Most other sized albums fit into the gift album category and are used as needed. Recently we've seen a lot of mini albums gain popularity including the cute 4"x4" sized albums that are great for Instagram-style square photos. Other popular sizes include: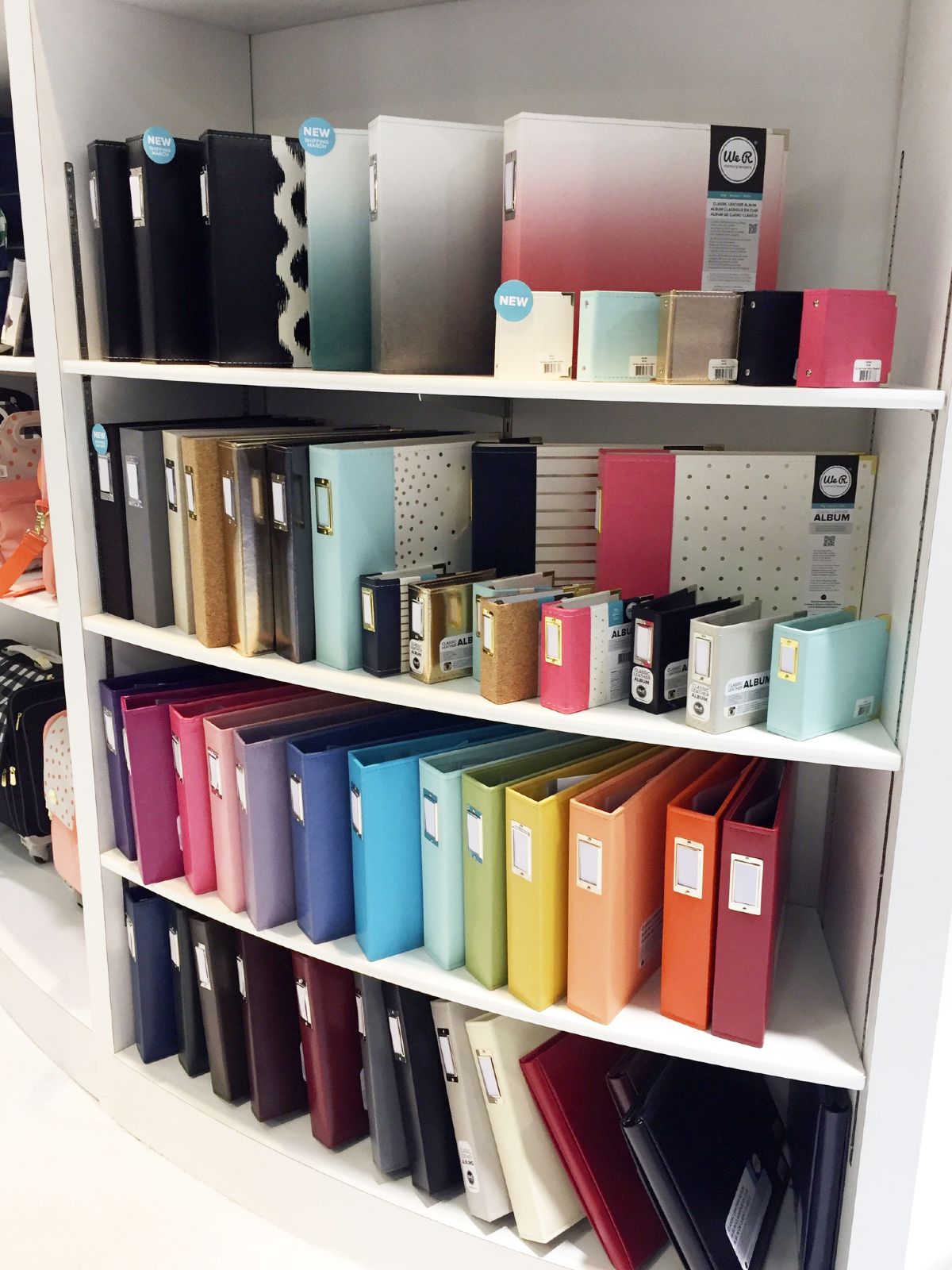 What type of albums should I buy?
I'm not talking about the hundreds of colors, prints, fabrics, designs, etc. seen on thousands of albums around the world here. I'm talking about the kinds of albums that are available to the consumer, primarily from a binding perspective. You may have heard scrappers talking about their favorite post bound or strap album. These are types of albums available.
NOTE: Post-bound, three-ring and strap/hinge albums are sometimes covered with laminated cardboard but are generally covered with leather, leatherette, archival-safe vinyl, or fabrics (sailcloth, linen or tapestry). Many may even be padded.
Here are some things to consider when choosing an album type:
Three-Ring Albums
A 3-ring scrapbook album (D-ring) uses clamp-style metal rings, attached to the spine on the inside cover, to hold pages in page protectors in the album. (Think three-ring binder and add a more aesthetically pleasing cover)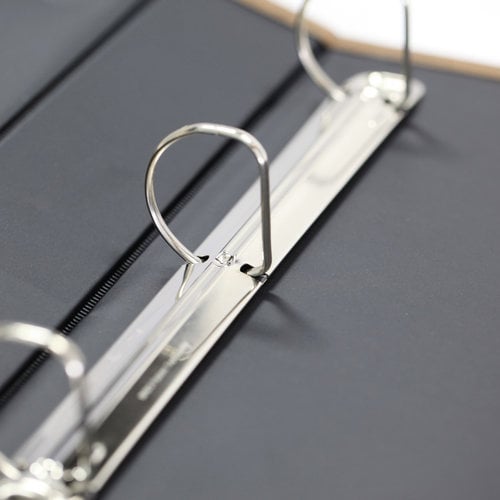 Pages can be added or removed with ease

Some albums are oversized, which means that the album edges are longer so that page protectors don't come right to the edge of the album reducing potential overhang damage

Often padded, have reinforced brass corners, and D-rings (this style of ring aids in page turning and helps the album to lie flat when opened)

Spine protected

Layouts can be slipped in and out of the page protectors

Some spine covers include a clear pocket to hold a content information card

Metal ring assembly increases sturdiness
Rings can become misaligned making it difficult to turn the pages

When the album is full, the stack of pages can be awkward and heavy when turned at the same time

Rings are not replaceable

When an album is opened the rings create a gutter separating the two facing layouts
While there are many options, our recommendation is almost always to go with a 3-Ring Scrapbook especially if you are just getting started or aren't sure what you want to use. 3-Ring albums have become the standard album type because of their flexibility, durability, and compatibility.
View a large selection of three-ring or D-ring albums here.
Post-Bound Albums
A post-bound album uses 2 or 3 metal binding posts (screw heads on both ends of a post, one stationary, one moveable) to tightly hold pages in page protectors between the front and back covers.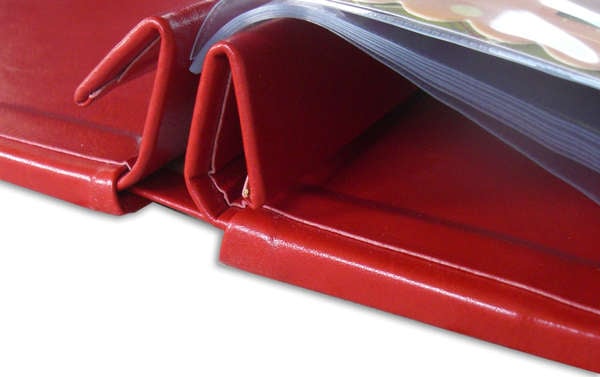 Advantages:
Posts eliminate any "gutter". This means that facing layouts butt together at the center-margin making them easier to look at
Accommodate both top loading and side loading page protectors
Three posts per album offers more support than two
Layouts can be slipped in and out of the page protectors
Posts can be lengthened by adding extensions as album contents increase
Disadvantages:
The large screw heads on the posts can pull through the back or front covers if the album is overloaded or dropped
To add or remove a page, the album must be disassembled, and all or most of the pages taken out to insert or retrieve the page you want
There is a slight arching of the pages at the center-margin when the album is opened flat
Many post-bound albums have an exposed spine. This means that the edges of the stacked page protectors are visible on the spine edge when stored in a bookcase unless a spine cover insert is part of the construction
View a large selection of post-bound albums here.
Strap Hinge Albums
A strap or hinge album uses 2-3 narrow, sturdy nylon straps (that slip through "staples" in the page edge) to anchor pages between the front and back covers. Due to the cumbersome nature and issues with strap hinge albums, they were quite difficult to find and were discontinued in most stores. As of recent, these classic albums have made a reappearance at a few select stores.
Spiral-Bound Albums
A spiral-bound album uses a metal or nylon coil to permanently secure hole-punched pages between the front and back covers.
Advantages:
Albums are easy and fun to decorate for gifts and special single occasion events
The cost can be less than standard albums
Covers can be durable and are often made from heavy acid-free tag board
Disadvantages:
Pages are permanently attached with the coil and cannot be removed or rearranged making page planning imperative
There's a remote possibility you'll be able to find page protectors that slip over the pages, but it's unlikely
Cover and pages can tear
Should a page be accidentally torn from the spiral, it cannot be reattached
These usually have to be custom made using a spiral binding tool like the bind it all.
Stapled-Spine Album
A stapled-spine album has staples inserted into a centerfold or attached at one edge of the album to fasten pages to the cover.
Advantages:
Inexpensive and generally found in "mini" form
Covers are usually made from cardstock so they're easy to decorate
Make good gift albums
Can be completed quickly because they have a few small pages
Disadvantages:
Staples can rip from the cover and pages when handled often
Most pages aren't protected
Page planning necessary
Not durable and definitely not for children, unless you don't mind when they're ruined
Pages cannot be added or deleted without removing the staples and to reattach you must have a long-reach stapler
Usually have to be made by hand and are not manufactured
Which Brand of Album Should I Buy?
Again, this is going to come down to preference. There are several quality album brands. Here are some of the most well-known and best-rated album suppliers:
What type of Page Protectors should I use?
Most page album suppliers will also make coordinating page protectors. The downside to using the coordinating protector is that if you want to switch to a different album down the road, you have to buy new page protectors and deal with the annoyance of swapping your pages. We recommend using these Universal Page Protectors. They're compatible with nearly every 3-Ring Album on the market so you can easily switch between albums whenever you want.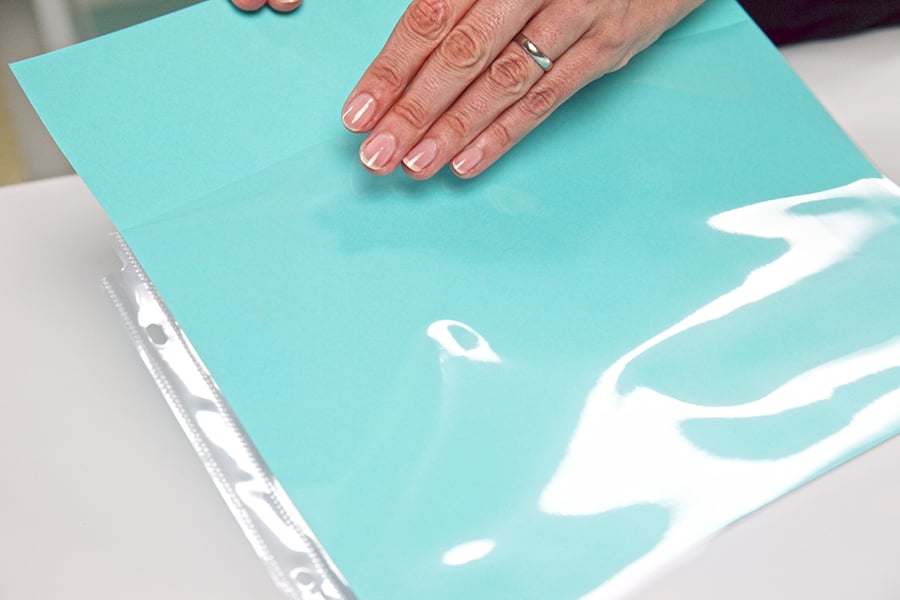 Summary
So, there you have it, enough information to earn you a Ph.D. in Album Studies. Want to know how to turn your new knowledge into the wisdom of a sage? Apply it, and then share it. Study your own albums and the albums of friends. Note what you like and don't like. Then, think of your albums as the National Archive buildings...a place to hold and protect your family history. When you think of albums in this way, you'll know exactly what you want. You can browse hundreds of album styles and sizes for sale here. You can also learn more about the history of scrapbooks and what a scrapbook is.
---