Do you have a seemingly endless rainbow of Stickles for your card making, scrapbooking, or mixed media projects? Has your collection of Nuvo Drops taken over your desk, craft tote, storage drawers, and shelves? Are you constantly on the hunt for that one reinker you know you saw somewhere in your stash?
Have you answered "YES!" to any of these important questions?
Then you need a smart, stylish, simple solution to transform the way you organize and store your .5 oz and 1 oz bottles. Let Scrapbook.com solve your bottle battle with the exclusive ColorCase Collection!
What is the ColorCase?
Scrapbook.com's ColorCase Collection includes a variety of must-have clear storage containers to spark your creativity and get you organized! Store your glitter glues, dimensional paints, accents, reinkers, acrylic paints, and other .5 oz or 1 oz round bottles in this system that's as beautiful as it is functional.
They're sleek, slim, and 100% see-through clear plastic, so you always know what's in your inventory and exactly where it is. You also have full visibility of the color names and how much product is left in each bottle. If you're getting low on that favorite shade of Stickles, Scrapbook.com is just a click away!
An important and unique feature of both the .5 oz and 1 oz ColorCases is their storage position. All of the reinkers, glitter glues, and paints you place in your ColorCase are stored in the manufacturer-recommended upside-down position. This helps to avoid dreaded air bubbles in the nozzle of the bottles, so you don't get unintentional splats on your work of art.
Each individual bottle slot is also a great companion for helping you work efficiently on all your projects. Just flip your bottle over to sit right-side-up in the ColorCase as you alternate between dots of Nuvo or work on reinking your favorite ink pads.
The ColorCase Collection is the storage solution you've been waiting for. It's functional yet stylish and can be stored on your desk, table, shelves, or drawers for easy access. You may start with just one, but you'll love it so much you'll want a whole collection of them for storing all your favorite bottles.
What does the ColorCase Hold?
The best part about our exclusive ColorCase Collection is that between the two available sizes, there are over 30 unique products that fit in them!
And Scrapbook.com has an exclusive product line that fits like a glove in the 1oz Color Case - our Pops of Color! They're bright, beautiful, and bold liquid embellishments at an unbelievably affordable price. Choose from pearlescent and gloss finish in over a dozen stellar shades.
For the .5 oz ColorCase, popular choices include Stickles, Liquid Pearls, Alcohol Pearl Inks, and a variety of your favorite brands' reinkers.
The 1 oz ColorCase is fantastic for our Pops of Color, multiple types of Nuvo Drops, a variety of brands' acrylic paints, and even the Tim Holtz Distress Paint bottles with the dabber tops.
Ways to Use the ColorCase
Reinker Station
If you have a variety of ink pads in your stash and love to ink all the things, then you probably have reinkers at the ready for when those ink pads need some love. Whether you're working with hybrid inks, dye inks, pigment inks, archival inks, or Distress Oxides, you should always have your reinkers ready to go for the best ink transfers.
The .5 oz ColorCase is the perfect size for over a dozen different brands of popular ink pad reinkers. Set up your reinker stations with a few ColorCases, so you never misplace your reinkers again.
You can set them up by brand or even by color group. The choice is yours.
What's great about the design of the ColorCase is that it also perfectly holds the bottles right-side up while you're using them. That way, you can set the uncapped bottle in the ColorCase while you're inking up your project or reinking your pads and not have to worry about accidentally getting ink on your work surface.
Swatching
Another fantastic "why didn't I think of that?" way to use the ColorCase is as a swatching device. Each of the slots that holds a bottle is an endless amount of possibilities for creating custom swatches of your Stickles, Nuvo, Liquid Pearls, and more.
There are a few swatching options awaiting you with the ColorCase. You can write the product shade name in front of each slot so that every single one of your bottles has a place to call home. That way, you can get as messy and creative as you want and never lose a single color.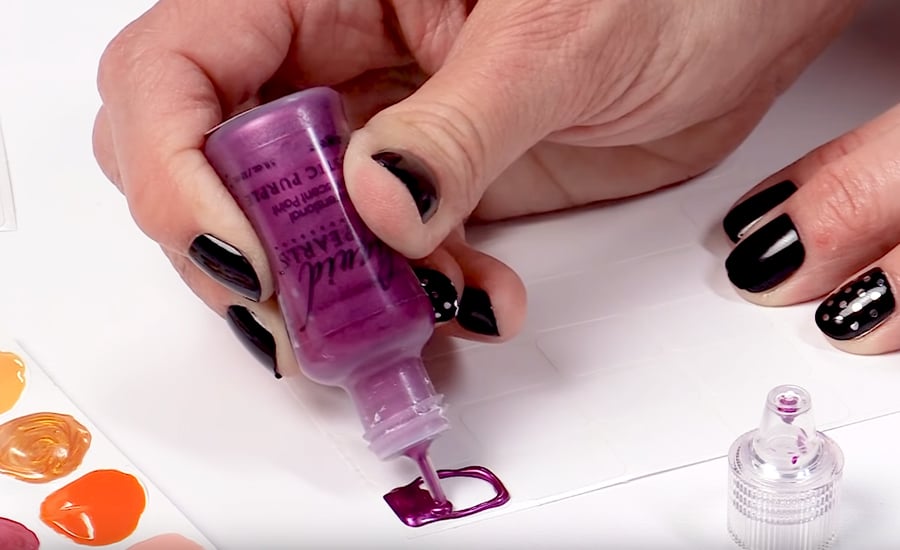 Another option is creating actual color swatches on each slot. Grabbing some simple garage sale labels and a little Stickles, Nuvo, or Liquid Pearls will create true-tone custom swatching labels that not only looks amazing but gets you totally organized!
Put these color swatches on the bottom of your bottles so that they are facing up and out through the clear plastic case, or on the slots for perfect organization - or both!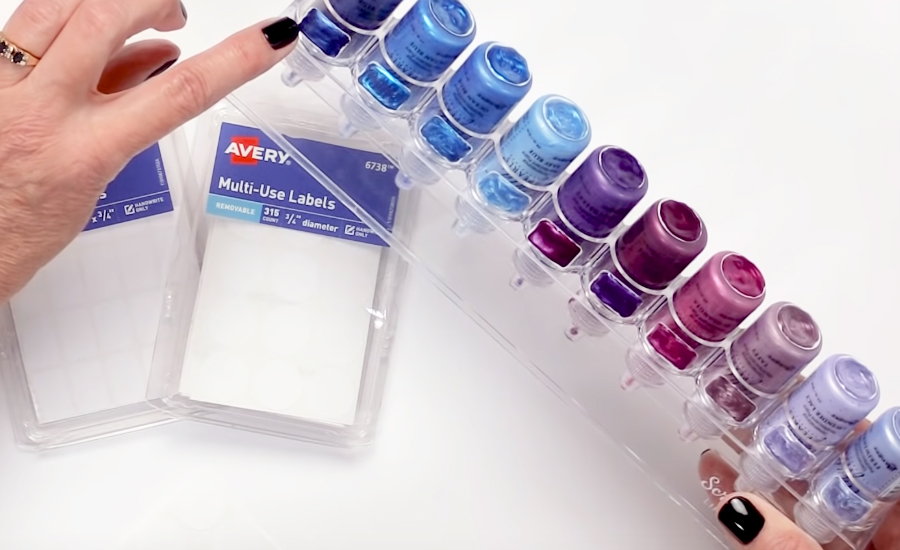 Paint Palette
With so many colorful varieties of paints that fit in the ColorCase, how can you not utilize it as a custom paint palette for all your mixed media magic? Some of your favorite paint bottles fit beautifully in the 1 oz bottle ColorCase, including Vicki Boutin's Color Pop Paints for American Crafts, Dina Wakley's Acrylic Paints, and the Tim Holtz Distress Paints with the dabber tops.
Any time you're looking to paint out a scrapbook layout, card background, stencil, an amazing pattern, or just get creative with paint, your ColorCase is right there with all your colorful bottles! Just bring it out of your drawer or off the shelf, and you're ready to squirt out a rainbow of possibilities!
The amazing and talented Vicki Boutin is loving the Scrapbook.com ColorCase Collection for organizing and getting crafty. The pretty, useful, and functional design of these clear, stackable storage containers is a great way to see the amazing products you have in your inventory and remind you to use them!
"I love exploring possibilities with Color Pop Paints, and the ColorCase from Scrapbook.com makes storage a breeze! I also love that the paint is ready to go when stored upside down!" - Vicki Boutin
Get Festive and Decorate!
While Scrapbook.com clearly loves the rainbow theme (who doesn't!?), you can always mix it up and show off your festive organizational skills with the ColorCase. Is it time for Christmas? Halloween? National Pink Day? Celebrate in style and decorate accordingly with your ColorCases! It's a fantastic and crafty way to not only clean up your creative space but also showcase your favorite supplies!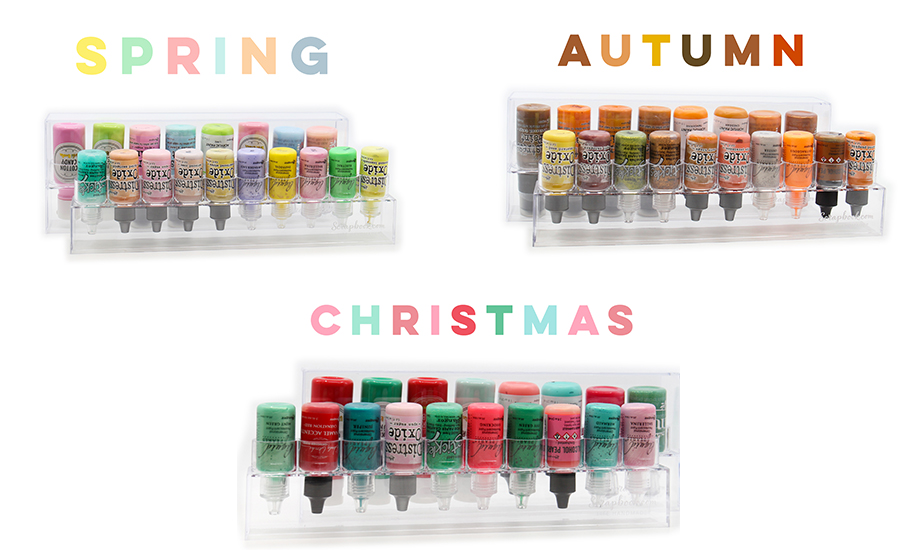 At Scrapbook.com, we are continually looking for ways to make crafting and organization simpler for you. Spend less time looking for your prized supplies and more time creating beautiful, handmade creations when you have a place for everything and everything in its place with the ColorCase!
Do you love Stickles and Nuvo Drops? Then you won't want to miss this exciting guest post on 10 fun ways to use them or our quick and helpful guide to Stickles, Nuvo, and glitter glues!
---