You've heard the brand names Stickles and Nuvo Drops before. But did you know that glitter glue is one of the most affordable and versatile tools a scrapbooker or card maker can have in their toolbox?
What is Glitter Glue?
As much as we all love glitter, working with it can have some real challenges. Dry glitter tends to get, well, everywhere. Those pesky little sparkles migrate and show up in random places long after you're done. It can also be hard to control where it goes on your project when you are applying it.
Glitter glue is the solution! As its name implies, glitter glue is liquid glue that has glitter suspended in it. It comes in fine tip squeeze bottles, giving you very precise control. You get to pick exactly where the glitter glue goes and how much gets laid down.
Glitter glue is easy (and safe) to use on a variety of surfaces, such as paper, chipboard, wood, canvas, and more!
Because the glitter is suspended in the glue carrier, products like Stickles and Nuvo Drops can be either translucent or opaque.
A light, thin coat of glue glitter creates an effect of a sprinkling of glitter, allowing the color of the surface underneath to show through. A heavier coating, such as a dot or a line, will appear solid.
Stickles Glitter Glue
Ranger Ink's brand of glitter glue is called Stickles. It comes in a myriad of different colors that sparkle like crazy! Stickles come in .5-ounce bottles. Each bottle has an easy-flow fine tip, making it easy to get creative.
And since it's non-toxic, acid free, and cleans up with water, using it is easy and safe for you and your scrapbooks. Unlike some other glitter glues, Stickles is non-settling. Your creative embellishments will stay exactly the size you make them.
Hint: Add a touch of translucent glitter. This will allow the color or design underneath to peek through. Do this by using Stickles Clear Glitter Glues (like Stardust). Get some ideas on how to use Stickles here.
For those moments you want some extra shine, but no glitter, check out a fabulous new option from Scrapbook.com called Pops of Color.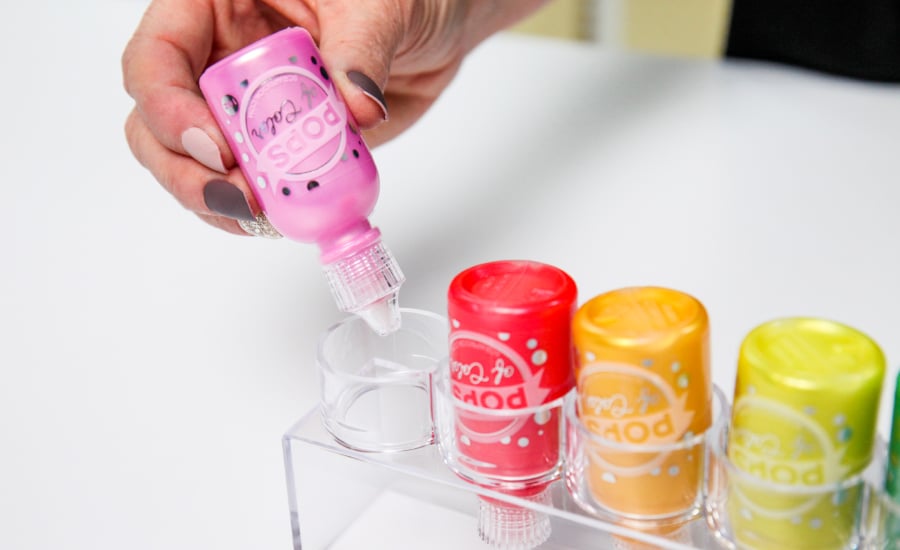 Pops of Color are an opaque liquid embellishment paint that have pearlescent and gloss finishes. They come in handy fine-tipped 1-ounce bottles like Nuvo at an unbelievably affordable price. It is permanent when used on paper and fabric - and is hand washable on fabric! With over a dozen shimmering and shining colors to choose from, there's one to match every project from birthday cards to wedding layouts.
What are Nuvo Glitter Drops?
Another popular glitter glue option is Nuvo Glitter Drops, made by Tonic Studios. Available in many sparkly colors, their 1-ounce bottle gives you enough Nuvo Drops to glitter all the things! Plus, with the precision tip and easy squeeze bottle, you'll get beautiful results every time.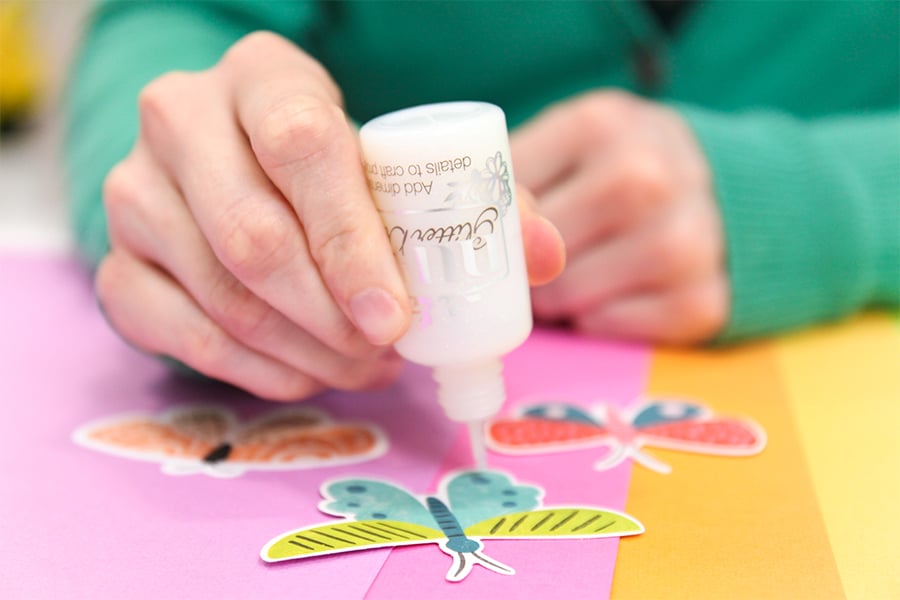 Because Nuvo Glitter Drops are self-leveling, it's easy to get perfect dots every time. Hold the bottle vertically above the surface (without touching it) and "drop" the glue down onto it. The tail left behind from the bottle's tip will self-level and disappear into your "dot." As your Nuvo Drops dry, this creates a perfect round dome!
Love your glitter glue but want to use it with a stencil? Nuvo Glimmer Paste is a thicker version of Glitter Drops, making it great for other applications. Try stenciling or skim coating items for an all-over glitter effect.
The Nuvo product line is extensive. Besides Glitter Drops, there are many options for adding a touch of sparkle to your cards, layouts, and mixed media projects. Nuvo Crystal Drops come in several different finishes. Some popular finishes are pearlescent and gloss.
Jewel Drops have a glass-like finish and are semi-translucent. You can create custom jewels in colors like Limoncello and Rose Water for your projects.
Unlike all the other sparkly products in this glitter glue category, Nuvo's Vintage Drops have a subdued matte finish. These opaque drops come in a palette of muted shades and are perfect for embellishing your vintage style projects.
For more ways to have glitter fun, try out these Nuvo products:
Nuvo Glitter Accents

Nuvo Glitter Markers

Nuvo Pure Sheen Glitter

Nuvo Embellishment Mousse

Nuvo Sparkle Dust

Nuvo Shimmer Powder

Nuvo Sparkle Spray
---
Stickles and Nuvo Drops are the best-known brands of glitter glue. There are a few other companies that make it too. Here are some other glitter glue products to keep an eye out for:
American Crafts Moxy Glitter Glue
Create your own with glitter glue colors with innovative supplies from Moxy. Purchase Clear Glitter Glue, a funnel, and add your own glitter to it to create a one of a kind medium.
BoBunny Glitter Paste
This thick paste (perfect for using with stencils) contains iridescent glitter in a glue carrier that dries clear. Apply it to surfaces with a brush or spatula. Glitter Paste is available in stunning colors that are packaged in 50ml jars (this is not a squeezable glitter glue option).
Tips and Tricks for Using Glitter Glue
How to Keep Your Glitter Glue from Drying Out
Like any liquid color medium or glue product, glitter glue will also dry out over time as the moisture in it evaporates after prolonged air exposure.
Taking two simple but important steps will help prevent your Stickles, Nuvo Drops or other glitter glue from drying out.
1. Ensure that the lid is tightly closed after using your product, to reduce the glue's exposure to air.
2. Store your glitter glue tip side down. This helps to keep your glue fresher longer, and flow better - preventing messy glitter glue burps on your beautiful projects.
Tip: The ColorCase™ helps prolong the life of your glitter glues, Nuvo Drops, and other liquid embellishments by storing them upside down.
How to Unclog Glue Bottles
Fine tips are wonderful for control in application of the glitter glue, but the smaller the tip, the easier it clogs.
If, despite your best efforts, your glitter glue bottle tip becomes clogged with dried glue or chunks of glitter, a simple paperclip will fix it. (A sewing pin will also work for this in a pinch.) Simply unbend the paperclip and insert the straight wire down into the clogged tip.
This should clear the tip and make your glitter glue ready to use again!
How to Make Glitter Glue Dry Faster
The thick glue carrier (a thickening agent in the glue that gives you wonderful control) also gives you a long drying time.
Depending on the humidity and the thickness of the glitter glue application, drying can take from a few hours to overnight. Patience is a virtue when working with glitter glue!
If patience isn't one of your virtues (or you're working on a last-minute project) speeding up the drying of your glitter glue is the way to go. Try setting your project underneath a warm lightbulb (like your desk lamp or an oven light) or running a nice light breeze from a fan over it.
Even if you are tempted to pull out the heat gun to speed up the process, don't. The amount of heat required to quickly dry Stickles or Nuvo Drops will burn the glitter. It can also cause bubbling in the carrier glue. Worst case scenario, you might burn your project.
How to Prevent Glitter Glue from Smudging
Because it is a slow-drying medium, it's easy to smudge glitter glue you've already applied while creating a design on a project. Work from the top down and from left to right. This will help minimize the risk of damaging your glitter glue before it dries. (This is assuming you are right-handed; if you are left-handed, work right to left.)
How to Use Stickles, Nuvo, and Glitter Glue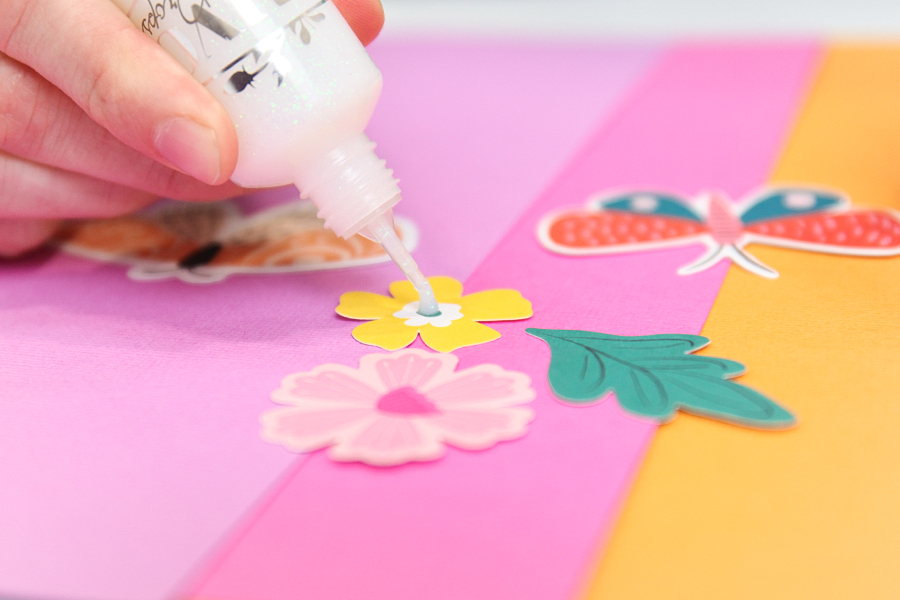 The possibilities for using glitter glue are as endless as your imagination and the selection of products and colors. All you need to do is hold the bottle vertically, gently squeeze, and allow the color to flow from the tip. But if you need some inspiration, here's a few of our favorites:
Patterns: The fine tip point on glitter glue bottles from Stickles and Nuvo Drops makes it easy to make patterns. Create polka-dots, stripes, circles, and more on your cards and layouts. Make just one or two - or fill a whole background!
Writing: Add some sparkle to your title or sentiment by writing it in glitter glue! Don't like your handwriting? You'll get perfect results every time when you use a font on the computer to print your word out, and then trace over it. Or cut your text out as a die cut and trace over that.
Halloween: A little bit of sparkle can inject some fun in your Halloween! Use glitter glue for sentiments, spooky swirls, and creepy eyes for ghosts and goblins.
Christmas: What better time of year to add some extra sparkle to your projects than Christmas? Grab sparkling red glitter glue to make holly berries & Rudolph's shiny nose. Use gold, silver and other festive metallics for baubles on a tree!
Weddings: Another great opportunity to glitter things up is making wedding projects! Add glitter polka dots, swirls and text to shower invitations, scrapbook layouts, and party decorations. They'll shine as much as the newly married couple's smiles.
Nature: You might not think glitter when you think "nature", but glitter glue can enhance natural elements of your projects. Use a translucent Jewel Drop to add a "dew drop" on your spring flowers!
Shades of yellow make stars in the sky, or sun rays. (Or if your day isn't so sunny, make raindrops by dragging a toothpick through dots!) White glitter glue can make your project's snow or waves sparkle.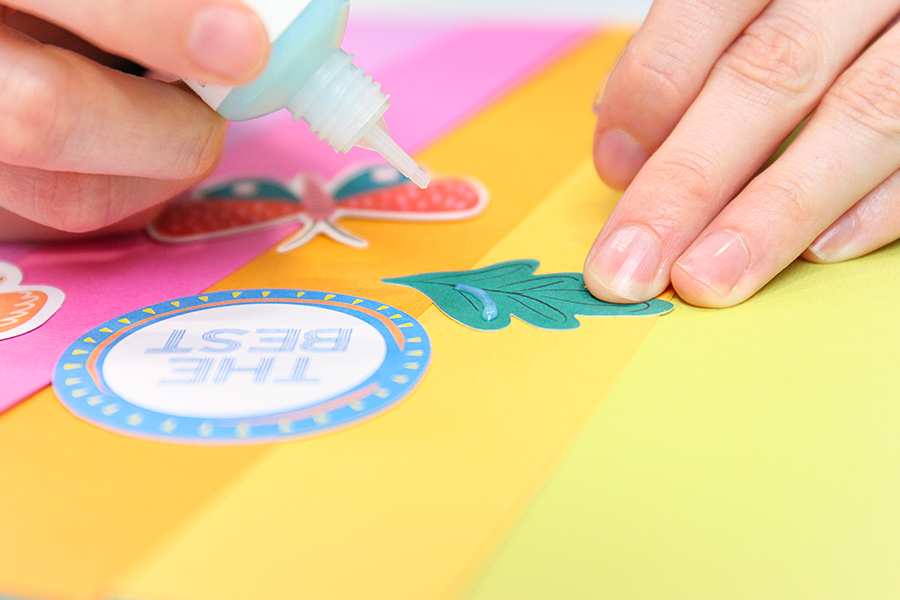 Stamping: Glitter glues are especially fun to use with your stamps! Highlight design elements (or add new ones) on your stamped images with glitter. Heat emboss a stamped image in black, then fill it in with colorful glitter glue for a faux stained-glass effect.
Painting: Apply layers of glitter glue like paint to cover a surface. Use a coat to turn a chipboard or wood embellishment glitter gorgeous. Or turn your plain brads into sparkly glitter brads with just a quick drop of glitter glue.
Coloring: Make your adult coloring pages extra special with touches of glitter glue – or go crazy and color in an entire page. This creates a truly dazzling design!
The Best Way to Store Stickles, Nuvo, and Glitter Glues
The first step to storing your glitter glue is creating an easy reference guide to keep track of what you have. Swatching also reduces the number of times you'll need to open your bottle of Stickles or Nuvo Glitter Drops to try out the color. This is very important. Reducing your glitter glue's exposure to air will make the bottle last longer without drying out.
Tip: Need help learning how to create swatches of your glitter glue? Visit our guide to color swatching for step-by-step instructions.
While you are swatching your colors, you may also want to create small dots of each glitter glue on the bottom of its bottle. These mini swatches will make it easier to find the bottle you are looking for in your storage.
Check out this amazingly helpful Nuvo swatching video for great tips on swatching glitter glues and accents:
To keep your glitter glue flowing better and lasting longer, store your bottles of Stickles and Nuvo Glitter Drops upside down. There are plenty of organizers available to make this easy to do, and that will work in any kind of craft space!
Top Glitter Glue Storage and Organization Options
The ColorCase
This Scrapbook.com exclusive organizer comes in two different sizes.
One version of the ColorCase accommodates ten .5-ounce bottles. This organizer is perfect for organizing all the most popular glitter glue brands.
The other version of the ColorCase holds eight 1-ounce bottles, and will hold Nuvo Drops, Tim Holtz Distress Paint and many more 1-ounce products.
Put the lid on this sleek and slim organizer and secure it with a couple rubber bands to take it on the road with you, or store it neatly on your desk. In this crystal-clear case, you'll be able to easily locate each color for convenient creating.
Tim Holtz Alcohol Ink Storage tin
This organizer, part of the stylish Tim Holtz storage tin line from Ranger, is designed to hold 30 of the .5-ounce bottles. Use it with: Stickles, Liquid Pearls, Ranger Alcohol Ink, Tim Holtz Distress Oxide Reinkers, and other Ranger products.
The retro style of this tin will look beautiful on your desk, shelf, or in your vintage style craft space. The latching lid means you can safely tote all your favorite glitter glues to your next crop in style, too!
Best Craft Organizer Dazzle Caddy
The Dazzle Caddy from Best Craft holds ten .5-ounce bottles upside down. The clear, removable top makes it easy to find your color of choice, and the slim design means the Dazzle Caddy fits nicely in drawers.
Art Bin Bottle Storage Tray
This white open tray from Art Bin holds up to 32 of your inks, glitter glues, and alcohol inks in .5-ounce bottles. Use the tray flat for storage in a drawer. For use on a desktop or shelf, pop up the leg on one end to angle the tray into a stadium configuration. This gives you an easier viewing of all your colors and products.
Art Bin Glitter Glue Storage Tote
If you love the Art Bin Storage Tray, but want more mobility, the Art Bin Glitter Glue Storage Tote is the solution for you! This tote includes two of the Art Bin Storage Trays and holds a total of 64 .5-ounce bottles! Load your glitter glues, latch the lid and go anywhere with the convenient carry handle!
DIY Glitter Glue Storage
If you prefer a DIY storage option for your glitter glue, look no further. Self-adhesive Velcro can be used to create storage on a wall or the underside of a shelf. It's easy. Adhere small pieces of one part of the Velcro to your bottles, and a strip of the other part of the Velcro to the wall or shelf. Voila!
This system is not portable, and requires adding additional Velcro when new bottles are purchased. However, it can be a convenient way to add storage for Stickles or Nuvo Drops to pegboard or a shelf - and it's DIY!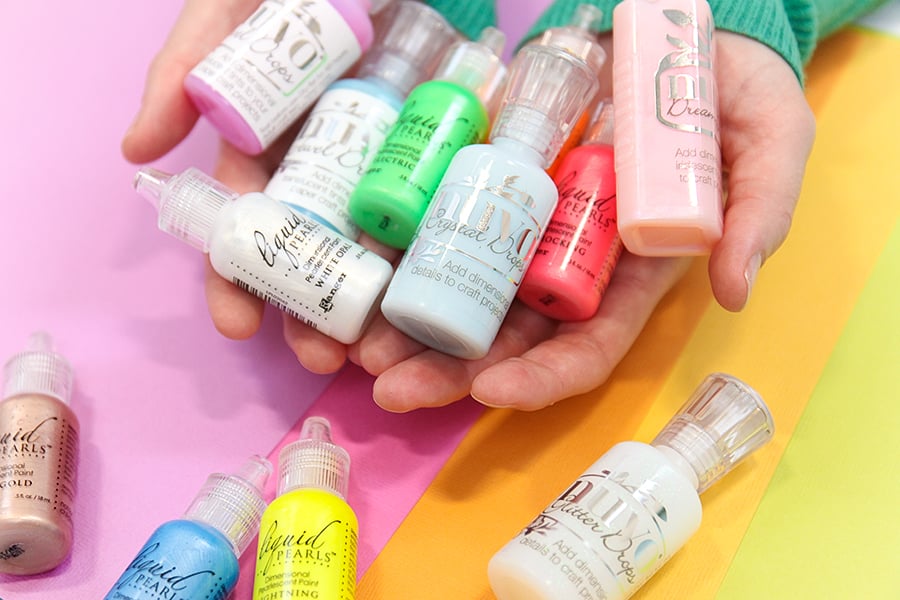 Whatever your creative style or project, chances are there is a glitter glue product that is right for it. So grab some Stickles or Nuvo Drops and start glittering!
---