"How do I store all my craft supplies?" Said every crafter ever. Each creative person has their own space to get crafty in. Some have a whole dedicated room, while others have a small table, and others just make space whenever they are on-the-go.
Whatever type of crafter you are, chances are pretty good that you have a whole bunch of supplies, tools, and products that need to be organized. How else are you going to find what you need to get crafty and creative?
But there are just SO many options for storage and organization. Where do you start? The answer is RIGHT HERE!
The Best Way to Store Stamps
If you're a stamper, your collection of stamps is probably quite impressive by any crafter's standards. The absolute #1 rule when organizing your stamps is to have some sort of inventory system. If you take one piece of advice about stamp organization, let this be it! Scrapbook.com's founder, Jill Davis, is a huge fan of the inventory or reference system to catalog and organize stamps. This is easy to accomplish with the help of a trusty label maker.
Stamp Organization | Clear Craft Storage
This super simple storage device is clear, clean, and classy - and a total must-have in your storage and organization gameplan. The Scrapbook.com Large Clear Craft Storage Set is an unbelievably versatile piece that can be kept on your desk, stacked in a closet, or lined up beautifully on shelves.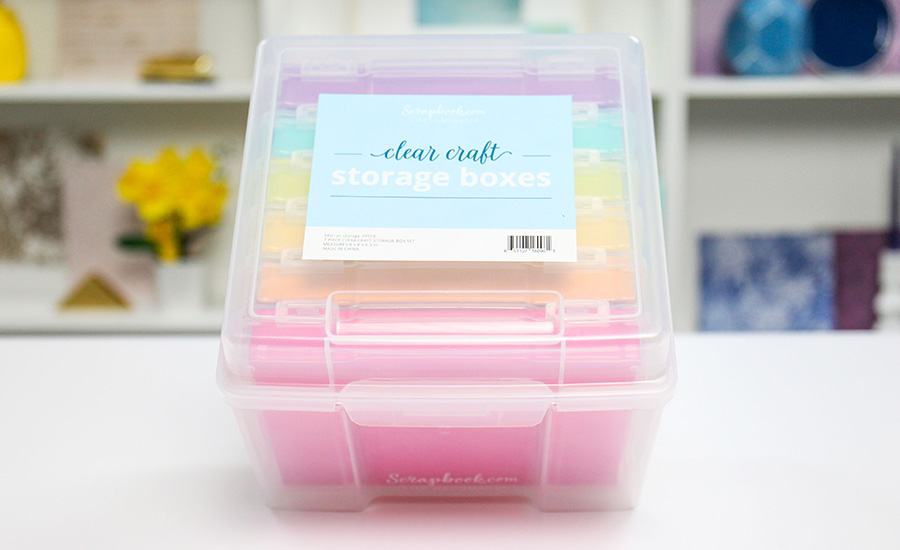 A label maker or steady hand with a permanent marker is a must when storing your clear stamps in the inside cases. Your 4" x 6", 3" x 4", and 2" x 3" stamp sets fit beautifully within the cases (and larger ones can be cut down to fit as well!) and stack roughly 10 sets in each case.
You can easily separate your stamps out by theme, brand, or type and reach for the case you need that contains the perfect stamp for your project.
If you don't want a large storage box, you can still get the perfectly-sized cases for all your favorite stamp sets. These sturdy little holders have a lipped edge for easy stacking on shelves or in a drawer and can be labeled for super simple reference.
We even have an open design with tabbed dividers for storing a number of stamp set categories.
We even have these fun little handled storage bins that can be used in a variety of ways. Store your stamps in them with the lid on for stackable storage, or use the handy tabbed dividers to get your stamps organized like never before.
Here are some category suggestions for your stamps:
Birthday
Love
Sympathy
Handmade
Sentiments
Letters
Thank You
Christmas
Floral
Get Well
Food
Animals / Critters
Stamp Organization | Clear Storage Pockets
If you prefer more of a filing system for organizing your clear stamps, then clear storage pockets may be the way to go. Both Avery Elle and Totally Tiffany brands have thin clear plastic storage pockets or envelopes that many crafters swear by for organizing stamps, dies, and more. These pockets are made of page protector-like material that is both sturdy and perfectly clear to see your wonderful stamps!
This way of organizing stamps is great for open-top bins that you can flip through any time you want. They can be separated by tabbed dividers and sections, so you know exactly where to look for the stamp you want to use. It's also a great way to discard your stamp packaging but retain the set name and brand for creating and sharing your creations in the Scrapbook.com gallery.
The small pockets are great for 3" x 4" sets, with the large envelopes housing 4" x 6" standard sets (or 4 of the mini 2" x 3" sets), and the extra large ones are wonderful for the nice big 6" x 8" sets. You can even store your stamp and die combo sets in these as well!
Stamp Organization | Stamp Storage Binders
Binders are another wonderful way to get your inventory categorized and organized. Depending on the type and size of binder you choose, you can have individual binders for themes, brands, or types of stamps for grabbing off your shelf.
You can DIY a stamp storage binder with an album and page protectors or grab yourself one of the premade versions from your favorite brands. Popular options include the Tim Holtz Idea-ology Stamp Storage Binder with Stamp Refill Sheets and the Crafter's Companion EZ Mount Stamp Storage Binder.
Stamp Organization | Wood Mounted Stamps
It can be difficult to find just the right storage system for bulky wood-mounted stamps. Most crafters, unfortunately, resort to tossing them all in a bin or a box haphazardly, which makes it hard to both know the total inventory or find the right one.
For those lucky enough to have a dedicated crafting table or desk, Totally Tiffany totally has your back when it comes to wood mounted stamps. She offers multiple sizes of stamp Stadiums, which are tiered arrangers for your beloved wood block stamp collection. One is a 6-tier holder, and the other is a 3-tier holder, both with different levels of storage to see your inventory.
Just think how amazing your craft space will look with stadiums full of your adoring fans...oops, we meant adored stamps...staring at you from their perfect positions.
How to Organize Scrapbook Paper
You can't be a paper crafter without paper! But what's the best way to organize it all so you can spend less time searching and more time crafting?
Paper Organization | Plastic Storage Envelopes
For individual sheets, projects in process, or even a favorite 12 x 12 paper pads, you're going to love our new XL reusable storage envelopes. This newest addition to our Storage Envelope Collection is going to be a BIG hit in your craft organization (pun intended).
These big, durable plastic envelopes are also a great way to hold your extra paper scraps, 12 x 12 sticker sheets, and projects in progress. They can even hold 12 x 12 stencils! You'll find so many uses for these big beauties!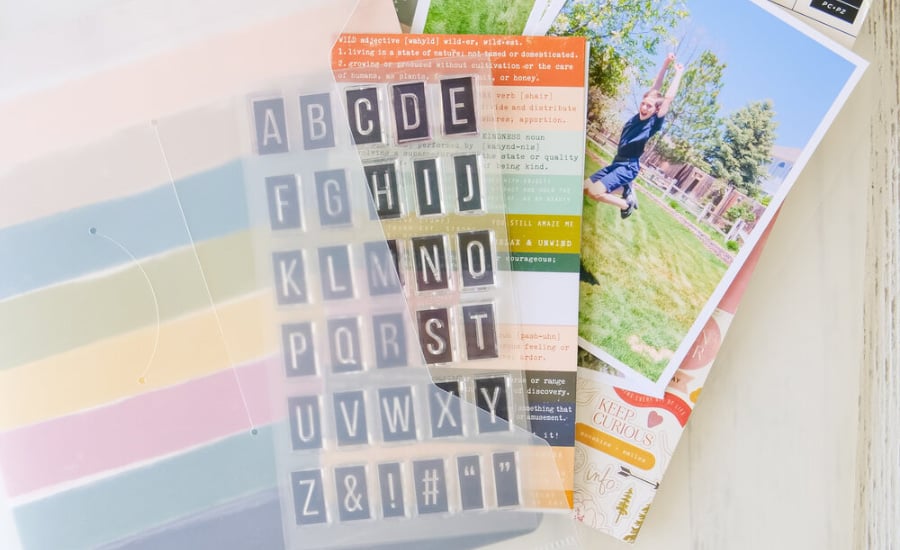 We all love our supply collections, big and small. But the moment you start collecting, it's easy to lose track of all the intricate little pieces and set among the rest of your stash! Just think of all of the paper scraps, leftover ephemera, and extra embellishments that get lost in the midst of crafting. Up your organization game with our Storage Envelopes, and keep your supplies neat and tidy while you're at it.
Paper Organization | Modern Stackable Paper Trays
If vertical is not your jam, these paper trays are perfect for your craft rooms! The Modern Stackable Paper Trays come in both white and clear for storing your 12 x 12 paper sheets. You'll be able to designate an organizational system for each tray, which holds 100 individual sheets of paper without bowing or warping the plastic. With these paper trays, your papers will be beautifully organized in your craft room in no time!
For all IKEA Kallax/Expedit and other cube storage system lovers, the Modern Stackable Paper Trays are the way to go!
Paper Organization | Deciding on a System
The way your crafty brain functions must align with the way in which you organize your paper. This means that one organization system that works seamlessly for one crafter may not make any sense to another crafter. And that's totally alright! Here are some of the best category options for aligning your stacks of beloved paper.
Color (ROYGBIV)
Theme (sports, food, rainbow, floral, Christmas)
Brand (Bazzill, Doodlebug, American Crafts)
Pattern (solid, plaid, gingham, stripes, polka dots)
Texture (smooth, weave, embossed, glitter, gloss)
Specialty (foil or metallic, vellum, acetate)
The Best Thin Metal Die Storage Solutions
Die Storage | The ArtBin Case
A solution for die storage that has been around for several years is the ArtBin Case and Magnetic Die Sheets. This portable, plastic storage case comes with three magnetic panels that your thin metal dies attach to until you're ready to use them. It's a great system for separating out your types or themes of dies while still being able to flip through your inventory when you break out your Big Shot or Platinum 6.
The best thing about this storage case is that you can purchase additional magnetic sheets (3 at a time) for when your die collection expands. One happy customer filled one single case with 20 magnetic sheets - that sounds like a whole lot of amazing possibilities in one fantastic plastic case! Another devised a bin system for just the magnetic sheets without the case. Lots of fun possibilities with this product!
Die Storage | Magnetic Storage Sheets
In a similar fashion to ArtBin, popular brands like Lawn Fawn, Waffle Flower, and Sizzix all have various shapes and sizes of magnetic sheets for holding your thin metal dies. The Lawn Fawn ones are the largest, with both 8.5" x 11" and 5" x 7" options. You could definitely pair these with sturdy page protectors and a nice album or binder for staying organized.
The Waffle Flower Cloud Magnetic Storage Boards come in a 5-pack where each board measures 5" x 7" and also includes a thin clear bag for each. These would be great in a flip through bin or storage tray so you can easily thumb through your inventory.
The Sizzix versions of the magnetic sheets vary in size, and some even come with sturdy plastic envelopes. The smallest version measures 2.75" x 3.75" for the Sidekick size, with the biggest size measuring all the way up to 8.75" x 5.5".
Die Storage | Die Albums
Making a DIY thin metal die storage album is easier than you think. All you need is an album and pocket page protectors to get you started. Scrapbook.com's 6 x 8 albums are an ideal solution to your many sets of thin metal dies. Each pocket can hold themed phrases, nested shape sets, alphas, and more.
Die Storage | Die Binders
A few brands have done all the hard work for you and designed an all in one binder for metal die storage.
Sizzix has an innovative storage system in its Die Storage Solution and Inserts. This multi-functional binder not only has a magnetic sheet for your dies but storage pockets and small tool storage all in one. It even has a zipper to secure all your contents and a handle for die cutting on the go! Additional die storage insert pockets can be purchased separately to help with your growing collection!
Tonic Studios has two very eye-catching orange Die Cases in medium and large sizes. Their included magnetic storage sheets are double-sided for storing double the dies on each page and include beautifully thick clear sleeves to ensure your dies stay in place within the 3-ring binder. Both have a handy zipper closure and wrist loops for portability, with additional storage sheets sold separately for the large case and the medium case.
How to Store Photos
For scrapbookers, memory makers, and photographers, photos make the world go 'round. They capture beautiful memories, smiling faces, unbelievable sights, and so much heart. But unlike the digital versions that fit on your hard drive, the printed versions take up just a bit more physical space. What's the best place to house them?
Photo Storage | Clear Craft Storage
Scrapbook.com offers several shapes and sizes of Clear Craft Storage that makes it simple and safe to store stacks of photos. They even make it easy to get organized along the way!
For the biggest stack of photos you've ever seen, you're going to want to start with a big 5-star customer favorite - the 17-piece Clear Craft Storage Set. This locking storage box has 16 (yes, 16!) small storage cases inside that each perfectly house your 4" x 6" photographs. Each of those cases can hold 100 printed photos which means 1,600 of your favorite photographs easily fit in this one storage box. They can even be organized into 16 different categories, events, or themes. We just can't get over how amazing that is.
If your photo situation isn't as big as all that, maybe our Medium 7-Piece Set is more your speed. This box has the same internal storage cases for 4" x 6" photos but in a smaller overall container. This can hold 600 of your favorite photos in the 6 internal cases.
Photo Storage | Photo Albums With Protective Sleeves
Sure enough, the best place to keep photos and ensure their longevity is in a photo album. Their name says it all! They were made for photos! The best albums are crafted from quality materials that are archival and acid-free and paired with page protectors that are archival, PVC-free, and acid-free. We cannot recommend our Album System enough for storing and cherishing your photos year after year, generation after generation.
It's also quicker and easier than you think to fill an entire album with photos when you have pocket page protectors to easily slip them in. Not only will your photos be safe, but they'll be in a beautiful, easily accessible format for your loved ones to look at!
How to Store and Organize Ink Pads
Ink Pad Storage | Ink Pad Storage Towers
Too long have crafters been without a perfect, functional, and stylish storage solution for their rainbow of ink pads. Scrapbook.com has been working on something very special for housing all your ink pads in a fashionable and functional way. Introducing the newest addition to our Clear Craft Storage collection - the Ink Pad Storage System.
Available in both bright white and clear acrylic plastic (depending on your craft room decor), these fabulous and sturdy storage columns each hold 12 full size ink pads on your tabletop, desktop, or shelf for easy access. Each slot is perfectly suited for almost all your favorite inks - especially the Scrapbook.com Hybrid Inks Collection. You will love lining these fabulous storage towers up side by side to easily see and access each color ink pad for your project!
If you're a fan of using sponge daubers with your ink pads, then you'll be thrilled to know that we have storage options for both sizes of daubers. Check out our dauber collection with storage boxes for 40 original daubers or 12 jumbo daubers here.
Best Craft Organizer's Ink Pad Storage system has been a customer favorite for many years now. With a two-column design built for 24 standard ink pads and a top rack storage solution for 48 reinkers, this ink pad storage has found its way into many a craft room! It can even be mounted on the wall if you're not able to accommodate it on your desk or table.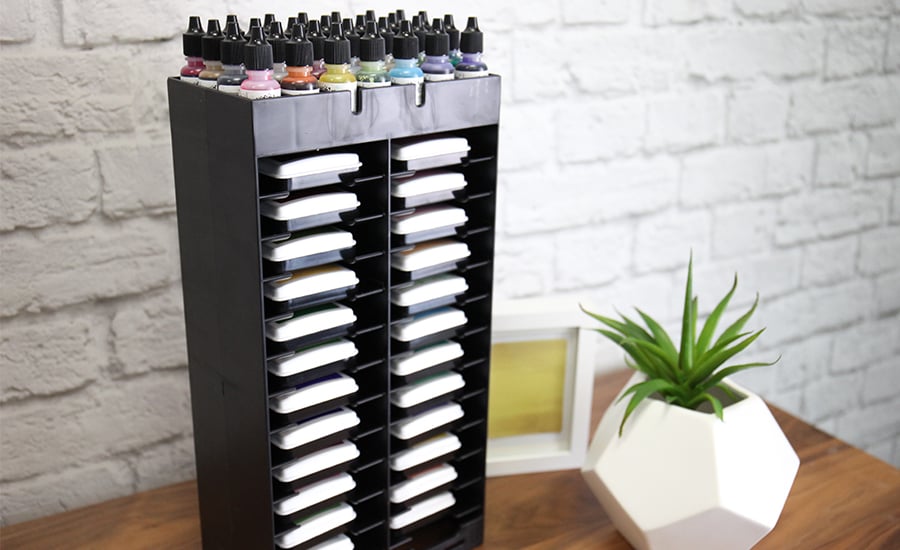 For the stamper and ink blender on the go, BCO has an upgraded design of the original in the PortaInk Dual Swivel Traveler Ink Pad Storage. It holds 48 full-size ink pads and 56 reinkers with a nice travel strap on the top.
If you're equally in love with full size and mini ink pads, you can purchase handy dandy Small Ink Pad Inserts for these two BCO storage options as well!
Ink Pad Storage | Mini Ink Pad Storage Tins
For those crafters that create on a smaller scale, mini ink pads or ink cubes are a dream come true. They pack all the pigment and hues of their bigger versions but in an extremely portable design. Art journalers, planner gals, notebook, and Dyary creators, and more are fans of these tiny squares. But they need a place to call home!
Ranger Ink has several varieties of storage tins, depending on the inks you're using. For Distress Inks and Dyan Reavely's Creative Dyary Inks, there's a fabulous little tin available that holds 12 individual cubes.
If you're an Archival Ink fan, those tiny rectangular inks need a special storage system as well. The Mini Archival Ink Storage Tin holds 12 of the Tim Holtz Distress Archival Inks, regular Archival Inks, and Wendy Vecchi Archival Inks, which come in those unique little rectangles.
How to Store Craft Stencils
Stencil Storage | Filing System
How do you know what your stencil inventory is and where to find the perfect pattern without a filing system? Totally Tiffany has just the sort of system to you need to categorize and easily reference your stencils at a moment's notice with her Fab Files. Depending on your crafting style and the size of the stencils you use, Totally Tiffany has a versatile and affordable file box for you.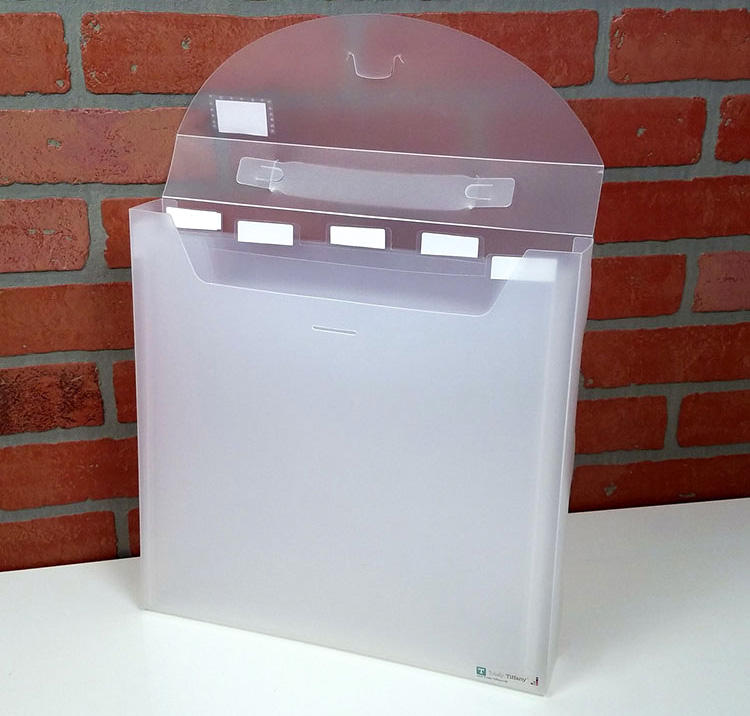 Pick up a 6" x 6" version for your small square stencils, which includes 5 different sections and handy adhesive labels. Or there's a nice big 12" x 12" version for those oversized stencils as well! You can even pick up refill packs for expanding the storage options in your existing Fab Files when your stencil collection grows!
Stencil Storage | Clear and Colored Plastic Envelopes
With so many sizes of craft stencils available, it can be difficult to find the right storage solution. A quick, easy, and affordable option is the Scrapbook.com Clear and Colored Plastic Storage Envelopes.
With the largest envelopes measuring 7" x 10", they are the perfect size to fit the Scrapbook.com exclusive 6" x 8" stencils, Tim Holtz 4" x 8.5" tag stencils, and more.
Stencil Storage | Albums With Page Protectors
If the majority of your stencils are small, then perhaps a miniature organized album is the way to go. A really fun option is the line of 6 x 8 albums from Scrapbook.com. These fabulous little albums are sized perfectly for holding 6 x 8 page protectors, which could not be more perfect for holding the Scrapbook.com exclusive 6" x 8" stencils, as well as the 6" x 6" square stencils from your favorite brands.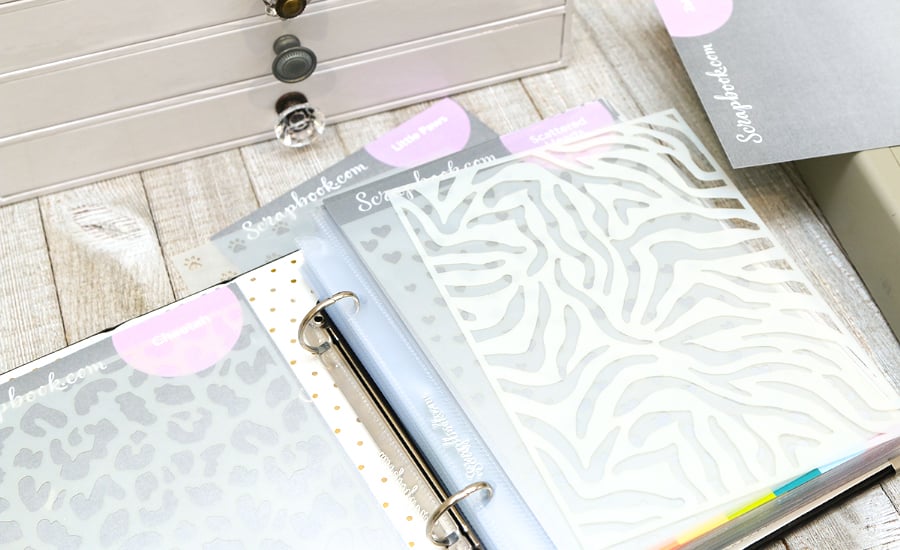 You can slip one stencil in per page protector (or have them back to back for extra storage), so you can flip through your inventory and protect your precious stencils all in one fun album!
Best Scrapbook Supply Storage Options
We've gone through quite a few specialized storage options, some of which could pull double duty for storing more than one thing or item in your craft room. But when it comes to general organization, what are some of the top options out there?
Supply Storage | Best Tabletop Storage Solution
Have you seen this 360 Craft Tower? It's really quite amazing when you look at all the bottles, jars, ink pads, tools, containers, and more that can be inserted into this one rotating organizer that only takes up 10" of space on your craft table.
This unique spinning tower comes with 4 repositionable shelves (with more available for purchase) so that you can customize individual shelf levels to exactly what you need to get everything organized. It even has a wonderful tiered top rack for writing utensils, tiny bottles, and small handheld tools. Just give it one small rotation on the Lazy Susan base, and whatever item you need is easily within reach.
Supply Storage | Best Rolling Cart Organizer
For those crafters that need an easy way to roll away fun supplies at a moment's notice, the A La Cart by We R Memory Keepers is a dream on wheels! This 3-tiered metal cart comes empty and waiting to be filled with endless crafting possibilities. Relocate all the supplies you've tucked away in drawers and tote bags to this handy cart, and you'll spend so much more time getting crafty and creative! Plus, there's a wide range of handy cart accessories available to purchase separately like dividers, labels, hanging bins, hooks, and more!
The best part is, these fabulous rolling carts can be used in any room of your house and for anything you need easy access to. Load them up with kitchen tools, kid's toys, cleaning supplies, and more. The only limit is your imagination!
Supply Storage | Best Cube Storage Option
Best Craft Organizer knows how much people love their cube storage systems. These cubbie-like pieces of solid wood furniture (most popularly from IKEA and known as the Kallax or Expedit) are in households, classrooms, and offices everywhere due to their versatility and functionality. As a result, they designed specialized drawer systems that adhere perfectly within your existing cube storage system.
With a little bit of light assembly and some extra strong adhesive, these drawer systems (and one paper storage tray system) slide right into the cubbie and are ready to be filled with your favorite supplies!
Supply Storage | Best Flip-Through Storage
Scrapbook.com has a sturdy, reliable, reusable storage option that will make flipping through supplies easier than ever. We're talking about our Storage Envelopes available in a variety of must-have sizes. Choose from small and medium sizes for your stamps and dies, big 13" x 13" sizes for layouts and scrapbook papers, 4.5" x 9.5" slimline, and more!
You will love how easy these are to flip through in your storage bins, fabric cube bins, and in your drawers. They are made of thick, frosted plastic, so your contents are well-protected inside at all times. These are certainly a must-have for all kinds of artists and crafters.
Supply Storage | Best All-Purpose Organization
It's a multi-purpose storage solution with a singular mission: to keep you organized. Our 12 x 12 Storage Box is perfect for stacks of paper pads or sticker tablets, tools, cardmaking supplies, or even your projects in progress.
Supply Storage | Best Embellishment Storage
We have the perfect solution for your beads, brads, buttons, as well as your doo-dads, sequins, gems, stones, powders, and teeny tiny embellishments. Scrapbook.com's exclusive Embellishment Jars in two different sizes are a trendy, stylish solution for all your smallest accents.
Each perfectly clear jar has a threaded screw-top lid for secure storage of your items, with all 12 fitting snuggly within the rectangular case. Stack them, store them, fit them in a drawer, or display proudly on your desk.
Supply Storage | Best Portable Organization
It made our list for photo storage, but this Clear Craft Storage Set is so amazing we can't help but mention it again. Dozens of 5-star rated reviews from happy customers can't be wrong about this fantastic set. With 16 individual storage cases, all snuggled securely in a sturdy locking box with a solid handle for carrying, this beauty is ready to get your storage and organization on track in a big way.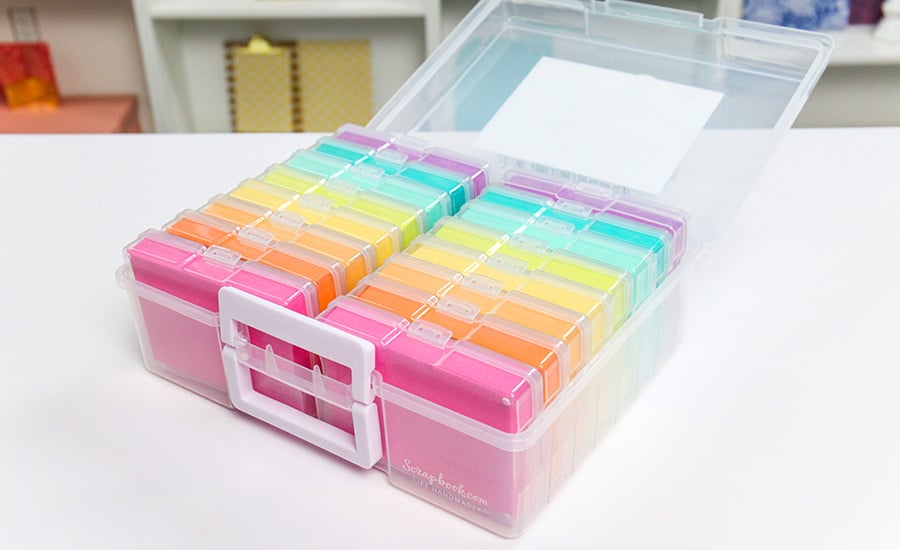 Whether you're storing photos, ink pads, pens, markers, ephemera, dies, stamps, stickers, or really anything else, this is a great way to get organized for home or on the go. It's also a simple way to load up some of your favorite supplies for a class, crop, or day with your favorite crafty ladies.
---
What's your go-to storage and organization advice for the crafting community? Make sure you share your best nuggets of wisdom or amazing organizational systems that have worked for you.
For more organizational info and top-rated advice, check out our guide for cleaning your favorite supplies and the best way to store Stickles, Nuvo, reinkers, and more.
---