We hope these funny craft memes inspire you, make you smile and brighten your day.
Feel free to use these graphics on your blog, website or social media. We simply ask that you link back to this page so others can find more inspiring and humorous quotes!
Don't forget to tag us if you share on Instagram: @scrapbookcom
Weekend Forecast: Crafting with a chance of chocolate!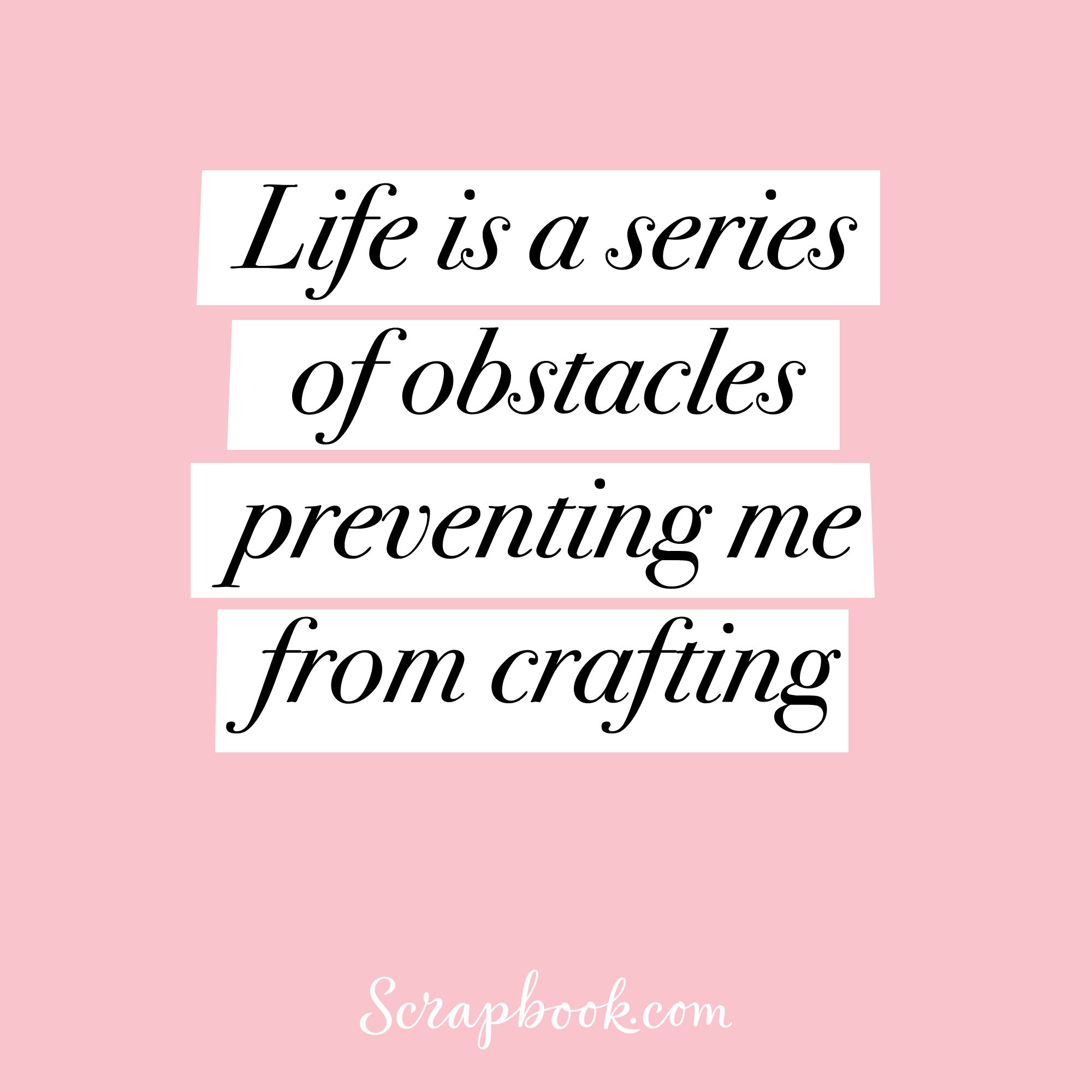 Life is a series of obstacles preventing me from crafting
I'm obsessed with famous couples... paper & markers, glitter & glue, stamps & die cuts
Crafting fills my life. And my closets. And my drawers. And every empty tote bag in the house.
If glitter is wrong, I don't want to be right!
When in doubt, just add glitter!
My husband said that if I buy any more paper, he will leave. I will miss him.
It looks like I'm listening to you, but I'm really thinking about the paper I just ordered.
I won't order any more paper until I use up what I already have! (haha!)
I like to party and by "party" I mean make cards
Creative minds are rarely tidy
I'm a romantic... I live for long, dreamy walks down the craft aisle
I have too many STAMPS! (said no one ever)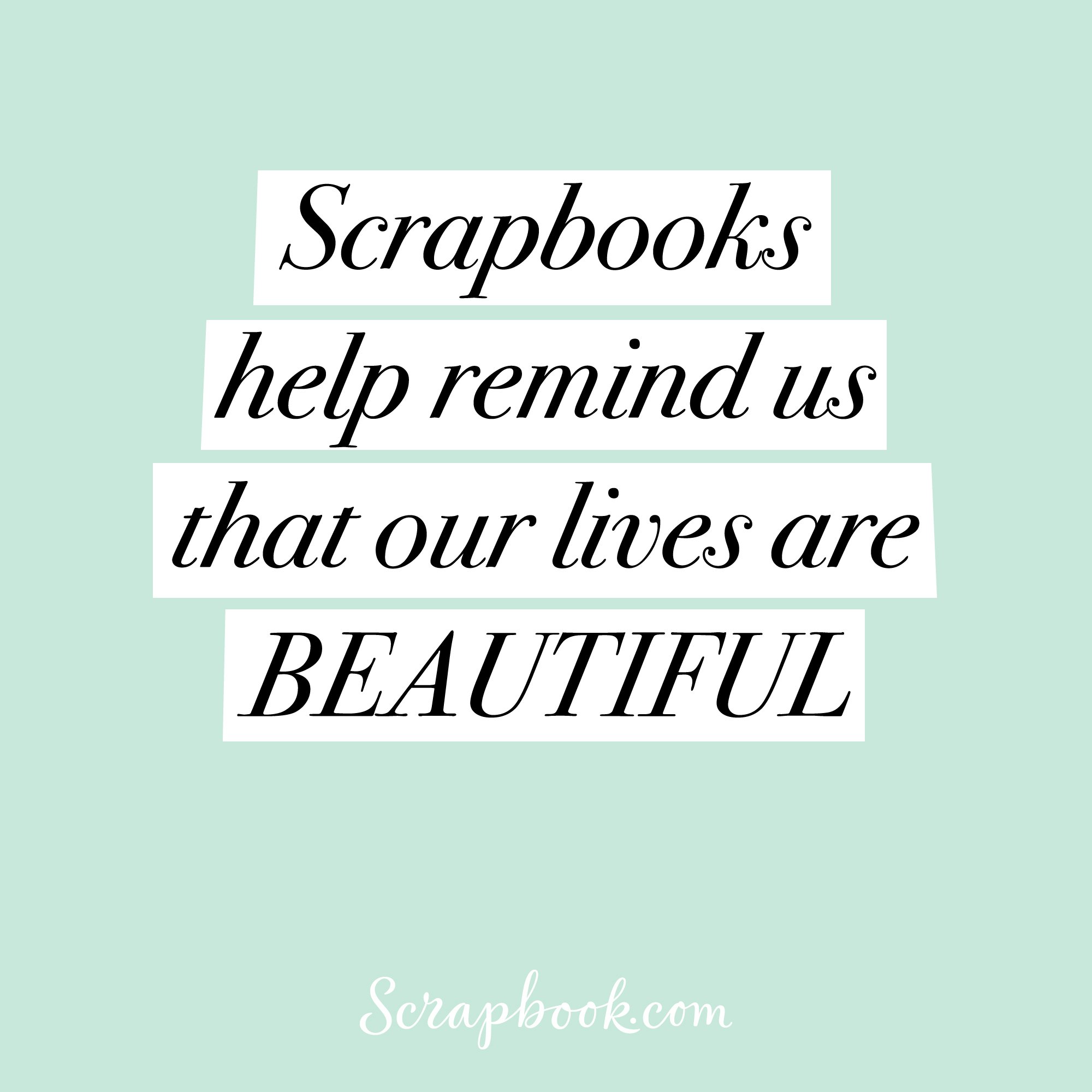 Scrapbooks help remind us that our lives are BEAUTIFUL
Who needs a pot of gold when you could have seventy-eleven jars of sparkly gold glitter!
Unlike football, there are no silly rules in crafting!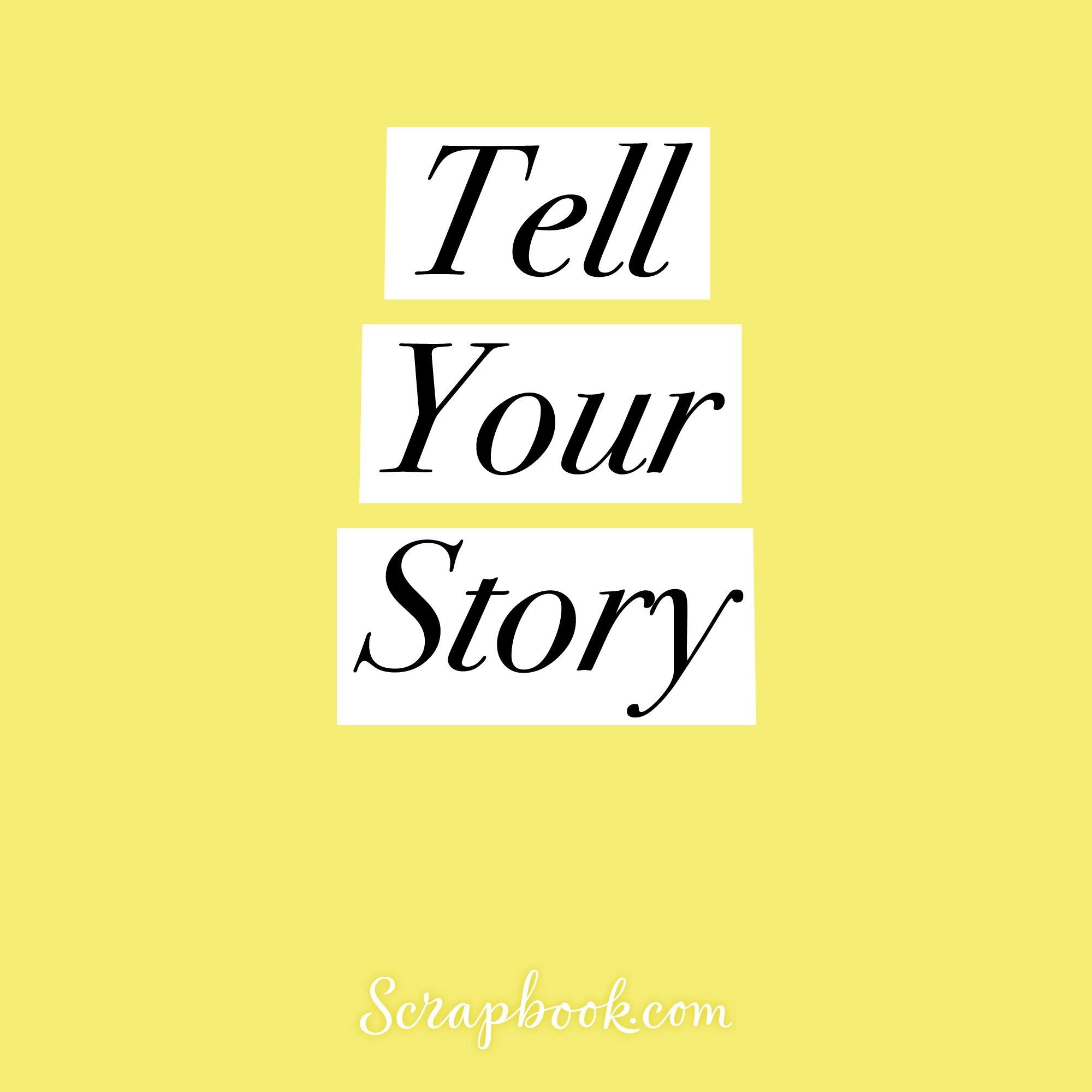 Tell Your Story
I don't have too much paper, my house is just too small.
The Creative Adult is the Child who has Survived.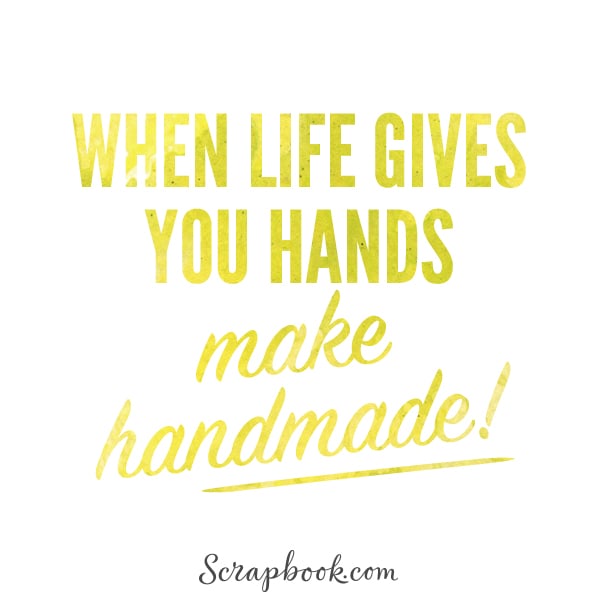 When Life Gives You Hands, Make Handmade.
Creativity - The More You Use, The More You Have.
I Have Too Much Scrapbook Paper... Said No One Ever.
Cooking and Cleaning are for People Who Haven't Discovered Scrapbooking.
Creativity is Contagious. Pass it On.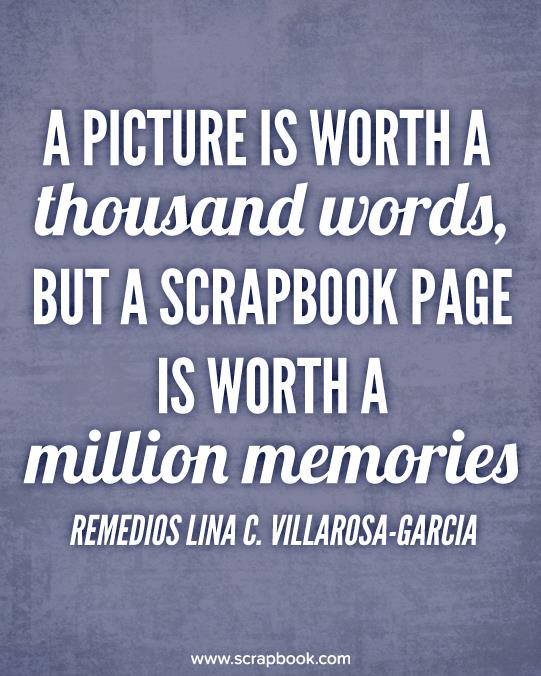 A Picture is Worth a Thousand Words, But a Scrapbook is Worth a Million Memories.
I'm Addicted to Scrapbooking. I Need a 12x12 Step Program.
The Desire to Create is One of the Deepest Yearnings of the Human Soul.
Money Can't Buy Happiness But It Can Buy New Scrapbook Stuff - Which is Kind of the Same Thing.
I Only Scrapbook on Days that End in Y.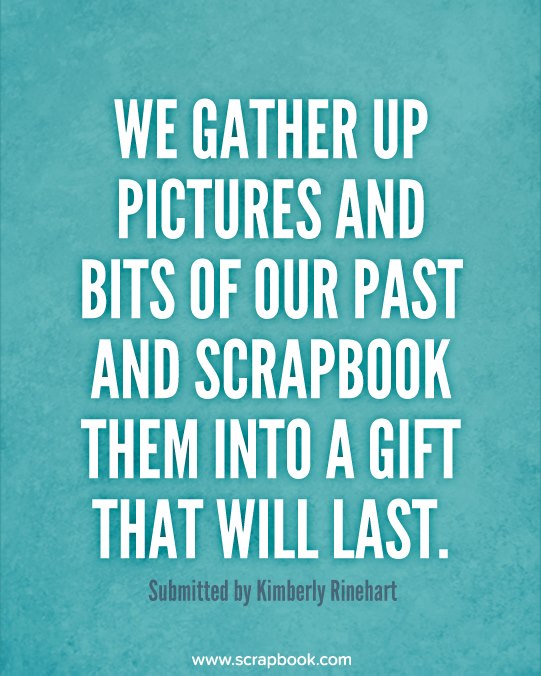 We Gather Up Pictures And Bits of Our Past And Scrapbook Them Into A Gift That Will Last.
If You Can't Stand the Mess, Get Out of the Scrapbook Studio.
Blessed are the Children of Scrapbookers, for They Shall Inherit the Scrapbooks.
Birth Certificates Show That You Were Born. Death Certificates Show That You Died. Scrapbooks Show that You Really Lived.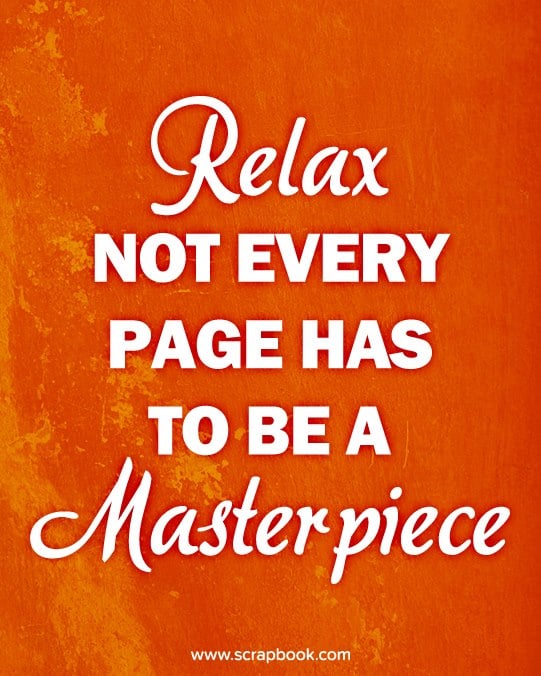 Relax, Not Every Page Has to be a Masterpiece.
Scrapbooking is a Work of Heart.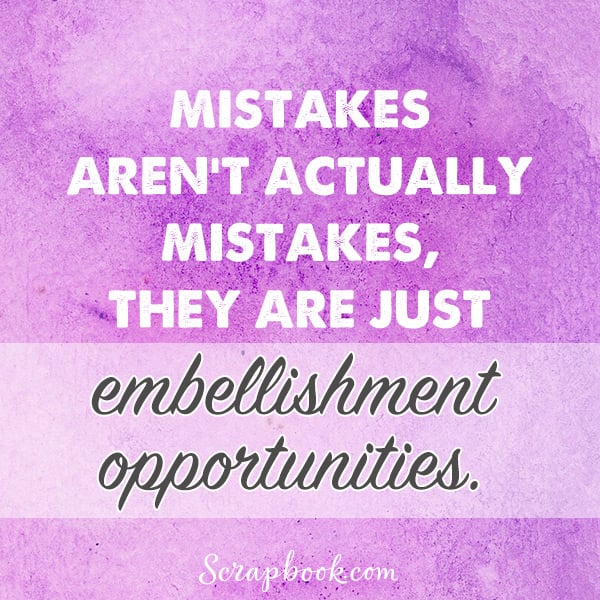 Mistakes Aren't Actually Mistakes. They are Just Embellishment Opportunities.
Mess With My Stuff and I'll Punch Your Eyelets Out.
Scrapbooking Fills My Days, Not To Mention My Living Room, Dining Room, Bedroom & Closet.
Scrapbooking is Not A Hobby, It's a Way of Life.
If All Else Fails, Add Another Embellishment.
Been There, Done That, Scrapped a Page About It.
Scrapbooking is All Fun and Games Until Someone Loses an Eyelet.
Preserve Your Memories, Keep Them Well, What You Forget You Can Never Tell.
Scrapbooking: Cheaper Than a Therapist.
Scrapbooking is the Best Medicine.
My Biggest Fear is that When I Die, My Husband Will Sell All of My Scrap Supplies for What I Told Him They Cost.
You Never Know What You Have Until You Clean Your Craft Room.
Born to Crop, Not to Mop.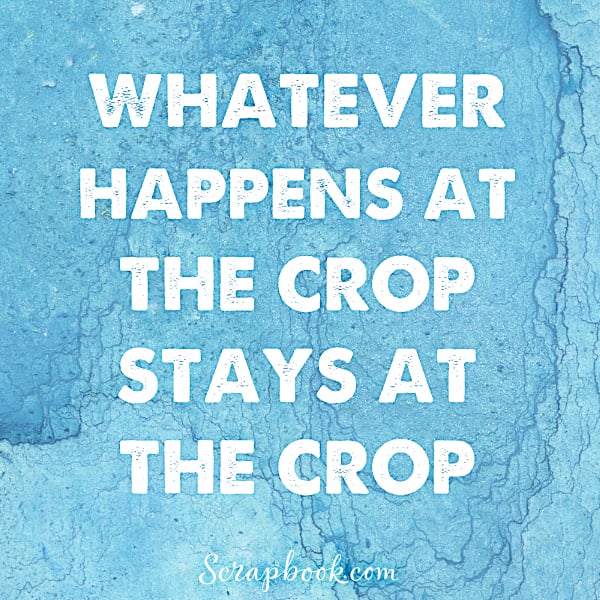 What Happens at the Crop Stays at the Crop.
Some Call it Empty Nest. I Call it New Craft Room.
I Have Run Out of Place to Hide Store My Craft Supplies.
I Am Not a Hoarder, I Just Need A Bigger Craft Room.
The Only Place Where Housework Comes Before Scrapbooking is the Dictionary.
I Craft. Get Over It.
I Was Crafty When Crafty Wasn't Cool.
You Can't Use Up Creativity. The More You Use, The More You Have.
Makers Gonna Make.
Passionate About the Place Where Words + Photos Intersect.
I Craft So Hard I Sweat Glitter.
Why Did She Make Things? Well... She Enjoyed It Of Course, But It Also Somehow Helped Her Remember Who She Was And Where She Came From.
Working On My PHD in Crafting (Projects Half Done).
Capture Life.
When You're A Scrapbooker. Life Is A Photoshoot.
You Don't Have to Be Artistic or Creative to Capture Your Memories.
Not in the Scrapbook = Didn't Happen.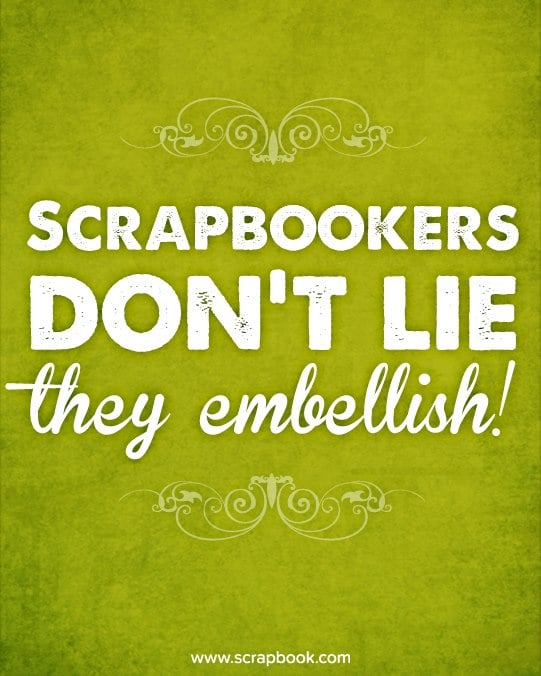 Scrapbookers Don't Lie, They Embellish.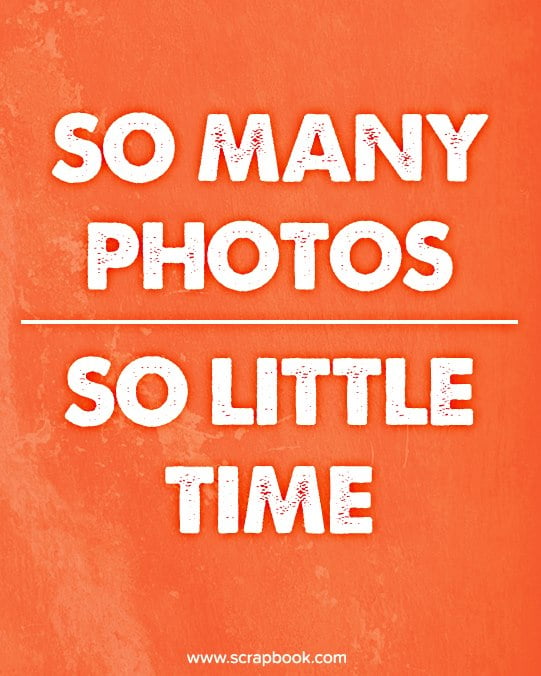 So Many Photos. So Little Time.
---