It's that special time of year where we celebrate handmade cards in all their beauty - World Card Making Day 2021!
This year, our favorite card making holiday is on October 2nd. Keep your eyes on our Deals and Promotions page for upcoming surprises you don't want to miss!
We're kicking off the celebration early by featuring 21 of the best cards of 2021 (though we truly could pick over 2,021 cards from our 3,000,000-project gallery).
We are also so very excited to share our new and improved Scrapbook.com Project Gallery look with our community. You will find it to be the same welcoming community as always, but filled with even more ways to encourage and lift up your fellow crafters, and more wonderful ways to show off your own crafty projects!
Check them out below to spark your card making creativity!
Rainbow Stripes Card
Let's kick off our celebration with the first card on our list that will have you seeing colors. This unique and shiny creation by Anett Gelencser combines a variety of Scrapbook.com's exclusive products with foil from Spellbinders and a die from Pinkfresh for a look that would brighten anyone's day. Using a veritable rainbow of colors from various Scrapbook.com Smooth Cardstock sets, along with our Smart Craft Glue for foiling, she achieved a bright and bold celebratory card!
Animal Card
We simply cannot stop staring at this creation from Keia Shipp-Smith using Lawn Fawn Stamps and numeral dies from Scrapbook.com. Using stamps and coordinating dies featured in their Really High Five Collection and some positively gorgeous ombre ink blending using pastel shades from Pinkfresh Studio, Keia has delighted us with this adorable celebratory card perfect for every special birthday person in your life!
Distress Oxide Card
Tiffany Solorio combined the beauty of Ranger's Distress Micro Glaze and various colors of Distress Spray Stains with fabulous Stamper Anonymous stamps and for a true stunner of a card. Explore the Entomology Collection by Stampers Anonymous for some of the most poignant sentiments and artistic stamps to recreate this fascinating card for someone special in your life!
Dessert Card
Send sweets and celebratory cheers across the miles with the Say It With Stamps Hey Cupcake Collection from Photo Play Paper. Wanda Guess made this delicious cupcake and rainbow card with a variety of elements from Tulla's Birthday Collection from Photo Play Paper. Pick up some must-haves like stitched frame dies, stamps, and cardstock stickers when you shop Photo Play Paper here.
Stars Card
Each star that shoots through the sky is unique and this glimmering card from Tae Eun is a one-of-a-kind beauty! She used Pinkfresh Studio's Dies and Shaker Stars and their huge selection of Jewel Refill Packs for this out-of-this-world creation.
Scooter Card
Now here's a fun, fresh, and fabulous card to add to your must-make list! Jess McAfee used a variety of supplies for this critter scootin' miss you card. Taking center stage is the Scootin' By Stamp Set from Lawn Fawn, accented by the beautiful slimline scenery die from Heffy Doodle. We simply cannot take our eyes off this card!
Pastel Card
Some people know fall is coming by the color of the leaves changing and temperatures dropping, but crafters know because the projects are changing. Jamie Pate created a card to welcome the new season by using Scrapbook.com Exclusives! We are taking this as a green light to now indulge in pumpkin spice everything!
Balloon Card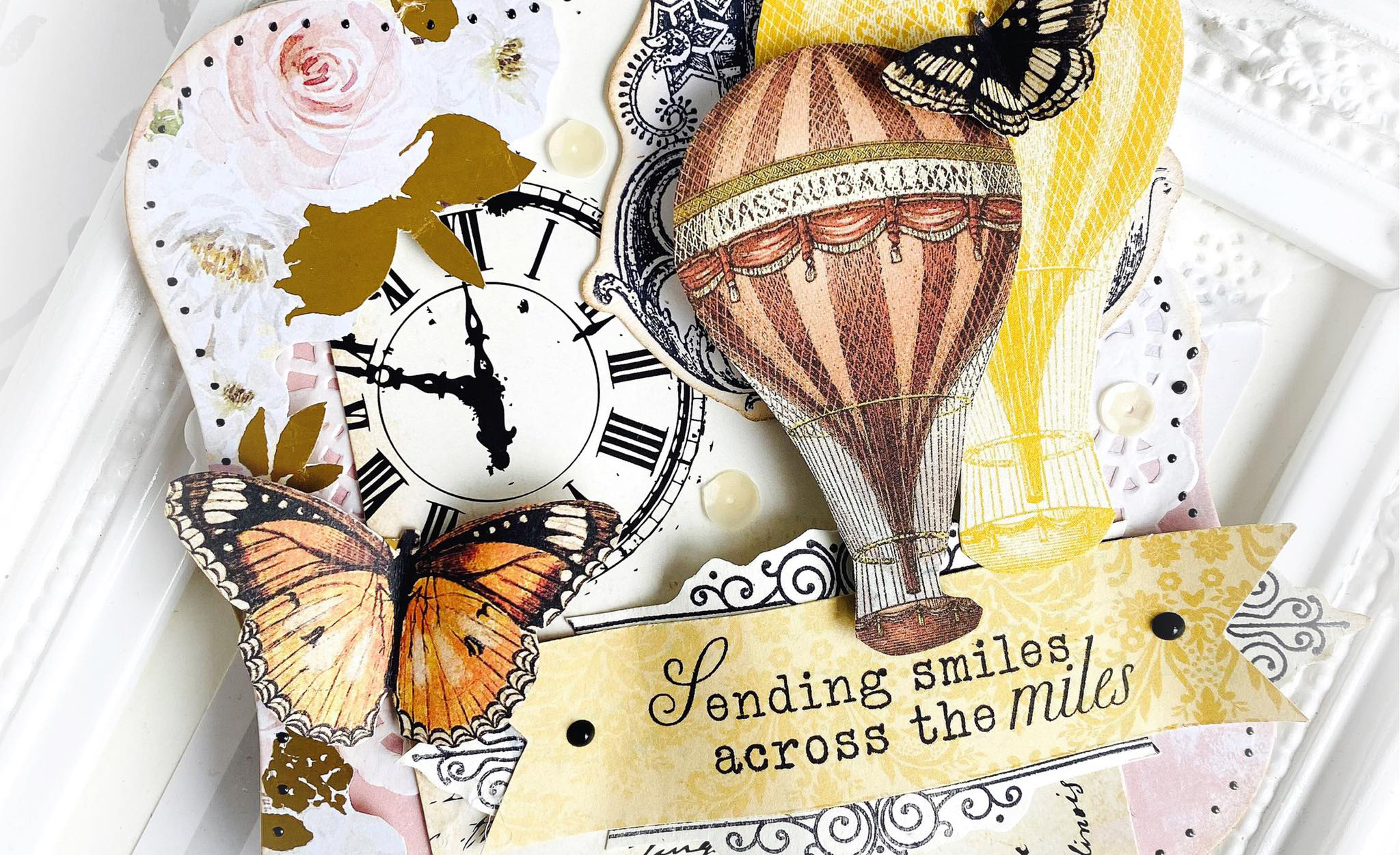 Inspired by autumn, Artisant shares a card that can be used to send smiles across the miles. Supplies from Graphic 45 and Prima are used to create this card that will absolutely bring joy to the recipient no matter how near or far!
Flower Wreath Card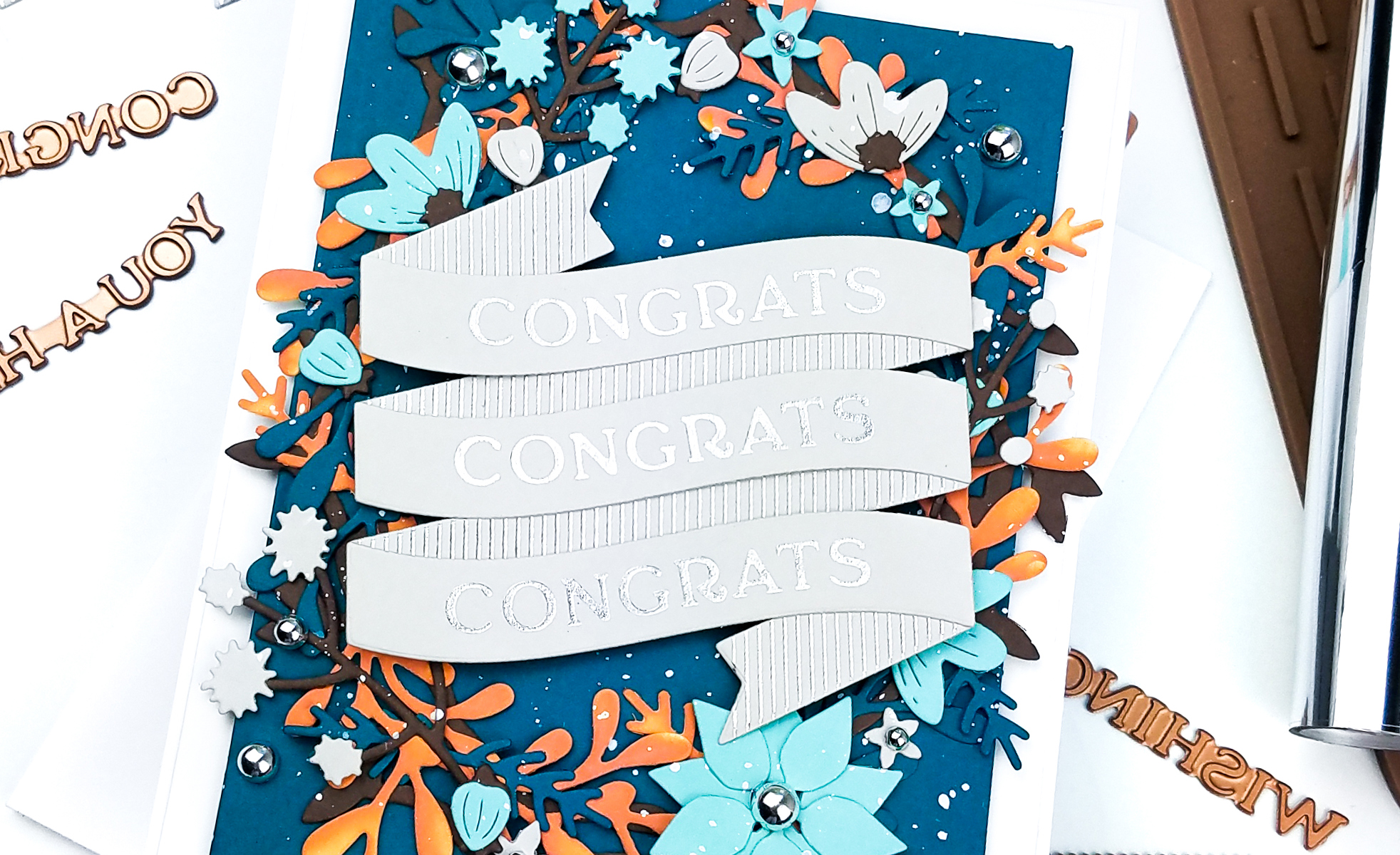 The creative Tiffany Pryce Russom used a variety of die sets from Spellbinders to form a wreath around a shimmering "Congrats" sentiment! To complete the card, Tiffany adds some splatter to finish this fall-inspired card!
Games Card
When we say that Jeanne Jachna is bringing her A-game, we're not playing! Not only could this be a fun birthday card but you can also send it to your competitive friend as an invitation for game night! Make your own projects using the Simple Stories Family Fun Collection!
Doodlebug Crafty Cards
Tell us that you craft, without telling us that you craft! Stephanie I. did just that by using products from the Cute and Crafty Collection on these super fun projects! "Eat, Sleep, Craft, Repeat" is our idea of a perfect day!
Observations Card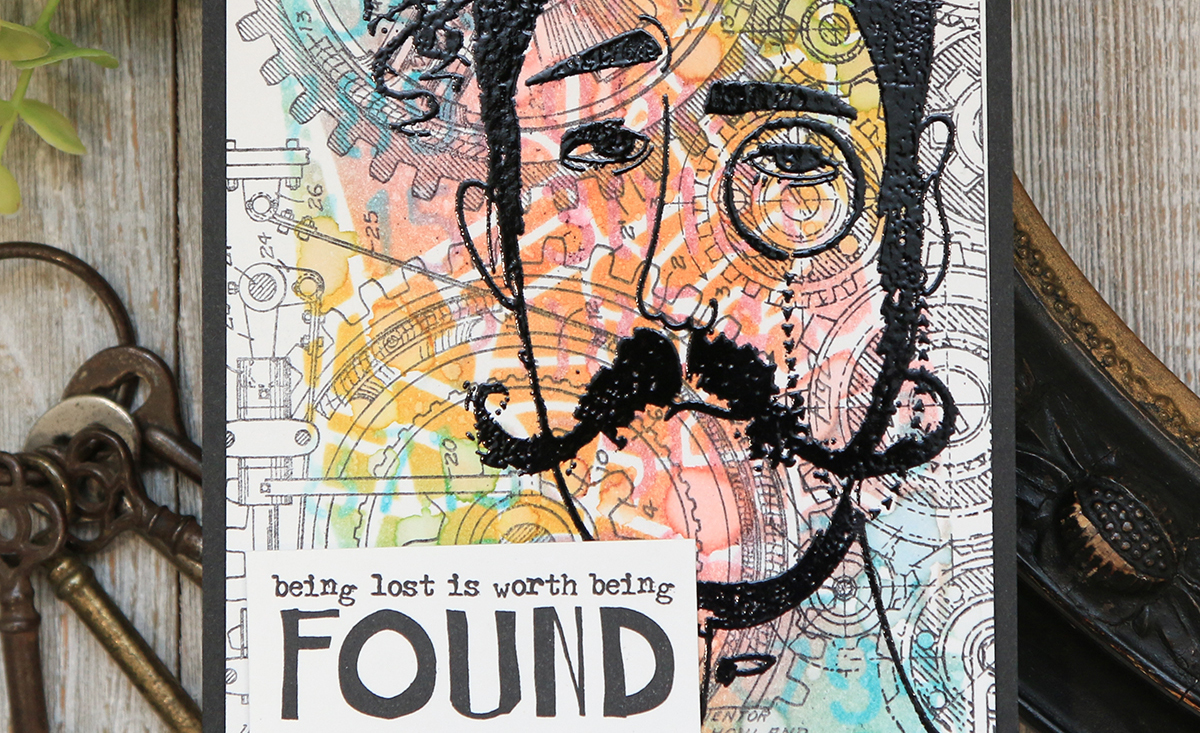 The incredibly talented Juliana Michaels is taking our breath away with this card made using Tim Holtz supplies and gel plates! She used rubber stamps and stencils from Stampers Anonymous and if you are very observant and look closely, you can see where the different items were used!
Rainbow Card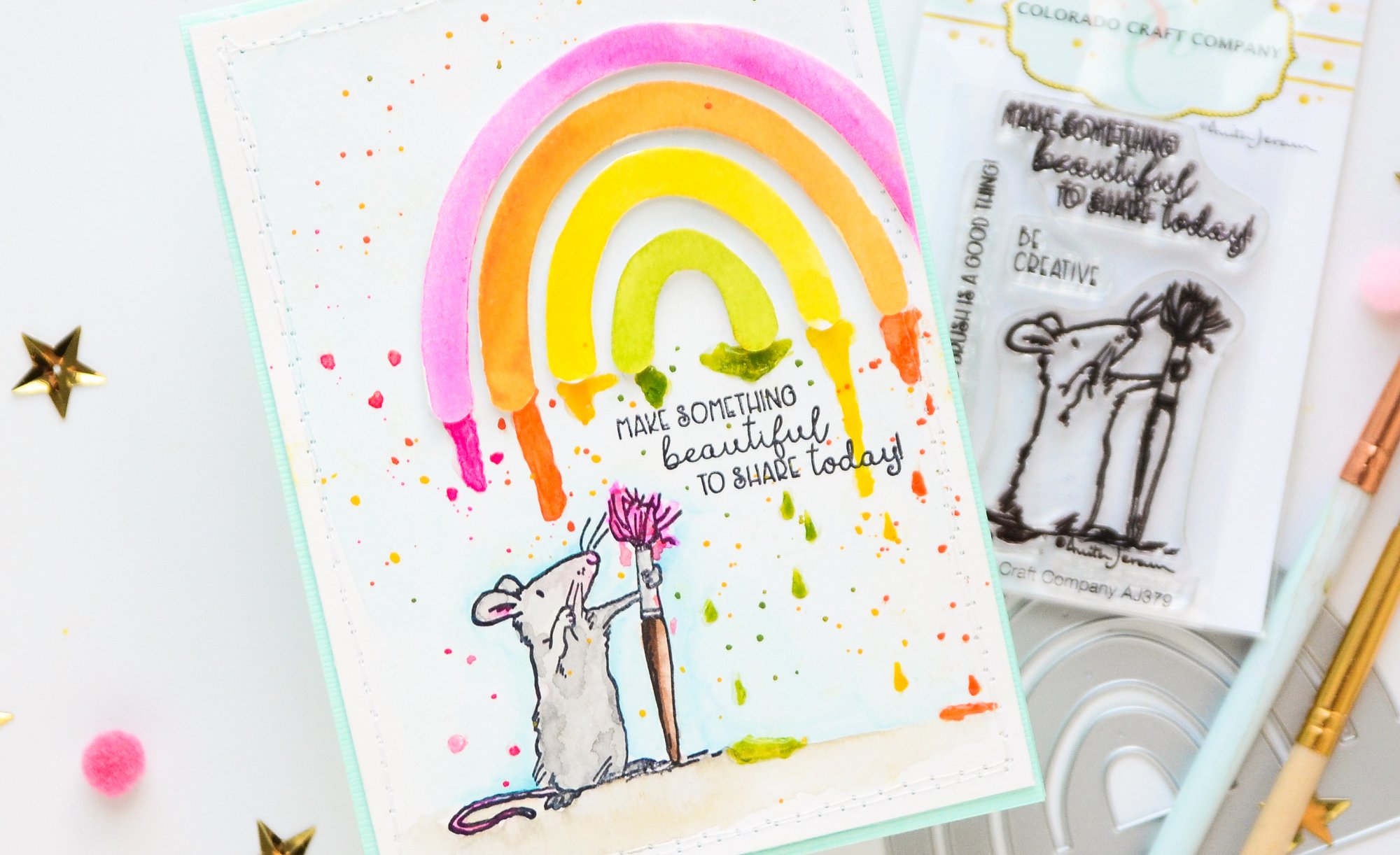 This card is dripping with color! Anna Komenda is the creative artist behind this simple and colorful card. "Make something beautiful to share today!" is a sentiment that we need to hear every day!
Pops of Color Stencil Card
We are always so inspired by the talented Marie Heiderscheit! Using the Scrapbook.com Pops of Color, Marie created a stenciled background quickly and easily with a craft scraper! After seeing this technique we are wanting to spread Pops of Color any where we can!
Flowers Card
This bright and colorful creation from the oh-so-talented Marcia Dehn-Nix is a 3D box card! Using papers from the Echo Park Slice of Summer Collection, this tricycle card can also fold flat for easy mailing! If you "tri" to replicate this card, be sure to upload a photo to the Scrapbook.com Gallery!
Hello Autumn Card
We are fawning over this incredibly intricate fall card by Marta Piekarczyk! Filled with flowers, twigs, sprigs, and fawn this card has us ready for sweater weather! Check out the products P13 offers here!
Thank You So Much Card
Laura Evangeline has certainly captured our attention with this unbelievably elegant handmade card. She used an acetate sheet and products from Pinkfresh Studio to create a shaker card with foiling to say, "Thank you so much!"
Honey Bee Garden Card
Ilda Dias reminds us to "bee" a good friend and send a card to someone to let them know we are thinking of them! You shouldn't "bee" surprised that she used products from Honey Bee Stamps to make this apron-shaped card!
Stitched Heart Thank You Cards
Everything that the brilliant Paige Evans creates has a way of capturing our hearts and these stitched heart thank you cards are no exception. She used a stitching technique to combine pieces of her Bungalow Lane Collection into gorgeous heart balloons on these adorable thank you notes. Wouldn't you love to have these on hand to thank all your beautiful friends and family members?
Heffy Doodle Card
Hey gull, hey! Here's a card you've got to "sea!" Lauren Taylor Made used an array of Heffy Doodle supplies for this wavy scene! Send your "gull" (or "buoy") friend a card like this to let them know they are being thought of and sent a thumbs (or wing?) up!
Interactive Card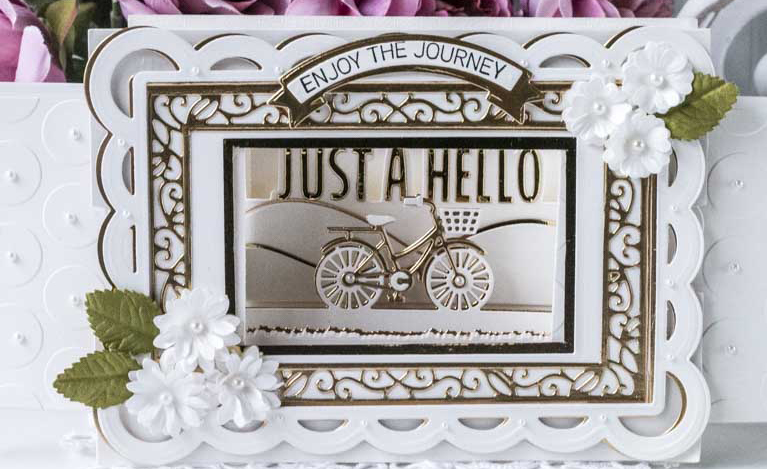 Have you ever made a 3D slider card? Becca Feeken of Amazing Paper Grace used the Make a Scene Collection by Spellbinders to create this interactive and innovative card! When you pull the sliders, and the card goes flat!
---
Believe us when we say we could have filled this World Card Making Day feature with hundreds of our favorite cards of the year. Which card was your favorite?
We are so thrilled to show off our new and improved Scrapbook.com Gallery look, too! We have filled it with positivity and kindness--reflective of our members, YOU!
We hope you have a creative, fun, craft-filled World Card Making Day!
---