In the world of crafting, ink plays an important part on the road to creating an absolute masterpiece. You can stamp with it, blend with it, make big dabs and small, you can stencil with it, add it to mixed media, really anything at all!
Eventually, your favorite ink pads will start to grow weary from helping you create unforgettable layouts, one-of-a-kind handmade cards, planner calendars, notebook pages, and more.
That's why the fan-favorite Scrapbook.com Premium Hybrid Inks Collection, and many of your other favorite brands of ink pads, have reinkers available to keep your ink pads full of bold and beautiful pigment.
What are Reinkers?
If you've just gotten into stamping, or maybe just have some amazing, long-lasting ink pads in your stash, you may not be familiar with reinkers and how they work.
For many popular brands in the paper crafting industry, ink comes in pads, big and small. But when your pad starts to dry out from extended use, instead of tossing it in the trash for a new one, you can usually pick up a reinker in the same ink shade!
In our store, we have a reinker for every single color of ink in our exclusive Inks Collection, available in singles, color families, and the entire 51-shade set. We also carry a large assortment of reinkers from Ranger, Tim Holtz, Wendy Vecchi, Simon Hurley, Lawn Fawn, and more!
These tiny bottles hold endless possibilities in a huge rainbow of hues. But their original purpose is to ensure your much-loved ink pads stay bold, bright, beautiful, and begging to be brought out for your next inky adventure.
How Do I Know When My Ink Pads Need Ink?
When your ink pads need some time with a reinker, you should be able to spot the tell-tale signs. Here are a few super helpful tips from our resident craft expert.
If you're a stamper, chances are good that you are well-versed in ink coverage on your clear or red rubber stamps. If you're not getting a solid layer of ink coverage on your stamps, or you find yourself doing an excessive amount of impressions with your stamping press, it might be time for a reinker to do what it does best.
Take a close look at the surface of your ink pad (not too close, or you might get ink on your nose!). Ink pads come with either a felt or a foam insert that the ink is absorbed into. Both of these surfaces will be able to tell you if they are moist enough for some amazing stamping action. If the top or edges of the felt or foam are looking a little dried out, grab a reinker!
If you don't know where to start, we recommend starting with your staple colors, such as your black inks. They tend to be used the most often, especially for stamping sentiments.
Helpful Hint: To avoid your ink pads drying out quicker than normal, ensure you are always putting the lid back on tightly as soon as you're done with that color. Exposure to the air for unnecessarily long periods of time will cause undue wear on your favorite hues.
How Do I Reink My Ink Pads?
Once you've determined that your ink pads need some maintenance, get those reinkers out and ready to go!
Before you get started, make sure your work surface is adequately protected from any unintentional droplets or smears of ink. A craft mat is always a good idea to make clean-up a breeze. You might also want to grab a rag or some wipes for getting ink off your fingers if you touch the reinker tip or pad edges.
When you're adding ink into your ink pads, you want to ensure you're getting edge to edge, even coverage throughout the area of the pad. Instead of randomly placing drops, try adding zig-zag patterns back and forth in one direction, then in the other. All the while, you want to apply gentle pressure to the reinker bottle to ensure a steady flow of ink is distributed throughout the pad.
If your pad was truly thirsty for some ink, you should see it start to absorb immediately as you're adding the ink.
Helpful Tip: Don't use a freshly-reinked ink pad right away! Put the lid on and set it aside for 10 to 15 minutes for the new ink to absorb into the pad before you get stamping!
If your ink pad was a little more saturated with ink than you thought, you might end up with some fresh ink sitting on the top of the pad and not absorbing right away. In those instances, you just need to help the ink along by spreading it around the pad and distributing it evenly.
We found that one of the best tools for getting this done efficiently was the Vicki Boutin silicone Art Wedge*, but you can use an old gift card or similar tool. A few quick and gentle scrapes back and forth will distribute the ink, press it into the pad, and even remove some unnecessary excess ink that the pad didn't need.
While the tiny reinker bottles are full of exciting potential, it is definitely possible to get too excited and over-ink your ink pads. If you're noticing that the ink won't fully absorb, you might have added just a little too much. Don't worry - you haven't ruined your ink pad!
*Please note this product has been discontinued
Helpful Tip: If you try to stamp with an over-inked ink pad, your stamp impressions will not come out crisp and clean. The extra ink saturation will flood the grooves of your stamp and may leave a drippy image.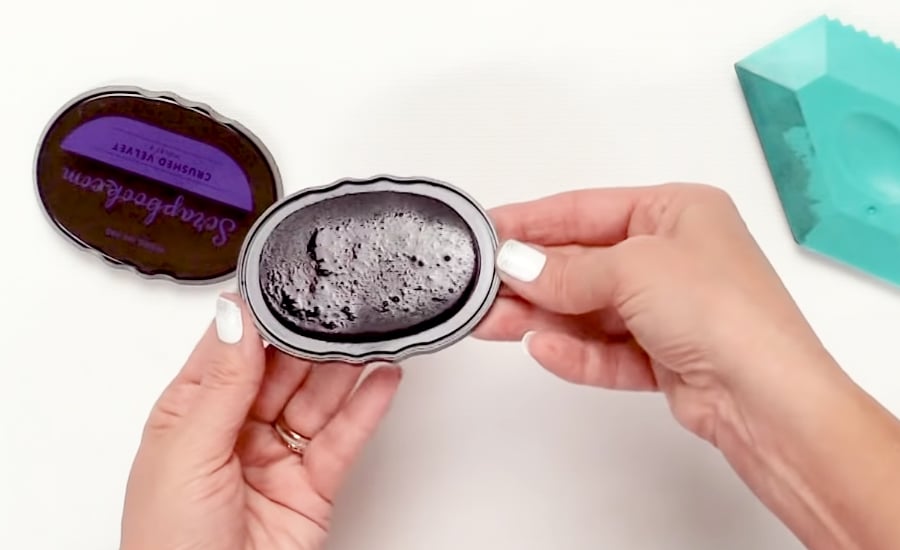 When your ink pad ends up super juicy and saturated from over-inking, it's time for a little adjustment. Get out your Art Wedge, plastic card, or spatula tool and start scraping. If you're seeing drips and streams of ink coming off the pad as you're scraping, you definitely got a little ink-happy with the reinker!
When you're reinking your ink pads, it's best to start off with a very light layer of ink first to see how much ink is really needed. Add a layer and wait 10 to 15 minutes for it to absorb. Then, get out a stamp to test how well the ink pad is coated. Try not to use your favorite stamp - maybe designate a test stamp for this process.
If you're still noticing that your stamp is still not coating evenly, add another very light layer of ink and repeat the test process.
If the ink coverage on the stamp is too heavy, puddled, or slightly drippy, you may have gotten a little overexcited about reinking and need to do some scraping and redistributing of the ink. This is great practice for next time you reink!
And if your stamp impression is positively perfect, then you have mastered the art of reinking!
Also, if you're a fan of ink blending, a dried out ink pad is not going to be your best friend. Once it's reinked, you'll love dabbing your Domed Ink Blending Tool into those gorgeous ink hues to create backgrounds, stenciled effects, and more!
The quick step-by-step guide to reinking:
Grab a craft mat and a rag to protect your surface
Open your dried ink pad and its corresponding reinker
Gently squeeze the liquid ink onto your pad in a zig-zag pattern to cover the whole surface area
Set aside and allow the ink to absorb; repeat if needed until the pad is adequately saturated
If too much ink is applied, use an Art Wedge or plastic card to distribute the ink and remove excess
Test the ink saturation with a stamp to ensure the desired ink coverage and impression is achieved
Enjoy your refreshed ink pad!
What's the Best Reinker Storage?
When you have a variety of inks and coordinating reinkers for all your favorites, you need a fantastic storage system to ensure you never lose a single one! Scrapbook.com's exclusive .5 oz bottle ColorCase is the absolute must-have storage for your collection of reinkers. They're clear, they stack, they're unbelievably handy, and they look amazing anywhere in your craft space!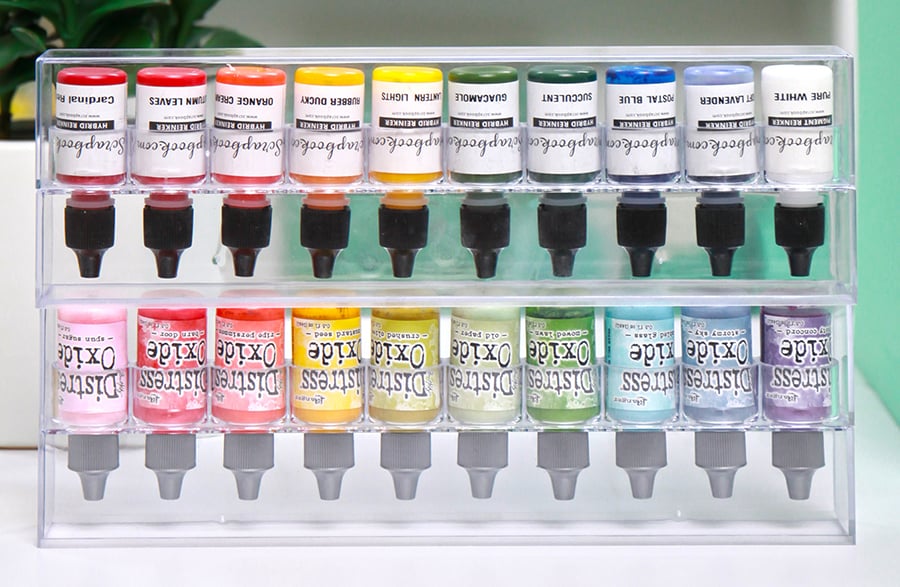 When you're in the zone and getting all your ink pad maintenance done, the ColorCase is your trusty sidekick for all your reinker action. Each bottle slot is designed to hold your reinkers right-side-up when you're in the middle of inking, so you never have to worry about knocking over one of the tiny bottles and getting ink everywhere!
And if you love your Tim Holtz products like Distress Oxides and Distress Archival Inks, then you're going to love the ColorCase for storing those reinkers!
Check out Scrapbook.com's extensive selection of stamping supplies, including ink pads, reinkers, and everything else that a stamper needs to create brilliance! For more helpful tips, tricks, and how-tos, check out our cleaning and organizing guide and the top tools for stampers!
---