A Message from Scrapbook.com's Creative Director:

When I tell people I work at Scrapbook.com, they will often respond with, "I would love to make a scrapbook, but I just don't have the time." Others say, "I'm not crafty enough to make a scrapbook." This is why we made Easy Albums.

These all-in-one kits make scrapbooking fast, simple, and affordable for everyone. Our stories and photos need to be documented and captured in physical albums, not lost inside computers and phones. These quality albums will be treasured heirlooms in your family and will wow the ones you love!

- Jessica Harrington
Whether you are brand new to the creative hobby or have already started exploring, scrapbooking is an art form that is deeply personal, meaningful, fun, and that anyone can do with a few helpful tips, tricks and starting points.
In this article, we'll tell you everything you need to know about about scrapbooks and provide some priceless insight that will have you ready to create a scrapbook album that you will cherish, love, and be able to pass down to family members with pride.
What is a Scrapbook?
By dictionary definition, a scrapbook is "a blank book in which various items (such as newspaper clippings or pictures) are collected and preserved."
Though that is literally what it is, today the word "scrapbook" means different things to different people. Some people use scrapbooks as a place to document specific events or milestones in their lives. Some people use scrapbooks to share day-to-day events. Others create scrapbooks that chronicle ancestry and genealogy to document their lineage.
Though these are the most common forms of scrapbooks, the possibilities can be endless.
"At Scrapbook.com, we won't define what a scrapbook should be for you, but we will show you what it is to others, hoping to help you develop your own purpose and style and best tell your stories." - Jill Davis, Founder of Scrapbook.com
Where Do I Start?
At Scrapbook.com, we are passionate about empowering beautiful, meaningful, handmade creations. A few years ago, we realized that people looking to make a scrapbook or handmade album for the first time were landing at Scrapbook.com and simply didn't know where to start.
There needed to be a simple, easy, and affordable solution to getting those moments out of the digital world and into the form of something truly meaningful and lasting. It was then that an idea began to take shape.
The One-Click Scrapbook Kit
We started talking to the community about preserving memories. Their feedback gave us the idea for an "all-in-one" kit that would appeal to everyone who takes photos.
We needed to put together a kit that literally anyone could do, no matter their experience or artistic ability. We wanted it to be easy to understand, simple to put together, and be an all-inclusive bundle with every single item you would need.
We needed an "all-in-one" kit so beginner scrapbookers had everything they needed to create memories with one purchase, one click - Add to Cart!
Easy Albums
We introduce to you, our Easy Albums. These all-in-one trendy scrapbooking kits make it possible for everybody to preserve memories, tell stories, remember special moments, and create with their hands.
The Wedding Easy Albums make it easy to showcase the gorgeous bride, handsome groom, and all the beautiful moments from the big day.
Each kit comes with a full-sized scrapbook album, dozens of themed cards and lined journaling cards, page protector sleeves, a nice pen, and a handy instruction booklet filled with ideas.
The only thing you need to do is print your photographs. All of the sleeves fit standard 4" x 6" photographs!
Capture every adorable smile, baby milestone, and unforgettable moment with your precious little one, available in two color schemes.
With Easy Albums, some of life's most memorable moments can easily be transformed into a unique, handmade, one-of-a-kind album in a matter of minutes.
Filled with fun photographs, beautiful memories, wonderful anecdotes, and some special little touches, this kit turns your best memories into a cherished family heirloom, quickly and easily.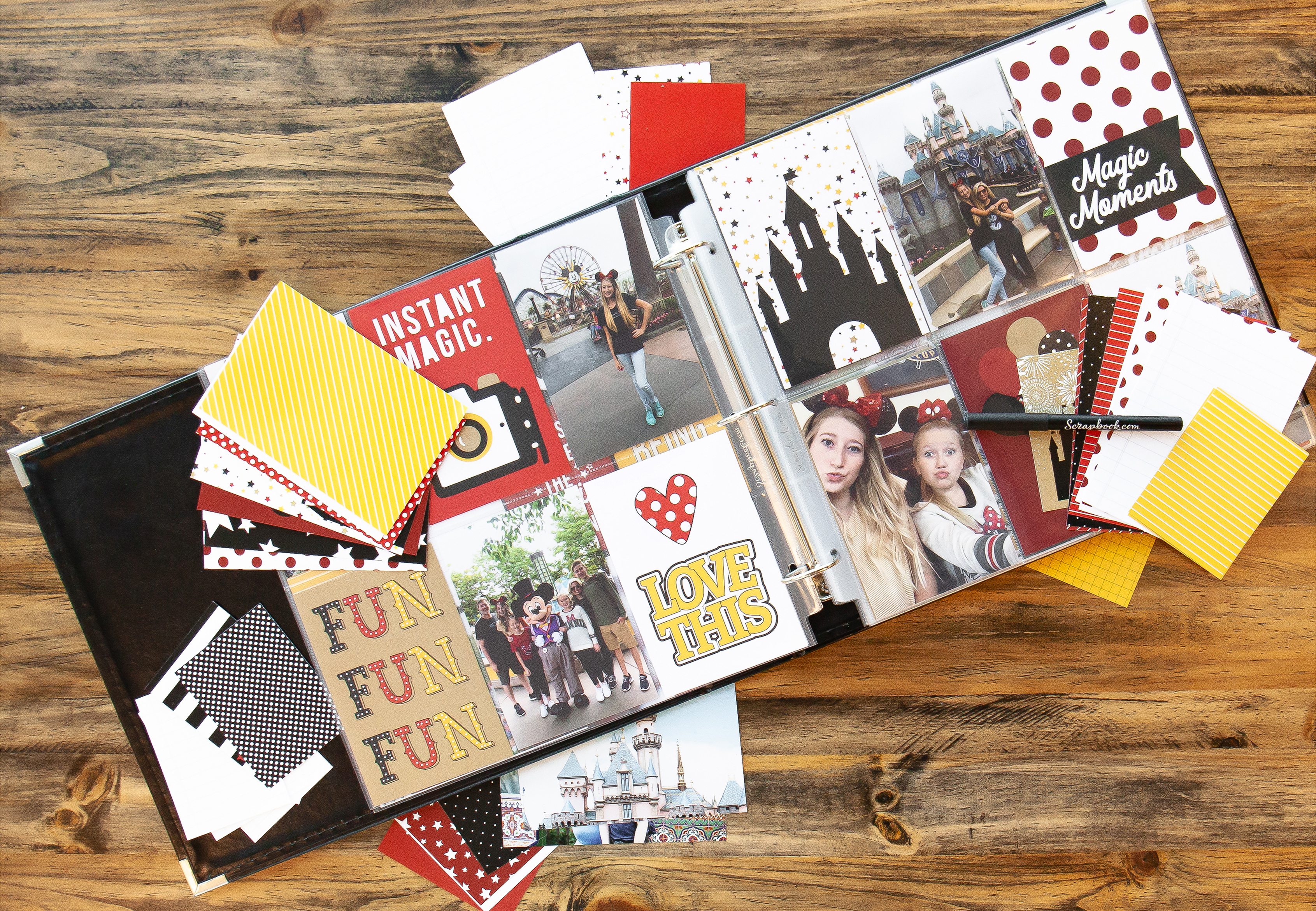 Revisit all the unforgettable adventures, rides, and treats at the happiest place on Earth!
How Do I Put It Together?
Scrapbook.com designed Easy Albums to be as simple as possible. You'll be amazed at just how easy it is to sit down in less than an hour to create an entire 30-page scrapbook album with photos and memories. Here's how it's done:
Get your standard 4" x 6" photos ready. If you need to print your photos, Persnickety Prints is a high-quality favorite among scrapbookers!
Take out the theme cards, lined journaling cards, pen, and pocket sleeves, along with the album (all included in the kit!).
Choose a pocket sleeve and start slipping your favorite photos into the pockets alongside some of the theme cards.
Fill out your journaling cards with fun stories, facts, memories, and anecdotes, and slide them into the pockets as well.
Insert your completed page into the 3-ring album.
Repeat until you have all your pages completed for a stunning, unforgettable album.
You can even change up each of the pages, insert new photos and cards, and move the inserts around as much as you desire - the choice is yours!
Tip: Reference the booklet included in your kit to get ideas and inspiration!
See how easy it is in this video below:
What Should I Write About?
One of the best parts about creating a scrapbook or album is that there are no rules! The final product is entirely up to you, and that includes what you write about.
Scrapbook.com has made your Easy Albums even easier by providing some ideas and inspiration on anecdotes, stories, and details that you can fill your journaling cards with. Here are some wonderful suggestions and prompts for your baby, wedding, travel, or Disney-themed album.
Our handy instruction booklet is also filled with ideas, examples, and more inspiration so you know exactly how to transform your Easy Albums into one-of-a-kind scrapbooks to treasure for years!
Use the journaling cards as much or as little as you want - there are no rules for creating your Easy Albums!
Making Memories That Last
Easy Albums are more than just a simple way to create a handmade scrapbook. They are a transformation of how you organize, store, and share fantastic photos and memories. Imagine the sheer joy and happiness at family events, reunions, and gatherings as you proudly show off beautiful memories in a stunning album that was created by you.
Each and every moment from baby's first breaths to their adorable first steps can be captured in photos and stories to place in your Easy Albums. All the beautiful memories from saying "I do," to the one you love can be captured and detailed alongside beautiful wedding theme cards. And all your travels to amazing destinations, or the happiest place on Earth can light up your life every time you revisit the photos of smiling faces.
Relive the joy and happiness of life's greatest moments as you create and cherish your handmade Easy Albums!
Why Scrapbook?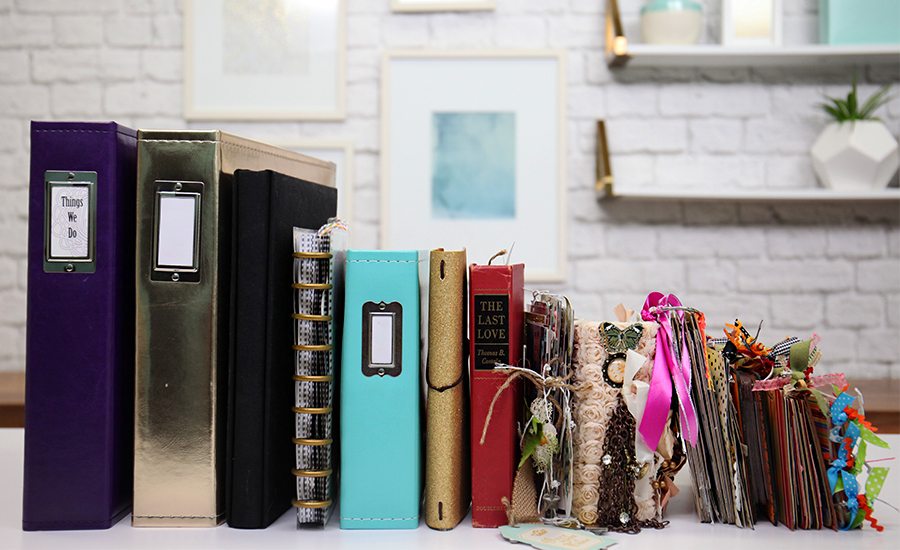 Preserve Your Memories: With so many photos being taken (especially in today's digital era where we constantly have cameras on us), it's as important as ever to print and preserve your favorite memories! Scrapbooking gives you a rhyme and a reason to sharing your life story.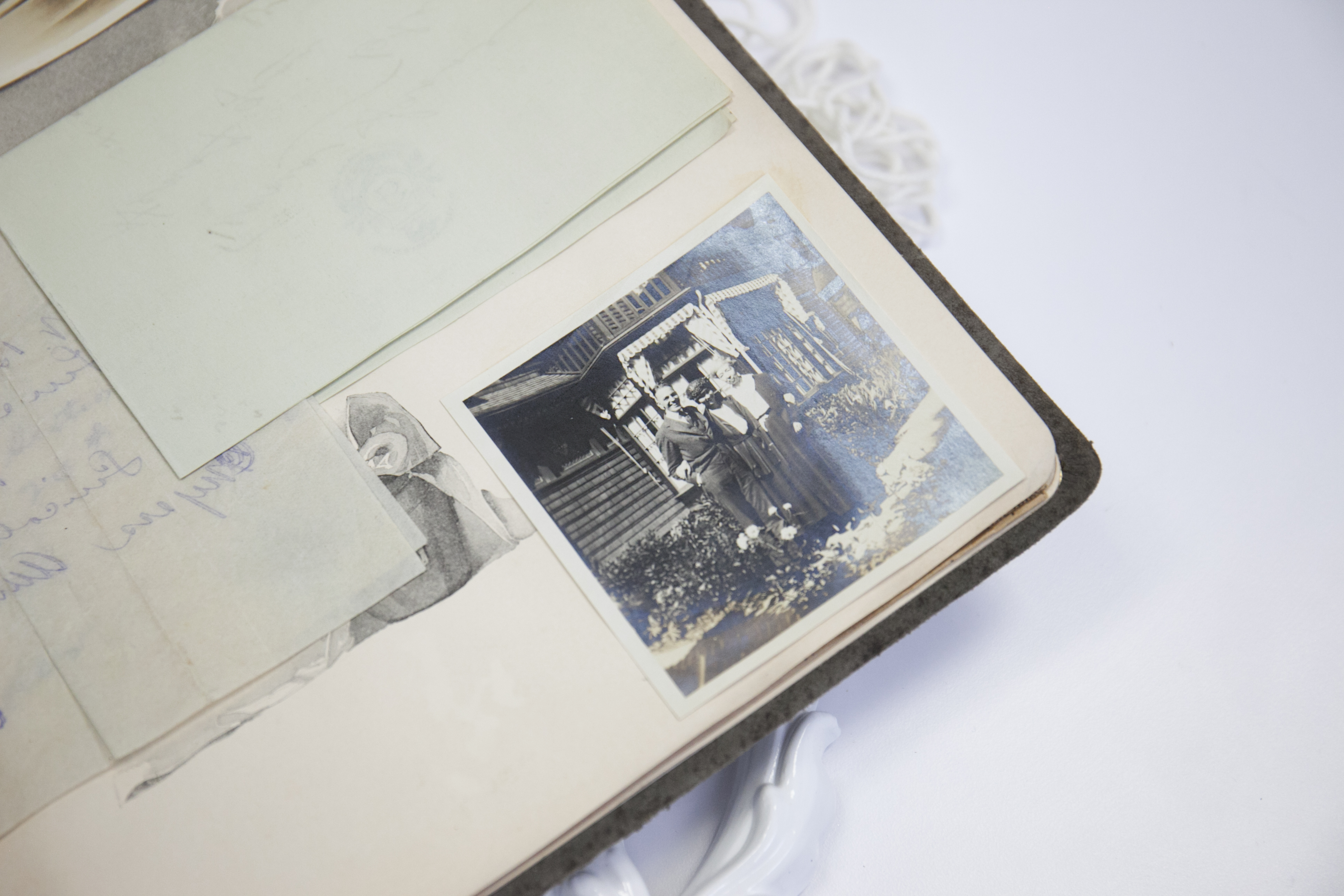 Antique scrapbook from 1911
Give Future Familial Generations Context: Wouldn't it be amazing if your Great Great Great Grandmother kept a scrapbook, journaled about her life, and it eventually got passed down to you? You'd feel an amazing connection with her, even though you never met, and would know more about how your family and you came to be. Give that gift to your future family.
Get Creative: Creative activities are scientifically proven to help relieve stress, depression, anxiety, and more. Scrapbooking can be as much about creative design as it is about preserving memories. Many scrapbookers joke that "scrapbooking is cheaper than therapy" (though there's plenty of truth to it) for the therapeutic effects they feel from taking time to get creative.
Promote Positivity, Feelings of Gratitude, and Heightened Self-Esteem: What's better than looking at pictures of events that were so much fun, then getting to create art around those events?! Bringing back all of the nostalgia surrounding your memories will help nurture positive feelings as well as give you an overwhelming sense of gratitude for the life you live. When you put them all together into an artistic expression and share your creations with others, they will be amazed!
It's Flat Out Fun!: At the end of the day, scrapbooking is flat out fun. Your fantastic family photos, your once-in-a-lifetime memories, and fun accents all around them, scrapbooking is a hobby that's easy to fall in love with!
At the end of the day, scrapbooking is all about getting your memories off of your phone, computer, or out of your closet and showcasing them in a way that can be shared with others.
At Scrapbook.com, we won't define what a scrapbook should be for you, but we will empower you to create something original, hoping to help you develop your own purpose and style and best tell your stories.
---