What is the one singular item that a paper crafter simply cannot be without? It's paper.
Did you know that many of our exclusive products are designed from customer suggestions and feedback? We bring to you: Paper Pads in new sizes!
These are must-haves for every type of papercrafter. See why we feel this way by reading on.
1. Take the Guesswork Out of Layered Die Cutting
Everyone needs perfectly-colored quality cardstock for die cutting. But have you seen the beauty that can be created from layered die sets?
Altenew and many more of your favorite brands have fabulous floral die sets that allow for 3D layering creations. By alternating the colors of your cuts, you can create depth, dimension, and delightful images. This is where our Paper Pads come into play.
Our Paper Pads come in a variety of color palettes that were curated by papercrafters like you. That means you do not have to guess which colors are going to look great together in your layering. The colors in each pad are designed to look beautiful next to each other.
Did You Know...?

Many seasoned die cutters are familiar with the jigsaw puzzle technique when using thin metal dies and a sheet of cardstock. It becomes an arranging game of 'how many cuts can I get on this one piece?' This is a wonderful paper-saving technique!

But did you know if you cut out your shape from the center of the A2-sized sheet of cardstock, you can still use that piece as a background mat for your card? It's true!

In the ultimate paper-saving hack, just cut out your shape from the very center of the 4.25" x 5.5" sheet and then place it behind your card front. The frame/mat that shows through behind your card front looks picture-perfect!
2. Take the Measuring Out of Photo Matting
...with our A2 Paper Pads! Our A2 Paper Pads measure 4 1/4" x 5 1/2" (standard A2 card size). Forget about cutting down full-sized pieces of cardstock or scrapbook paper just to mat your photos. Simply trim your 4" x 6" photos just a little, and you will have a gorgeous coordinating frame in one trim.
Each paper pad's color palette was specifically designed with coordination in mind. Every pad has 8 coordinating colors that make it easy to match to your layout theme, photos, and accents. We have 56+ colors spread out in a variety of fun pads.
How to Make Photo Mats For All Your Photos

Grab your standard 4" x 6" photos and cut them down just a tiny little bit for the perfect mats using Scrapbook.com's Paper Pads. Our colorful cardstock will really make those pictures pop!

If you use some of the popular instant cameras or photo printers such as the Instax or Sprocket, these paper pads are great for you too! You'll even be able get multiple mats for these tiny prints from one sheet of cardstock. How cool is that?
3. Take the Trimming Out of Card Fronts
Here's the beauty of Scrapbook.com's Paper Pads - their size! Measuring in at 4 1/4" x 5 1/2" or A2 size, this is the standard measurement for card makers all over the world.
We introduce to you: the easiest card fronts & card mats ever. You won't spend precious creative time measuring, trimming, slicing, or correcting wonky cuts with these precise pieces of paper that are already card front sized!
But what if you're a slimline card maker?
Just like our A2-sized pads, the Slimline Paper Pads are the perfect size for a slimline card front. That means you can tear out one perfect piece of paper to add a colorful card front to your slimline card base without any measuring or trimming.
What Are Slimline Cards?

Have you joined the super trendy slimline card craze? Here's what you need to know. While many card makers sticker to A2-sized cards, slimline cards are size A10. They measure 3.5" x 8.5" folded and fit in a standard-sized letter envelope, which means they only require standard postage (assuming of course you haven't used dimensional or heavy embellishments).
4. Perfect for Letters, Numbers & Sentiments
Tell us if this has ever happened to you - you bring out your cute little alphabet dies or small sentiment thin metal dies, and you grab a piece of 12 x 12 paper to cut those 1" dies out of...there's got to be a better way, right? There is!
Choose a less-wasteful solution with a smaller footprint when you pick up a Scrapbook.com Cardstock Paper Pad.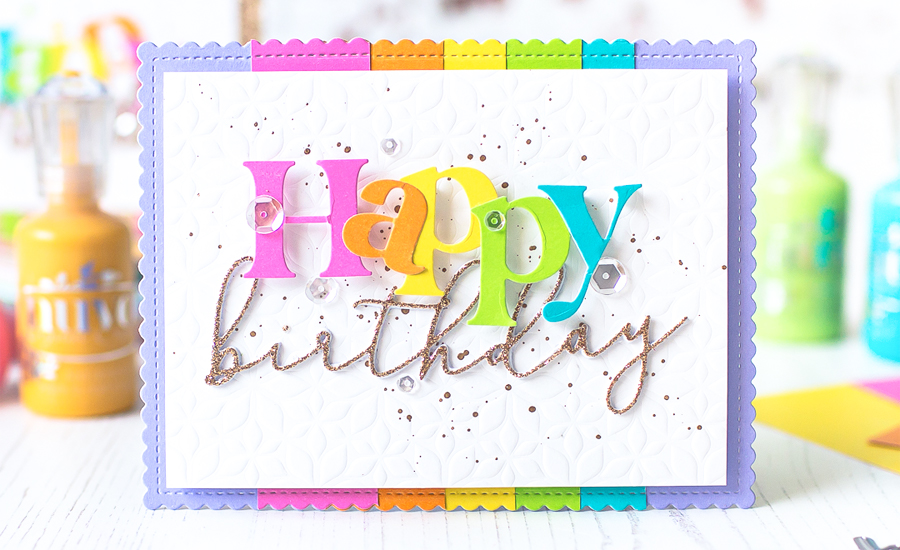 These small pads are the way to go when you're working with your favorite alphabet die sets. Whether you're cutting out individual letters all in one color, or you want to mix it up and add some rainbow excitement, this is the easiest way to get everything cut out with the least amount of paper waste.
The color coordination of these pads will also broaden your creative horizon. Across all our Paper Pads, there are over 56 unique colors of cardstock. Not only does it make it so much easier to match your project in progress, but you can create multi-layered words and sentiments that will amaze you.
Just look at all the delicious, cool colors in this one paper pad - and each paper pad is more gorgeous than the last!
5. Waste Less Paper for Smaller Creations
Have you been intrigued by the magnificent mini-album creations you've seen on YouTube, Pinterest, Instagram, and in our online gallery? Pick up one or two of the Scrapbook.com Paper Pads, and the work is halfway done.
When you use our Paper Pads, you're starting with a smaller canvas, which means there will be fewer paper scraps that you need to recycle, toss, or find something to do with later. (Raise your hand if you also have a random bag of paper scraps you swear you'll use one day.)
These smaller Paper Pads cut down the waste when creating mini albums, pocket page scrapbooks, gift tags, and every creation you have in mind.
Bonus: They're the Perfect Size for Gift Tags

If you have the Scrapbook.com Jumbo Nested Tag Die Set, there's a perfectly-sized thin metal die for creating gift tags with our Slimline Paper Pads.

The 6th largest die in the set measures 3" x 5" and works perfectly on a sheet of smooth cardstock. Grab your Slimline Paper Pad and grab the Jumbo Nesting Tag Die that fits right on the page.
Crafters everywhere are raving about these absolutely adorable little paper pads that fit in the palm of their hands - see for yourself why these are the new favorites among creative individuals across the globe.
---