Article Courtesy Scrapjazz.com: by Patter Cross
If you have been paper crafting for any length of time, I am sure your needs for your crafting space have changed over time. That is exactly what has happened to me. I have been paper crafting since 1997. Needless to say, my room has changed and moved several times. I have moved from a guest room, to a portion of our media room, and now to my own space just off the foyer of our home. Let's look at where I started and where I am now.

Where It All Began
I was so excited as my little stash started back in 1997. I had a little desk in my guest room, which worked perfectly for many, many years. I used plastic drawers from Walmart and made it work for my needs at the time. Here is my beginning space:
As time moved on, my stash began to increase, and thus my room and storage needs changed. My husband and I both loved the idea of plastic drawers like I had had in the guest room but they were not enough. So, I bought paper crafting furniture, and I moved into a portion of our media room. I even added my sewing machine and cabinet to the space. Here is my media room space:
My Room Now
In the summer of 2010, it was decided that I would move downstairs to our formal dining room. The formal dining room is a larger room but we only used it once a year. I also had a separate office space, so we decided to combine my two areas (office and crafting) into one space in the larger formal dining room. We now use my old office for the formal dining room. It is a smaller space but since we only use it once a year, it works out perfectly. My new space is a combined office and crafting space that I love. Here is a little look around my new combined space: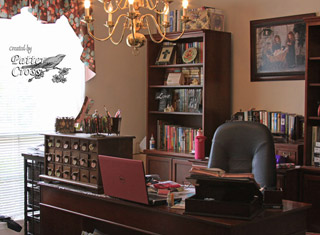 I have two desks in my room and two chairs. I love how my office desk looks at the crafting desk. I see a rainbow of colors as I work, and it is definitely a wonderful view. My sewing space is to the left of my office desk, and it is great to look at too. Because there are so many different parts to my room, I have posted a very detailed tour here for you to see.
I hope you enjoy it, and that it inspires you as you move and change your crafting space over time.