Scrapping Christmas Traditions

---
Christmas is filled with traditions. From trimming the tree to wrapping presents, this is the time of year where memories are made.
In my family, one of our favorite traditions is making a gingerbread house on Christmas Eve. No one ever seems to actually eat it, although the kids love picking the candies off when they think the adults aren't looking, but it becomes the centerpiece for dinners over the week. It has the added benefit of keeping my son busy as he counts down the hours to Santa's arrival. And every year, I proudly take a photo of him with his decorated gingerbread house.
The only negative side of Christmas celebrations is the sheer number of photos I usually have at the end of the festivities. It can be overwhelming to think about scrapping the holidays when you're staring at a pile of photos an inch thick (or more!). Here are some ways to scrap Christmas traditions, such as making a gingerbread house.
Scrapping without getting overwhelmed
If there's a tradition you know will happen every year, like my son's gingerbread house, there are many things you can do to make sure it doesn't get overwhelming.
- Go ahead and take lots of pictures - you want to get a good one after all - but promise yourself that they won't all get printed. Pick out one or two shots and let your journaling tell the story behind the photos.
- Pre-make your pages. If you know you're going to be doing something, pick out one of the great Christmas-themed papers available at Scrapbook.com and make a layout. Leave a piece of cardstock matting and just slot your picture in place when the holidays are over. This is especially handy if you're making a December Daily album.
- Keep it simple. It's easy to want to make every page a masterpiece, but when you've got a lot of photos to get through, finding a sketch and quickly making pages is sometimes the best option. That's not to say you shouldn't try to make your projects special (quite the contrary), but it's okay to use title stickers, embellishments and flowers that match a paper pack you've chosen. That's what they're there for! For instance, in this layout of my son's gingerbread house, I used paper and cardstock embellishments from the Mistletoe collection. It made it quick and easy to get it done and in the album.
- If you're scrapping an event that happens every year, like our gingerbread houses, think about doing a "then and now" page. Take the same pose every year and create an ongoing page that you add to each year as your children and grandchildren grow up. Just cut cardstock mats for each year and enjoy the visual evidence of how much your little one has grown! It's easy to simply slip a photo in place and update with some journaling.
Special embellishments for special traditions
For my gingerbread house tradition, I wanted to make a special embellishment that would become the focal point of my page. I found a shape on my Cricut that was actually supposed to be a birdhouse. Then, I cut around a peppermint candy printed on paper and attached it over the birdhouse hole. I added a tiny door and windows and used a scalloped-edge punch to add the traditional gingerbread trim over the roof. Then, I added some brads from my stash (a North Pole sign and a gingerbread man) and added some Stickles to finish things off.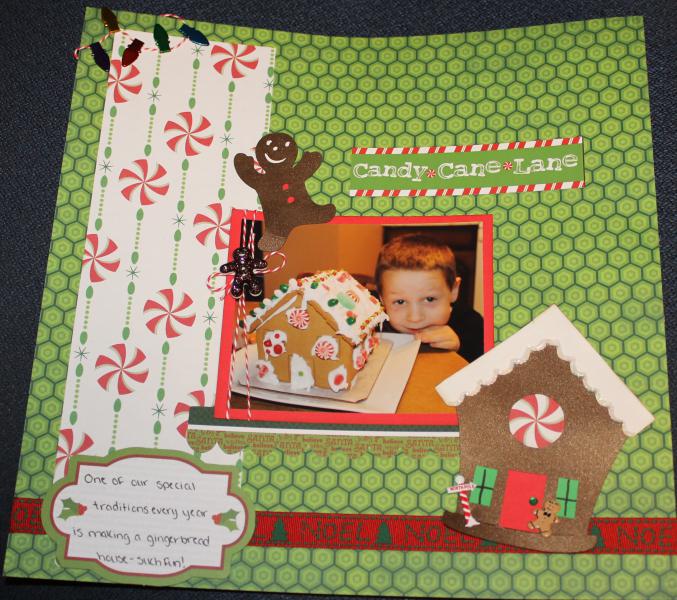 If you've got a special tradition, think about recreating it in your scrapbook page. For example, if you love wrapping gifts with your mom every year, create special wrapped gift embellishments. If your wrapping paper is acid-free (always test before including it in your scrapbook!), you could even wrap your handmade embellishments with the paper you're using. A tradition involving a new ornament every year could be replicated by creating a paper ornament for your page. The possibilities are endless!