Scrapbooks exist because of adhesives. Period. Think about it: Each time we put a layout together we must use an adhesive of one form or another. Okay, I agree that we could hook a layout together using only brad fasteners or eyelets , but...those methods are exceptions, not the rule. When we purchase bonding agents we trust that they will safely hold our personal and family memories together for our lifetime and beyond. But will they?
Gone are the days when white glue, rubber cement and cellophane tape were our only scrapbook adhesive options. A new generation of reliable and safe adhesives has emerged in the form of roller adhesives, double-sided tapes and tabs, liquids, sticks, pastes, and even foam adhesives!
With the good bonding agents also comes the bad - the imposters. Imposters may seem fine for our layouts but if used, they will over time, destroy our memories with acid and degenerative impurities.
FYI: Photos developed before 1968 were processed on fiber-based paper. Photos after that year were generally processed on resin-coated paper unless fiber-based paper was requested at photo labs. When an adhesive is applied to the back of fiber-based photos before adding them to a layout, it sticks to the fibers of the photos and the layout background paper. If the photos are pulled to remove or reposition, the paper fibers of the photos will tear.

Note: It's best to use acid-free photo corners to hold fiber-based photos on layouts.
Acids and Photos
Acids and photographs don't mix. Photos have acid in them from processing. When those acids are combined with acidic paper, adhesives, memorabilia and page protectors a chemical reaction occurs. Over time the acid silently migrates within your album leaving you with discolored, brittle or deteriorated photos and layouts.
Our mothers and grandmothers had limited knowledge and products when it came to scrapbooking. The knowledge that acid is an enemy to photos and paper was limited to individuals who worked in places where preservation was imperative, such as national, state and private archives and libraries.
When grandma or mom needed an album to put their photos into, they probably went to a dime store to find one. There they found albums containing black or cream construction paper pages, magnetic albums, rubber cement, and lick-and-stick photo corners. I know, it makes you cringe, but that's because you've been educated and recognize the telltale signs of acidic deterioration. Grandma and mom just thought their photos were getting "old".
Scrapbookers don't want acids in their albums, and will go to great lengths to keep them out. We look for the words "Acid-free", "pH neutral", "Archival Safe" on product labels before we consider purchasing them.
The Right Adhesives for the Job
There are three types of adhesives: wet, dry, & low tack.
Wet adhesives are usually referred to as "glue" and come in liquid, paste, stick, or spray form.
Dry adhesives come in the form of tape, tab, dot and photo corners.
Low tack adhesives come in the form of tape or sheets and are far less sticky for temporary holds while crafting
Additionally, adhesives can be permanent, repositionable or temporary; which means they can be permanently stuck to your layouts or temporarily adhered--until you know exactly where you want an item.
The following charts are a general guideline for where and when I recommend using different types of adhesives:
Wet Adhesives

$ Saving Tip: Use liquid adhesives sparingly. A little dot or daub goes a long way.
We recommend Smart Glue as the preferred we glue because it is high quality, versatile, affordable, archival-safe, dries quickly and is very highly rated by customers.
Dry Adhesives
We recommend the exclusive permanent adhesive roller tapes because they are inexpensive, easy to use and high-quality.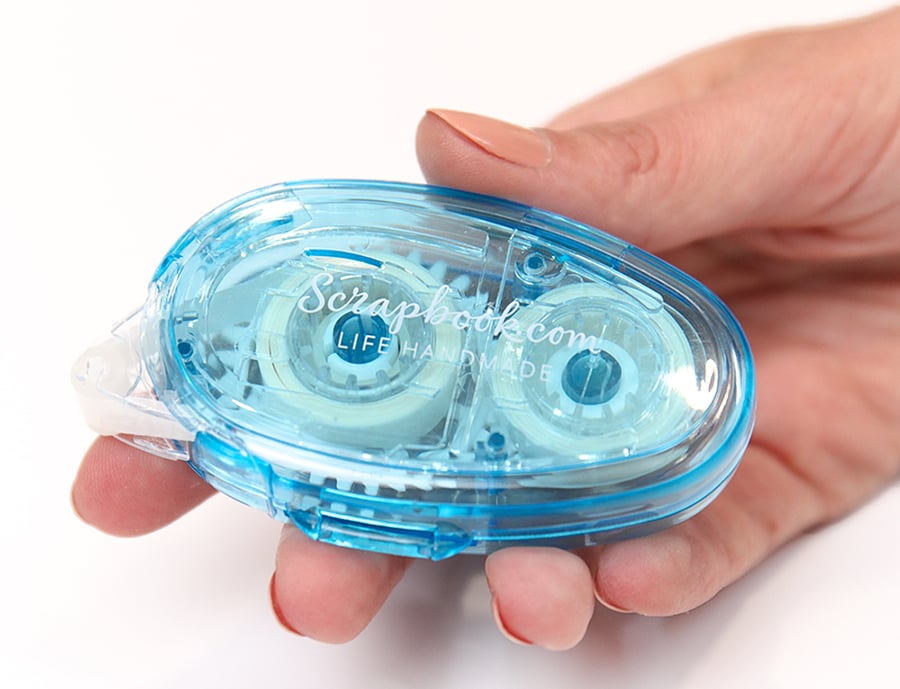 If you're looking for something extremely permanent and a big bang for your buck, the Clear Double Sided Adhesive Rolls have significant length and come in a variety of widths so they can be used on just about anything you're creating with paper.
A popular adhesive among card makers and scrapbookers is foam adhesive. Foam adhesive can come on sheets, rolls, as well as small shapes that make it easy to add a pop of dimension to all of your projects.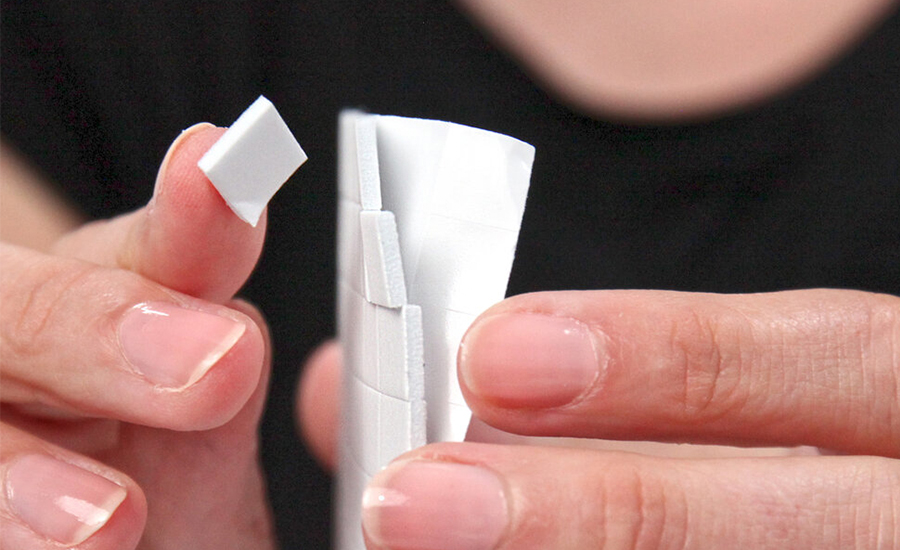 Low Tack Adhesives
There are several very popular low-tack or repositionable tapes that crafters everywhere swear by. These tapes are integral for several techniques including keeping thin metal dies in place while running through your die cutting machine, masking off sections of your project you don't want inked, and holding stencils in place.
Not only can just a small piece of tape last through several passes with your die cutting machine, but because it's not super sticky, it won't rip your project!
Adhesive Uses
I'm not always a big fan of putting adhesives on the backs of photos. I often use photo corners because I want my scrapbooks to be archival which means I can remove any photo as needed from their safe environment. Technology makes it possible for us to copy, repair and produce photos so the need to have photos removable isn't as important as it has been in the past. If you don't mind your photos being stuck to your layouts, refer to the check marked adhesives under "Photos" in the charts above. If you want your scrapbooks to be truly archival, use photo corners.
Adhesive Removers
You may find it necessary to remove adhesive from a layout or other project. The following products can help:
Un-Du - a liquid that safely removes adhesive backed paper and stickers from places you don't want them anymore.
Spotting Poor Adhesives
To identify wet adhesives you don't want in your scrapbooks, watch for liquid adhesives that don't dry clear. Glues for general purpose bonding, like those for home, office and school, may have colors added and may not be safe for scrapbooks. Always read product labels.
Safe Exception: Yes! Glue

is translucent in its tub yet dries clear and is also safe to use.
Avoiding Acidic Adhesives
Don't use magnetic photo albums - Magnetic albums contain sticky pages with clear acetate or vinyl overlays. Photos left inside non-acid free magnetic photo albums are not safe; acid is hiding in the sticky stuff they're stuck to and in the acetate overlays. The plastics used in the overlays emit harmful gasses over time. With no airflow (because of the tight bond) the gasses become trapped between the overlay and the page. The chemicals silently destroy your precious photos. You should remove your photos carefully and as soon as possible.

If they are stuck and cannot be removed, take the album to a copy center to have the photos you want to save copied. Or if the photos are priceless family heirlooms, consider taking them to a photo lab and having photos and negatives made. Some magnetic albums are labeled acid free. While this may be true, traces of the sticky page adhesive may be on the overlay, and end up on front of your photos. Over time the overlay may become stuck to your photos tearing them if you remove them.
Don't place Post-it notes directly on your photos and layouts - Don't be foiled by this seemingly harmless act. Once the note is removed, traces of acid and adhesive may be left behind to do deteriorating damage. If you must have Post-it notes for your projects, put your layout items in a page protector first and then place the note on the outside.
Read labels - Be sure to read product labels prior to purchasing. The manufacturer knows their own product better than anyone else, and they often have helpful hints to assist you in avoiding sticky situations.
Don't use strong-smelling adhesives - Acidic agents can have an odor, making it easy to detect in adhesives. Rubber cement is one of those adhesives. If unsure about the acid content of an adhesive, don't purchase it. If you have an adhesive in your possession that has a strong odor or suspect it may be acidic, toss it out or use it for projects not related to scrapbooking.
Scrapbook product manufacturers are doing an awesome job providing us with specialized adhesives for most of our projects and I'm sure they will continue to do so. I've had the surprising experience of opening an album and finding page elements floating freely at the bottom of page protectors. Even Arizona heat has affected the adhesives I'd used. But that doesn't have to happen to you. Get educated and get stuck on the right adhesives.
---