This is an exclusive story detailing the rise of one of the world's great papercrafting companies.
From sewing her own clothes in school to finding a new passion in her 40's, and pouring hours of love into every single piece of paper she designs, Graphic 45's Creator, CEO, and Head Designer Diane Schultz has led her company to new heights. We tell the story of Graphic 45 below and share some of Diane's stories about her company and insights about making creative products.
The Beginning
From the time she was a teen, Diane was enamored by motif - particularly in regards to fashion. She began designing and sewing her own clothing and that led to a flourishing career within the Fashion Industry.
"I have a background in apparel design," Diane told us, "- and worked in that industry for 20 years. I worked for McCalls, Butterick, and Vogue," but the fashion industry was changing and Diane felt it was time for a new challenge, "The apparel industry went overseas, resulting in the loss of my Head Designer position at a dress company named Mini World. At this time, I decided to go back to school to get my Graphic Design degree." As the mother of six, she had to balance her school work load as well as the responsibilities of motherhood and family life.
A New Start
When Diane graduated from college she started a Graphic Design company. The name of her company referenced her degree type (Graphic Design) and her age at the time of graduation (45).
"I graduated [from College] at the age of 45. To celebrate this achievement, I named my new Graphic Design freelance company Graphic 45."
To celebrate the name Graphic 45 she also designed her portfolio around record sleeves, mimicking old 45's. And so, in 2007, Graphic 45 was born as a Graphic Design company. This was Diane's fourth business start-up and she was intimately familiar with the challenges ahead. "When you start a business, you wear all the hats. You make a lot of sacrifices prioritizing your time and money. Starting a business takes hundreds and hundreds of hours."
A Shift to Papercrafting
Diane continued her graphic design company for a few years until stumbling onto a new passion that took her life and company in a different direction. "After years in freelance design [as Graphic 45]," Diane reflects, "I landed a job designing scrapbooking paper and embellishment, which is when I found my love for the industry and changed the direction of Graphic 45 to a unique papercrafting company." Since then, Graphic 45 has continued to grow and evolve, while staying true to those roots in vintage design.
The Product Design Process
Diane touches on what it takes to bring a collection from an idea to a product, and what makes Graphic 45 unique over other papercrafting companies. "Our collections first start with hours of research- hundreds of pins to secret Pinterest boards of imagery and color palettes. Then, in a single paper, we pour hours of love, resulting in each sheet of paper having up to 1,000 layers."
"Graphic 45's collections are stories. They are built around hundreds of years of traditions that take us back and trigger emotions."
"When you spend months working on products, you become very attached to them. All the collections feel like children," She knows a thing or two about this, having raised six children of her own!
Finding Inspiration
Graphic 45 draws inspiration from Life and their collections are a reflection of that. "Graphic 45's collections are stories. They are built around hundreds of years of traditions that take us back and trigger emotions. They connect us to the past- bringing life and love full circle."
As we spoke with Diane for this article, we asked her what her favorite collection or product she's ever created is. "[It's] too hard to decide. But, if I had to say, I would go with Le Cirque."
"I love the colors and the imagery. For me, it is a happy collection. The inspiration came from our first international trip as a company to Paris, and [it] takes me back each time I work with it in my craft room, or see a home decor piece I have created in years past."
Graphic 45 Today
Inspiration is a large part of the DNA of Graphic 45. "Unique papercrafting has always been our driving force - as well as to design and market a quality product that allows people to tell their story. We are so grateful to work in an industry that caters to creative people and to produce a product that encourages people to use their imagination and creative spirit."
Diane's two daughters, Charee, and Aimee, have also joined Graphic 45 over the past several years. Together, they create a powerful, creative trio bathed in artistry. "[I'm grateful to be] able to work together as a family. We all contribute to the product and vision. Graphic 45 allows us to learn, grow, and travel together."
A Day in the Life
Diane gave us a peek into her day-to-day life as the owner of an industry-leading papercrafting brand: "Let me describe today. I was up at 5:30 finishing up one of our Winter Releases to take to the printer- out the door at 8 a.m. After press checks, I will head out to get our crates ready to ship to Creativeworld, a trade show in Frankfurt, Germany that we will be attending in Late January. When I get home this afternoon, I will continue to work on color corrections for two more collections coming out this January. This is our busiest time of year [the holidays], which leads to our favorite season... Trade Show season!"
What's to Come
As an overall brand, Diane describes Graphic 45's aesthetic in three words: "artistic vintage collage." She also let us know that Graphic 45 has no intention of changing focus again. "Our focus is still papercrafting and mixed media. We have expanded our product line from 12x12 loose sheets to now offering paper pads, coordinating embellishments, metal staples, boxes, and albums... we will continue to create quality products that trigger our community's creative passions."
"We offer an elegant, timeless product line, full of style and attention to detail."
Graphic 45 will be celebrating its 9th birthday this winter at the Creativation trade show in Phoenix. They'll be bringing gorgeous new collections brimming with color and full of stories, of course.
Diane's humility in her successes is heartwarming. She doesn't hide that it was hard work, but she also doesn't make it feel like a venture only attainable for an elite group. We asked her about her experience and advice for aspiring designers and entrepreneurs.
"You have got to be willing to dedicate your time, focus, and energy. Take your passion for what you love and pour it into your business. Do your homework. Research. Understand your niche. Know how to meet customer's end needs and give yourself time to launch your business successfully."
And what does success mean to Diane?
"Doing something creative that fills me with happiness."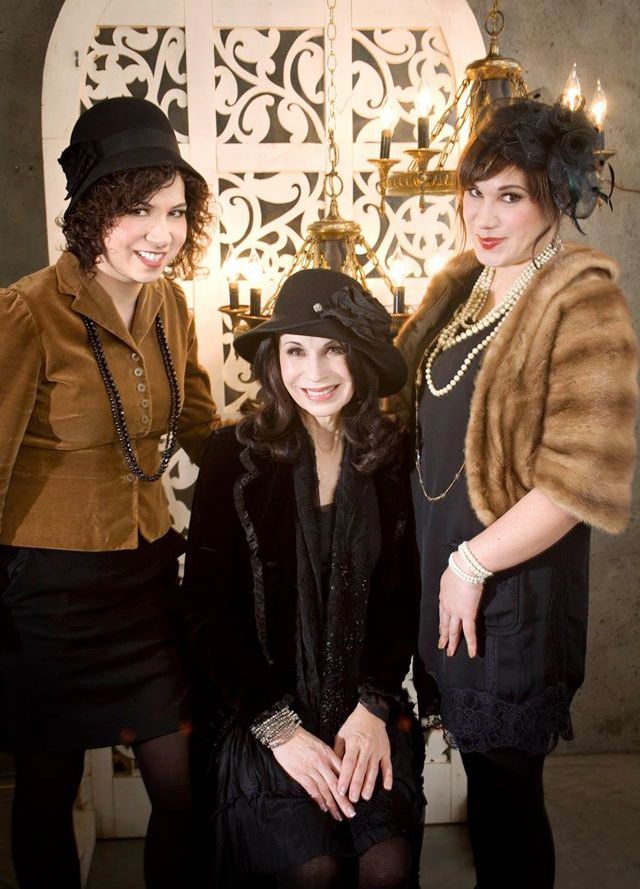 A Note from Graphic 45
"Graphic 45 is an award-winning scrapbook and papercrafting company - owned and operated by a mother (Diane) and her two daughters. Together, we create vintage inspired crafting products that capture the flamboyant style of the 1920's and 30's - with vibrant color, irresistible texture and imaginative design to create products with decades-old appeal that's both fresh and familiar. Let our products inspire your next scrapbook layout, card, album, or home decor project."
More Information
Graphic 45's intimate collections are available here at Scrapbook.com for all of your creative needs, including their paper, stamps, and all of their most popular collections.
Don't forget to follow Graphic 45 on Instagram and Facebook.
---