Product Review: Martha Stewart Crafts Large Circle Cutter

---
Article Courtesy Scrapjazz.com: by Georgina Hefferman
Product Name : Martha Stewart Crafts – Large Circle Cutter
Price: $24.99

Product Description:
I have to admit to being a huge Martha Stewart fan. Her product range is always simple to use, easy on the eye and aimed at the everyday crafter. Her new Large Circle Cutter is no exception.
As the title of the product suggests, this cutter basically helps you to cut perfect circles. This is Martha's large circle cutter, so you can cut circles from 4" in diameter through to 12" in diameter at 1/8" increments. She also has a smaller onethat you can find in the Scrapbook.com store here (although it should be noted it is a different style completely to this large circle cutter which I am reviewing today).
In Use:
The cutter consists of a base, which has a ruler attached. The ruler is marked from 4" up to 12". The middle of the ruler is cut out and this is where the blade runs up and down, similar to a paper trimmer blade.
To cut a circle is simple. You simply decide on the size of circle you wish to use and set the blade to that area on the ruler. You place the tool in the middle of your paper on top of a cutting mat (not included), which is essential so you do not cut your worktop. You place your non-dominant hand on the larger knob on the base of the circle cutter and press down lightly to hold it in place. With your other hand you hold the smaller knob and pull or push it in a clockwise or counterclockwise direction. The double-sided blade means you can cut both ways.
The blade slides with ease to cut a perfect circle every time! The edges are crisp and clean and always even and you do not require much pressure. It's really easy to use and precise too.
I have previously used the Fiskars Circle Cutter and while this is a great gadget to use, the Martha Stewart cutter is much more comfortable. There are two soft grip handles that are slightly padded to be gentler on your hands. It also feels sturdier to use and this might be due to its chunky design. It's great to grip easily so would be good if you have problems like arthritis with your hands and usually find it difficult to work with small things.
The blade is incredibly sharp so cuts paper like butter. It is really safe, however, and your hands are protected at all times. When you are not using the cutter, you can slot the blade into a notch in the base. I also like how this cutter comes with another two spare blades which you can store in a secret central compartment in the handle of the cutter. Although I have had my cutter for a while now and use it on lots of projects, I still have the original blade in there – it lasts quite a long time.
I like the fact that I don't have to trace around a dinner plate anymore to cut large circles. I like how I don't have to purchase a hundred different punches in different sizes. It's one simple tool that's easy to store and basically does what it says it does – cut circles! It is really great value for money and is fast becoming one of my favorite tools to use.
I have tried it out on different materials and while it cuts paper, card, foil and glitter cardstock really well with no issues, it does not cut material or felt. It also cannot cut harder materials like chipboard or wood, although if you pressed really hard on chipboard I think it might make an impression.
Sliding the blade up and down the ruler is a little tricky when you first get the cutter. It is a little stiff and tight, although this is actually a good thing when it comes to cutting your circle as it keeps everything snugly in place. The more you use the cutter, though, the easier it becomes.
Tips & Techniques:
Apart from simply cutting circles, here are some more ideas for the circle cutter:
Create your own circle bunting / banners for birthday parties.
Make Christmas decorations to hang on the tree.
Create snowflakes by folding your circles and cutting notches out of them before unravelling cute paper snowflakes.
Make rings and frames for scrapbook pages.
Create borders.
Layer different sizes of circles together to create flowers and embellishments.
Cut through brown baking paper to line your cake pans before baking cakes.
Decorate boxes to give as gifts.
Let your kids use it to make circles for school projects (great for display boards and maybe creating a solar system for example).
Project Ideas & Examples

Here are a few projects I have made using this cutter.
Here I have cut the outside off a die-cut BoBunny circle paper. It was so much quicker and more precise than cutting around the edge by hand. I've added Stickles around the edge to make the circle stand out. I added some photos, a title, some journaling and embellishments and the result was a really quick scrapbook page!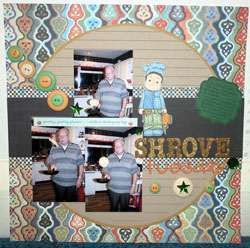 I have created another similar page here, but placed the photos in a different format. Rather than straight across the page, I have grouped them together. The circle cutter is brilliant for larger circles up to 12". Usually the only way to get a perfect circle this big is to draw around a dinner plate and cut it out by hand (unless of course you have the Cricut Expression which is the only other way to cut them this large!).
With this page I cut a circle, but then cut another circle out of the middle creating a ring. It makes the perfect frame or background for the photos and adds a bit of interest to the page.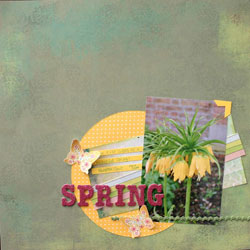 This layout shows that smaller circles can also work well for matting and layering photos.
The circles are also great on cards too. For this card I cut out some patterned paper and a background cardstock mat. I've attached the stamped image with some 3D foam to make it pop and look like the character is sitting on a wall.
Here is another card where I have increased the size of the border for the circle and thus made a bolder statement drawing your eye to the center.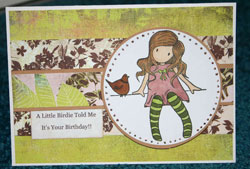 Here is my final example, again with Stickles around the edges to make it more three-dimensional.