Sorting and Prioritizing Your Photos

Lesson #4: Sorting and Prioritizing Your Photos


Do you have a box or boxes full of unorganized, unlabeled photos? How often do you endure extensive, seemingly endless, and often frantic searches through your house looking for the one perfect photo you need? By following some basic steps, you can have a system of photo and negative organization that will keep you uncluttered. You'll also waste less time searching for things and spend more time scrapping.
Where to begin? Whether you have just rescued your photos from old, magnetic albums or you have a towering stack of untouched pictures waiting to be scrapped, the sorting process begins by determining how and where you want to store the photos. Will you place them in photo albums so you and your family can enjoy them until they get scrapbooked? Or, will you place them in organizer boxes? Once that decision is made, organize your photos accordingly.
The following are common photo organization methods used in scrapbooking:
• Chronologically
This method works best if you have a huge backlog of photos. Start by sorting your pictures into piles by year. If the photo count in each pile remains high, consider subcategorizing into seasons or months of the year.
• By Theme
If scrapbooking chronologically isn't your style, how about grouping photos by theme? Grouping by themes gives you flexibility in subject matter. When scrapping time comes, all of the materials necessary to create several themed layouts at once are in one place. For example, if you want to scrap Christmas layouts, you can compile all your photos with your coordinating embellishments (i.e. red and green paper, silver bell stickers, and gold-ink pens, etc.) and complete pages from a single year or even a decade! Consider sorting your photos by specific holidays, vacations, sports, or outings.
• By Person or Group
You can also sort photos by people or groups of people, depending on the respective albums they will appear in. For example, if you have an album or a section in an album for each of your family members (pets, children, parents, grandparents), when you get a layout idea about something specific you'll know exactly where to start looking for photos. You may also want to sort your photos by relatives, friends, church groups, co-workers, etc.
• By Portrait
Individual and family portraits are easier to locate because of their size. Sort these chronologically or by family member to begin your own family portrait album.
• By Event
If you have the tendency to take complete rolls of film for one event, it will be easy to sort your photos by occasion in the envelopes that come from the developer. Write the date and activity on the outside of the envelope so this group of photos can easily be found. Then store them chronologically, alphabetically, or by subject in a protective container.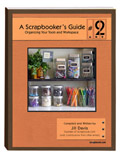 This lesson was taken from A Scrapbooker's Guide #2: Organizing Your Tools and Workspace (Instant Downloadable E-Book). To purchase a copy today, click here. Use coupon code ART151 and get 10% the already-low sale price.