Hearts, sweet treats, Cupid, and X's and O's from your head to your toes - Valentine's Day is a time for celebrating and cherishing the ones who we love. At Scrapbook.com, we love the tradition of handmade Valentine's Day cards because it's the perfect excuse to craft ridiculously beautiful things!
We've had an eye on our gallery for a while now, and have chosen 25 cards to share with you that are handmade with love! We chose cards that will give you an idea for everybody on your Valentine's Day card list- from your husband, to your child's teacher, your best girlfriend, and even the coffee lover in your life! We hope that you get some great Valentine's Day card inspiration as you're scrolling through. If you're looking for Valentine's Day card making supplies, you can find those here. Enjoy!
1. Polka Dot Card
Made with a mixture of traditional motifs and contemporary ones, this polka dot card is everything we want for Valentine's Day. Using pink polka dot cardstock, a variety of feminine embellishments, and a handwritten quote, paperandi created this lovely Valentine. This is the perfect romantic card idea for your honey that he or she is sure to cherish.
2. Love Bug Card
We may have found the cutest Valentine's Day card out there! This ladybug card could be the ideal Valentine for anybody in your life - a little customization of the sentiment and this is the perfect Valentine's Day card for your teacher, friend, or co-worker! Cutie.jensen made this adorable card with Copic Markers and Doodlebug supplies. She managed to find the ultimate balance of cute and sophisticated, fun and romantic - resulting in a perfectly charming Valentine!
3. Bicycle Valentine
This nontraditional Valentine is perfect for that friend who travels everywhere by bike! With oranges and teals, this card is sweet and not predictably pink! Heather J. Landry created this card using Bazzill Basics papers and Simple Stories collections, then uploaded it to our online gallery. We love the multi-layered, multi-textured papers that she used, making this card as diverse and satisfying as an afternoon bike ride through town. Using surprising colors in your cards is always a fun way to mix it up this Valentine's Day.
4. Vintage-Inspired Valentine's Day Card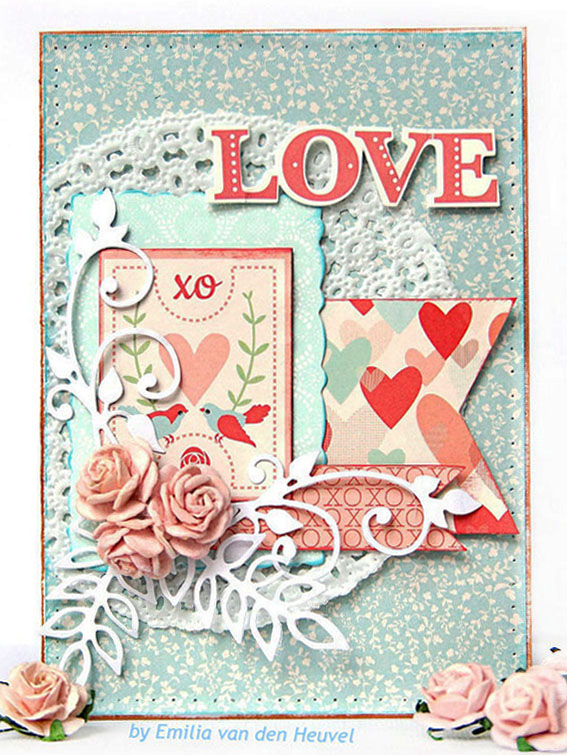 With bold, retro font, floral patterned paper in muted tones, and an ornate doily, Emilia van den Heuvel has created a vintage-inspired Valentine that fills us with nostalgia and happiness! We'd love to open our mailbox and see such a happy reminder of Valentine's past, taking us back to simpler times. Her choice of an intricate die cut and paper roses adds a beautiful touch - it's easy to see the love here! This is a great Valentine's Day card for moms, grandmothers, or aunties!
5. Valentine's Day Card for the Coffee Lover!
Whether your bestie prefers her coffee black or can't resist a pumpkin-spiced anything (seriously, who can?), she'll love this funny Valentine's Day card: I Love You a Latte! Simone Naoum uploaded her handmade Valentine's Day card to our gallery and we can't get over how lovable it is! It's sweet, simple, and has a touch of sparkle that reminds us of sprinkles on top of a yummy coffee beverage. Flirty and fun, this is a great card for coffee lovers and tea lovers everywhere!
6. Sequins Heart Card
With splashes of violet-pink watercolor, glittery sequins, and a hand-tied bow, Chelemom71 has created a Valentine's Day Card sure to make anyone tickled pink. With a few simple, yet luxurious-looking die cut, embellishment, and watercolor techniques, this handmade beauty creates an impressive Valentine. This is soft, pretty, and perfect for your daughter, niece, or any other special person in your life. We think this would be an unforgettable Valentine's Day card for granddaughters too!
7. 3-D Valentine's Day Card
This stunning card is a work of art with its beautifully faux-aged paper, musical embellishments, and 3-dimensional piano with hidden sheet music - the perfect Valentine's Day card for musicians or music lovers! Whether your recipient is a member of the orchestra, just taking up piano, or always listening to music, this piano card is sure to be beautiful music to their ears this Valentine's Day. A big thanks to Pojjo for creating this masterpiece and sharing it with us in our online gallery!
8. A Quirky Valentine's Day Card
Die cut silhouettes, dot embellishments, faux wood patterned paper, and sparkle - this card has a little bit of everything - and we can't get enough. Doraecyscraps created this playful Valentine's Day card that is just full of little treasures waiting to be spotted. From trendy arrows to pretty polka dots, and a background full of fancy florals, this card is sure to bring a smile to someone's face - it sure did to ours!
Tip: Quirky is a good thing! When romantic love or friendship love is weird and full of laughs, you make a Valentine's Day card to match! If totally goofy defines your relationship, check out these hilarious You Aren't Normal stamps from Technique Tuesday as an option for your card!
9. Pin-Up Style Card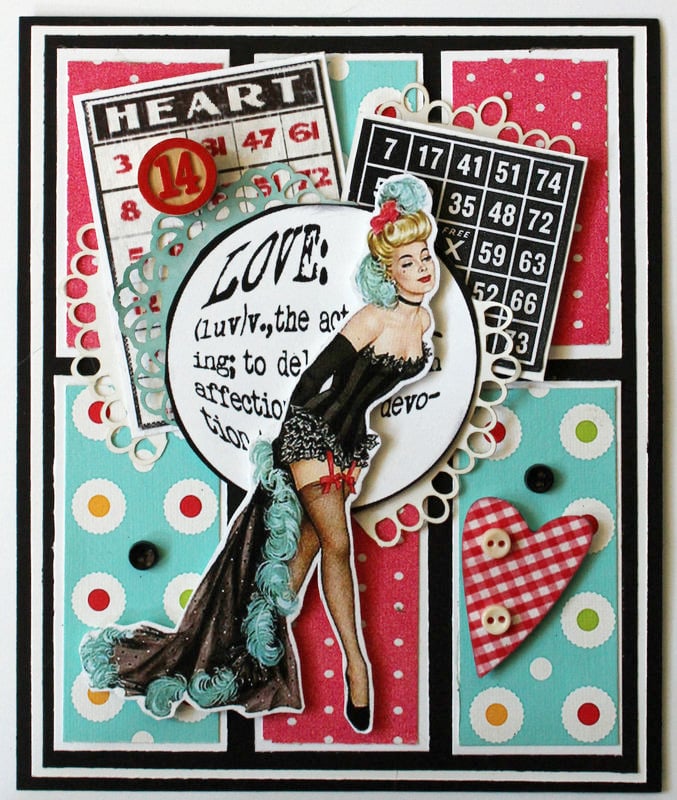 Who doesn't love this flirty pin-up style!? Asoulgirl made this dazzling card that captures the essence of the era! We love the use of buttons and die-cut pieces to create a Valentine's Day card that's not only unique, but really pretty! We're taken back to the old movies with this fanciful use of period color and the playful dots and bingo cards! This is the perfect romantic Valentine's Day card for your husband, or a sassy Valentine's day card for your best friend!
10. Heart Shaker Card
Chelemom71 just had to make this list twice because we couldn't choose between her two Valentines! This small Valentine's Day card is the epitome of lovely. The patterned paper with crowned birds, the pearl accents, the rosy sequins in a shaker...all surrounded by lacy die-cut cardstock that is off-white and la creme de la creme. We've followed our hearts and it has led us to this treasure of a card! If you're looking for a sweet little card for your husband, friend, or whomever, look no further!
11. Love Card for Him or Her
With patterned paper and twine, BonjourScrap has created a card suitable for any Valentine in your life! We love the antique vibe that this handmade Valentine's Day card emits. A layered combination of coordinates, maps, and old-time newspaper print, bound with twine and filled with love captures our attention in so many ways! This is such a perfect Valentine's Day card for a traveler, a long distance love, or someone far away but always close to your heart.
12. Cutesy Valentine's Day Card
With pandas, cute stars, and bright colors galore, this card by Bella Blvd is the perfect card for your daughter or son! We love the pinks and happy sentiments here with Bella Blvd's use of their Oh My Stars Collection and Illustrated Faith. This card is also a fun Valentine's Day card for your friends or classmates. This card may say You + me = perfect, but we think Valentine's Day + Bella Blvd = perfect!
13. Valentine's Day Card How-to!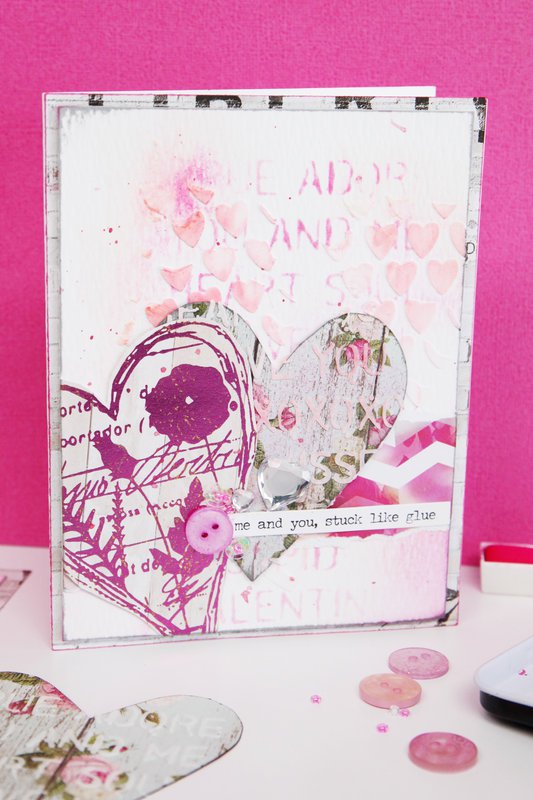 Buttons, multiple layers, a variety of texture, and all in shades of rosy pinks, May Flaum has created a Valentine's Day card guaranteed to knock the socks off of whoever you give it to! This handmade Valentine is bursting with May's creative use of pattern and color. One of our favorite things about this card? She shows you how to make it in Lesson 1 of an online video class here at Scrapbook.com to create and give the perfect Valentine's Day cards this February!
14. Trendy Valentine's Day Card with Gold Accents
Crate Paper is known for their ravishing Valentine's Day collections, and the collection called Hello Love is used by Jc. Chris to create this brilliant stunner! With faux doilies, bright gold accents, and an explosion of strawberry pink, this stylish Valentine is a beautiful card and true love in paper form!
15. Industrial Valentine's Day Card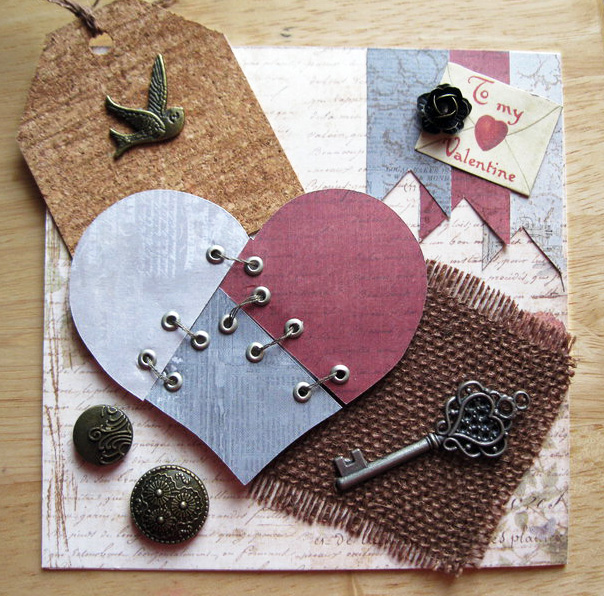 Romantic meets industrial with CharPT's steampunk-chic Valentine's Day card! Crafted in muted tones with metal accents, plus rugged elements like stitching and woven fabric, this card is the bad boy our mothers warned us about! This is a unique Valentine's Day card that takes standard symbols of the holiday (like doves, roses, hearts, and keys) and turns them into fine art in a patchwork kind of way. If you're looking for a unique Valentine's Day card to turn heads, this would be one to look to for inspiration!
16. New Spin on a Traditional Valentine
Using supplies from Crate Paper and We R Memory Keepers, JHaggerty72 made this alluring Valentine's Day card entitled: "Kiss me." This handmade Valentine's Day card has everything you'd want in a traditional Valentine, but has been executed in a totally modern style. Combining a variety of colors and patterns with little touches of unexpected flair, this card brings an unconventional beauty to Valentine's Day!
17. Beach Themed Valentine's Day Card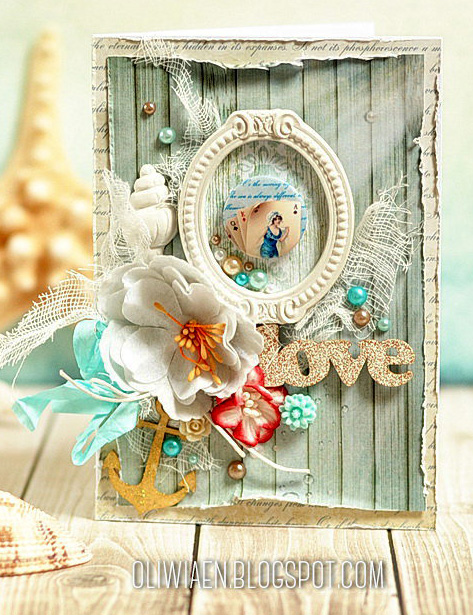 Speaking of unconventional beauty, our love for Maja Nowak/Oliwiaen's beachy Valentine's Day card is as deep as the ocean! She has created one of the most unique Valentine's Day card ideas that we have seen (and without pink!) using nautical embellishments and vintage blues, off-whites, and golds. Let this card inspire you to create whatever theme is in your heart!
18. Funny Valentine's Day Card for the Foodie
Valentine's Day, of course, is a day that's all about the love… but it's also about goodies! We love holiday treats and this card gives us a little bit of both with its scrumptious donut theme! This is a funny Valentine's Day card idea for your friends, kids, coworkers, or just that person in your life who is always cracking the puns! Renee Zwirek used Pebbles' Be Mine Collection to make this super sweet V-day card and we're craving seconds!
19. Rustic Valentine's Day Card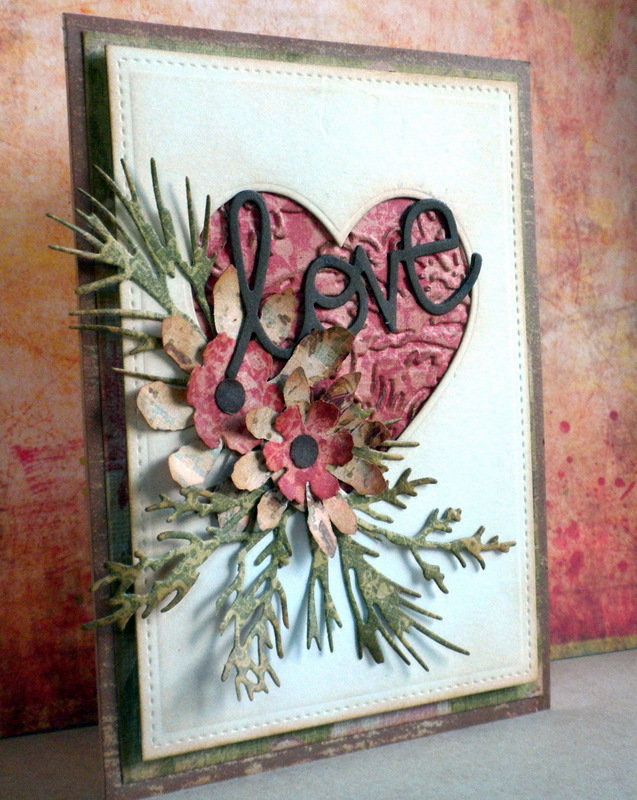 Oftentimes we see a rustic aesthetic feel in vintage-inspired Christmas cards, but here that feeling has been brought into a Valentine's Day card! We're crazy about the rustic foliage, muted earth tones, and embossing effect that leaves us with texture for days. Delusional1 used die cutting to get the effect of lush evergreen leaves with Paper Smooches and Sizzix products. The stitched cardstock also adds a fun touch of country-meets-Valentine for that special man or woman in your life!
20. Artsy Valentine's Day Card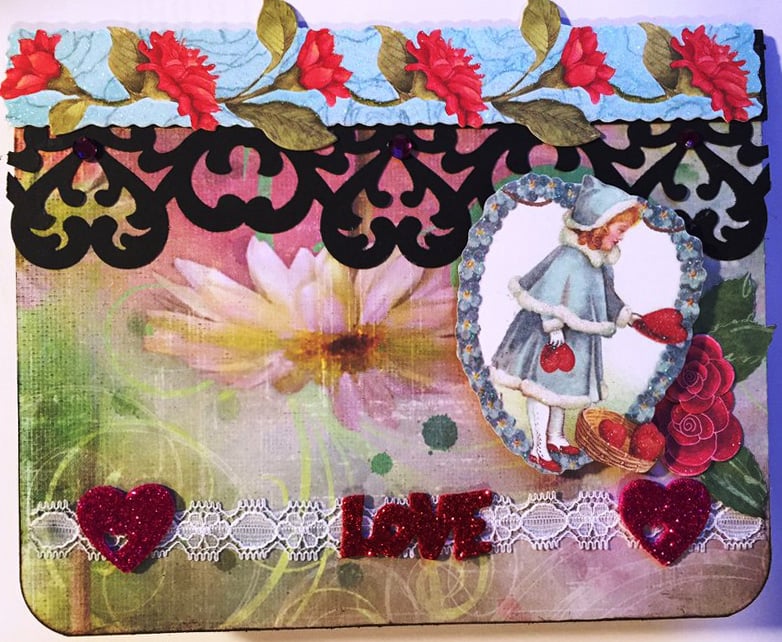 Using reds, blues, and greens, Euroalien created this collage-style card for the season of love… and we're in love with it! This card is fun on every level and filled edge to edge with diverse effects like ornate borders, vintage-inspired illustrations, and contemporary glitter-foam stickers. There's a little bit of everything but pieced together in a way that says "meant to be." With sparkle, bright color, pattern, and all of our favorite V-day symbols, this is a beautiful example of the perfect Valentine's Day card for an artist or creative soul!
21. Valentine's Day Card with a Pun
Valentine's Day is the perfect holiday for flirty fun and this card is just that: totally punny and totally cute. Whether you're making cards for your kids, coworkers, or friends, this funny Valentine's Day card is sure to make anybody smile. Debby Hughes created this super fun card with a stamp set by Avery Elle and variety of supplies from Sizzix, Lawn Fawn, Ranger, and more.
22. French Themed Valentine's Day Card
When it comes to love, Paris, the City of Love comes to mind. Vawm crafted this fashionable card with the Eiffel Tower and a vintage sketch of a couple in a restaurant. Embellished with floral die cut shapes, rhinestones, buttons, twine, glitter, and more, this card has dimension and Parisian flair. If you have a friend who loves travel, old romantic movies, or everything that Valentine's Day stands for, this romantic card will make them say "ooh la la!"
23. Victorian Valentine's Day Card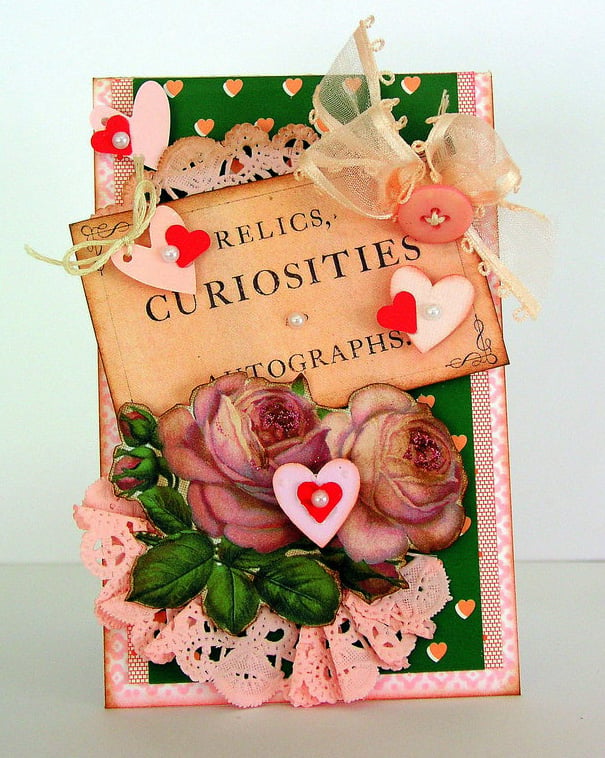 Romantic and artistic, 52nd Avenue has created a Valentine that is the epitome of a vintage Valentine! We love the muted, dusty pinks of the die cut roses and the hand sewn quality of the buttons and lace. With its beautifully-folded doily and pearl accents, 52nd Avenue's card mimics the Victorian era in a timeless way that is perfect for your sweetheart.
24. Dark Steampunk Card
With distressed, embossed paper in deep, muted red, and gorgeous metal embellishments you can't take your eyes off of, Mdmason has created a Valentine's Day card with a dark, romantic, and edgy tone. This is a perfect Valentine's Day card for Mr. Tall, Dark and Handsome for sure. The ageless color palette and assortment of metal treasures arranged with rugged beauty is definitely a masterpiece for the mantle!
25. Traditional Valentine
Lastly, we end with the traditional Valentine filled with beautiful patterns, lace-like motifs, doilies, roses, and a gold treasure of a cupid to bring us back full circle. Cndgay created this exemplary Valentine that captures so much of what we love about this holiday. With the beautiful script, small red and white checker patterned paper, and sweet simplicity, this card is the perfect traditional Valentine to give to your friends or your one true love.
---
25 enchanting Valentine's Day cards and 25 super fun ideas to get you inspired for creating Valentine's Day cards for all the special people in your life! We found all of these amazing creations in our gallery, here at Scrapbook.com! Don't forget to upload all of your cards there to share your brilliance with others. It's quick and easy and we love to see all of the lovely projects you've made!
Don't forget to follow us on Instagram, Facebook, Pinterest, and YouTube for free ideas, tutorials, and loads of inspiration for your own projects! Do you post your projects on social media sites? If you do, we wanna see! Use the hashtags #LifeHandmade and #Scrapbookcom so we can see what you're making.
Looking for more inspirational articles to read?
14 Valentine's Day Layouts to Love
Tips for Your Best Valentine's Day Card Ever
What is the Most Meaningful Craft Project You've Ever Created?
---