The air is getting crisper and the leaves are starting to fade from energetic green to calming, quiet orange. This means one very important thing to us crafters: Halloween projects. Okay, okay - it means much more than that, like the Holiday season is finally underway, school is back in session, and all sorts of new Halloween scrapbooking supplies have just been released. But what to do with all of these fun new Halloween treats?
We hunted the Scrapbook.com Gallery and found 12 projects that we had to share. We hope that these spooky scrapbook layouts, cards, and gift giving ideas spark some creative inspiration in you!
Sit back, relax, and as you dream of pumpkin patch promenades and freshly baked apple cobbler, carve out some time for creative inspiration that will leave you spellbound.
1. Halloween Mixed Media Project
Using a combination of Tim Holtz products including Idea-ology Mixed Media items, alcohol inks, paper, and dies, Jan Hobbins created a spooky masterpiece! This creepy project absolutely comes to life with bright ink colors against dark die cut images, with an absolutely perfect sentiment at the bottom. This would look amazing on the sideboard during a Monster Mash, or hung on the front door for visitors to beware!
2. Halloween Scrapbook Layout with Pumpkins
This country-chic Halloween layout is absolutely precious! Created using Simple Stories Halloween papers and stickers, this layout is a wonderful example of how to scrap a single Halloween costume photograph! Whether your child (or grandchild) is playing a pumpkin for Halloween, a princess, or a superhero, scrapping with the colors found in the costume is a great way to tie the entire layout together!
3. Halloween Home Decor Project with Paper
If you love decorating your house for Halloween, you're going to love this! This mini house was created using acrylic paints, inks, and a die set - all from Tim Holtz! Whether you need a centerpiece for a Halloween themed dinner or you just want to create some fun little villages for your friends to ooh and ahh over when they visit, the Halloween Dies from Tim Holtz can make your dreams a reality.
4. Scrapbook Layout of Halloween Home Decor
Remember some super spooky decorations or a once-in-a-lifetime haunted house with a dedicated layout!
If you are among the many of us who can't help but go all-out for Halloween, this is a great layout idea! This year, consider creating a Halloween scrapbook layout featuring your house decorations - that way all of that hard work of putting up the spooky decor will be immortalized - and you can have fun doing it!
Tip: Edit your photograph so it's in black and white or sepia. This will give your decor a haunted feel to it - and, it will go with whatever colors you'd like to use in the layout!
5. Spider's Web Home Decor Project
There's something special about a Halloween that makes you want to add ghouls, goblins, and other festive decor to your home. This piece by Kimberly Crawford involves paper, eyelets, baker's twine and a couple cute ephemera bits to complete the look. This would make an absolutely adorable home decor item for the festive season!
6. Halloween Mini Album
If your love for Halloween goes deeper than 31 days, we're with you there! Why not create a mini album brimful with all of your favorite Halloween supplies?! This gives you a chance to enjoy and use all of those Halloween supplies - heck, you'll even make room for more (not that we need encouragement for that)! This mini album was created using Doodlebug papers, stickers, and embellishments!
7. Carved Pumpkins Scrapbook Layout
Don't let your ghostly gourd fade away with time - commemorate your masterpiece with a layout!
This is a fun way to capture detailed memories from Octobers present and past! Create a layout featuring your and your family's pumpkins! Light the candles in your pumpkins at nightfall and take a photograph - then center your layout around the printed photo.
Tip: For extra fun, have the pumpkin carvers name their pumpkins, then incorporate the names into your layout, like the one above.
8. Halloween Pillow Boxes for Treats
Why not take advantage of the season to give cute, handmade treats in a Halloween theme? Pillow Boxes are a fun and easy way to create goodie bags with any theme you'd like. Easily personalized and loved by all recipients, consider creating some little goodies to share with family and friends? These would also make an adorable take-home gift if you're hosting a Halloween-themed dinner party!
9. Creepy Treat Tags
If your Halloween style leans more towards trick than treat, then Tim Holtz is the way to go this Halloween. These creepy, vintage-inspired tags made by Flowerkisses are perfect for putting a little spooky in someone's day. Just think how scary good they will look attached to some homemade Halloween treats you give out to friends!
10. Halloween Card for Husband with Distress Oxides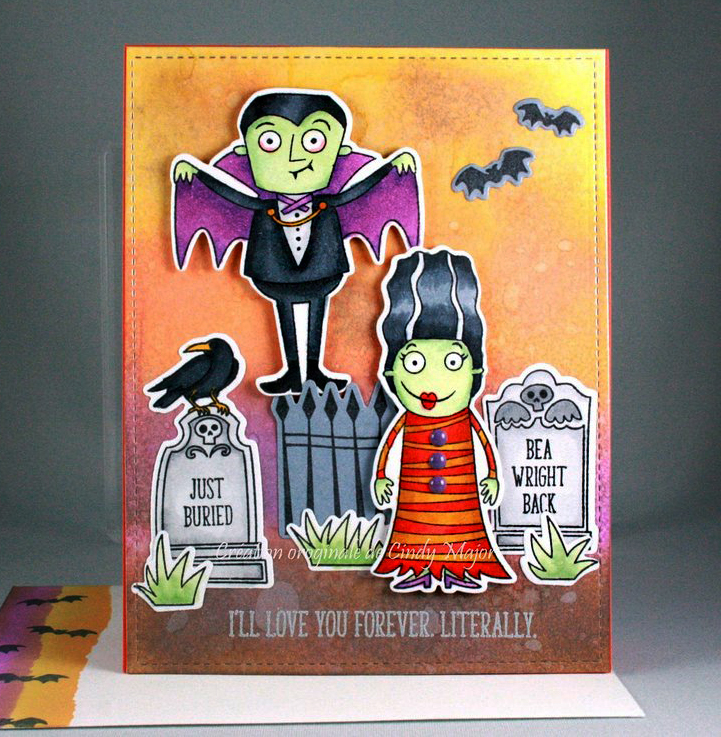 Why not use the hair-raising holiday as an excuse to give that special someone a funny, seasonal card? We love this one that we spotted in our gallery. Created with the perpetually popular Distress Oxides, this card is Halloween-themed and romantic - the perfect combination for your sweetie pie!
Tip: This article will give you 5 simple tips to get better blended backgrounds. It's definitely worth taking a look at. Read it here.
11. Halloween Layout of Your Pet
Talk about too cute to spook! Dedicated scrappers can turn any holiday into one to scrap about furry or feathered friends - and why not? Halloween is another time to document your precious kitty, pup, bird, or whatever type of pet you have! Whether you have a dog who is going to wear a cute costume (or put up a fight while you try to put something adorable on them) share your pet's Halloween activities!
12. Pumpkin Themed Paper Lanterns
Brighten someone's Halloween, or add some spooky lighting to your haunted house with these absolutely adorable paper lanterns by Aimee K. A couple fun accents and silly sayings make this trio of lanterns a must-have as decorations for your Halloween party. Remember, battery-operated lights only in these paper projects!
---
We hope that you took some inspiration from these 12 creative and beautiful Halloween projects. Remember to share your creations in our Scrapbook.com Gallery, so other people can like, comment, and also be inspired!
Shop all Halloween items at Scrapbook.com here!
---