The weather outside is frightful, and you know what that means. It's the best time of year to create magical holiday greeting cards (maybe even cuddled up by a warm fire!). This year, Scrapbook.com has gathered a talented team of crafty elves to help stir up your creativity and inspire you to make beautiful Christmas cards or scrapbook pages.
Join in on the fun by checking out all the magical inspiration in Scrapbook.com's Handmade Holiday Papercrafting Parade. At each stop along the way, you'll see amazing tutorials, photos, and videos showcasing wonderful handmade greeting cards made with Scrapbook.com's extensive offering of exclusive products.
What are you waiting for? Start your holiday hopping (and shopping!) now!
Holiday Hop Highlights

What a fa-la-la fabulous slimline card made by the talented Anna Sigga. This card is so festive and filled with fun elements and designs that make the holiday season come to life. Scrapbook.com's FA LA LA Stamp takes center stage for the fun and festive sentiment, while the Slimline Christmas Foliage Stamp creates a beautiful winter background. Along with so many things to love about this slimline card, the newest Pops of Color add the perfect POP to bring this creation to life.
We are feeling all of the joy and wonder with this stunning creation from Juliana Michaels! A bold and bright Merry Sentiment Die Set comes in handy throughout the holiday season - especially when you're making a ton of festive cards. The dark and dreamy background is made all the more elegant with the Slimline Christmas Foliage Stamp and a botanical accent adding the perfect touch made with our adorable Decorative Sprigs Die Set.
Holiday cards are a sweet gift to send to your loved ones each year, but documenting these memories for you and your family to cherish for years to come is the gift that keeps on giving. Nicole Bingaman has captured some of that happy holiday spirit in this beautiful rainbow layout celebrating a family Christmas card. The Winter Floral Stencil background brings the outdoors to life in this layout, along with an eye-catching unique center detail using our Slimline Borders Die Set.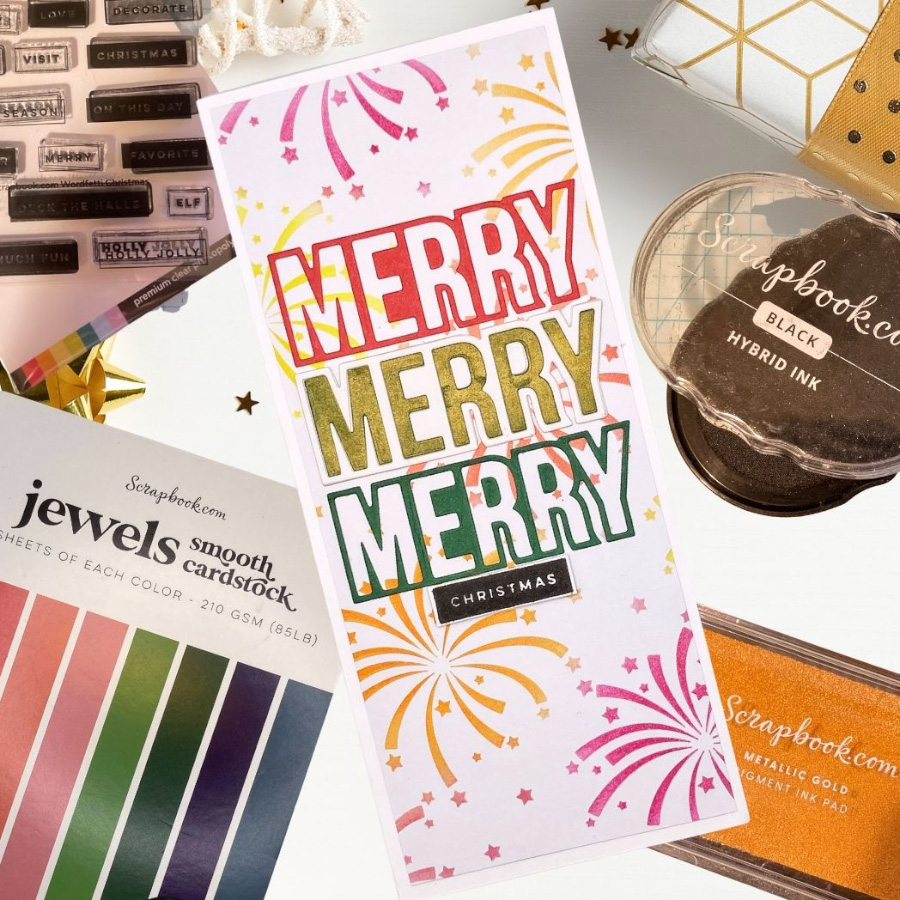 This card sure is Merry and Bright! Add a little spark into your holiday cardmaking with this inky creation from Marj Banzales. We can feel the magic of the Christmas season upon us in this simple yet colorful creation. With the bright bursts of color popping in the background using our Fireworks Stencil, and the Christmas Block Words Die Set adding the perfect, bold sentiment, this is one Merry Christmas we can't wait to celebrate.
The Handmade Holiday Papercrafting Parade
To see all these cards and more, jump into the parade and get hopping. You'll see amazing tricks, full project tutorials, supply lists, video walkthroughs, and more.
Make sure you stop at every crafty post along the way for Christmas magic and inspiration!
1. Shannon Allor
2. Becki Adams
3. Marj Banzales
4. Nicole Bingaman
5. Adrienne Boese
6. Robin Marshall Clark
7. Zoe Collins
8. Juliana Michaels
9. Jamie Pate
10. Patricia Roebuck
11. Anna Sigga
12. Erica Thompson
13. Laurie Willison
Create your handmade holiday cards with Scrapbook.com's wide array of exclusive products. And for more holiday inspiration, you won't want to miss the 2021 Holiday Gift Guide and the 2021 Christmas Tree Handmade Holiday Parade.
---